Nurses are crucial to our collaborative, innovative approach to patient care at the University of Chicago Medicine Ingalls Memorial.
We pay attention to important things that make a difference. Whether you're a recent graduate or a seasoned RN, UChicago Medicine Ingalls Memorial offers many benefits and opportunities to advance your education and career including:
Nursing clinical ladder
Daisy Awards
Competitive pay and benefits
Flexible self-scheduling
Relationship-based care model for nursing
Continuing education opportunities
PBDS Assessment (Performance Based Development System), a computer-based assessment tool that identifies strengths and areas of opportunity to strengthen your professional practice
To be considered for a nursing position at UChicago Medicine Ingalls Memorial, we require:
Graduation from an accredited school of nursing
A bachelor of science in nursing (BSN)
A license in Illinois prior to starting a position
UChicago Medicine Ingalls Memorial frequently hires recent nursing graduates and actively recruits from many prestigious baccalaureate nursing programs in Illinois and Northwest Indiana.
Making the transition from nursing student to confident, experienced RN is our focus for nurses at UChicago Medicine Ingalls Memorial. New graduates orientate with a coach for a time period of up to 12 weeks, depending on the unit.
We are also interested in seasoned nurses looking for a change. Many of our long-term nurses say their decision to stay is based on our friendly work environment and the administration's commitment to career growth. Plus, UChicago Medicine Ingalls Memorial is an ideal location because it is close to major expressways, downtown Chicago and affordable communities in the southern and western suburbs, as well as northwest Indiana.
Come experience clinical nursing excellence at UChicago Medicine Ingalls Memorial.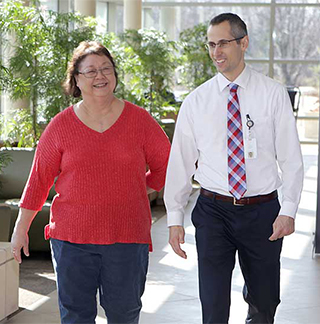 News from UChicago Medicine