Nursing at UChicago Medicine
We are a community of game changers. Tougher. Stronger. Smarter. And the same relentlessness that's put us at the forefront of healthcare delivery and patient experience on a global scale has made UChicago Medicine an extraordinary place to work.
As an academic health system, UChicago Medicine offers many challenging career paths for registered nurses. There's a distinctive kind of person who thrives here: relentless in the best way, always finding better ways to do things, always curious and inquisitive, always looking to learn from and work alongside others.
As a Magnet designated healthcare organization from the American Nurses Credentialing Center, we strive towards the highest standards for nursing excellence and professional performance. We invite you to consider a nursing career alongside of our acclaimed care teams, internationally recognized physicians, scientists and health care professionals who are always raising the bar.
Whether you have many years of experience or just completed your nursing degree, you can find a rewarding nursing position at UChicago Medicine.
Benefits of working at UChicago Medicine
We'll lift up and grow your talents in new ways. We'll invest in your success with the most competitive salaries in the region, and extensive benefits for retirement, wellness, such as parental leave, and professional development, including:
100% tuition reimbursement for BSN, MSN, or MSN/MBA completion at the school of their choice for full-time nurses
100% tuition reimbursement for BSN, MSN, or MSN/MBA completion at the school of their choice for ECMO nurses scheduled to work 48 hours per pay period (2 weeks)
50% tuition reimbursement for BSN, MSN, or MSN/MBA completion at the school of their choice for part-time nurses
75% tuition reimbursement toward the completion of a doctoral degree in nursing
Reimbursement for conferences, seminars, webinars, and other web-based education, and certification review courses
Additional reimbursement for textbooks and lab fees related to coursework for License Practical Nurses (LPN)
Tuition remission for benefit eligible employees with the Laboratory Schools, the University of Chicago, the Graduate Divisions, the Professional Schools (excluding Law and Medicine), and the Office of Continuing Education (excluding seminars)
UChicago Medicine's long tradition of innovation means nurses are exposed to leading-edge technology and research every day. Our nurses regularly take part in the implementation of advanced patient care protocols that often become the standard for care elsewhere. We work with patients from all walks of life and handle cases at every level of complexity. Together, we are becoming One UChicago Medicine. And that means your talent and passion can make an even bigger difference in the lives of patients, families, and communities.
We welcome you to join a community united by a single mission: to be at the forefront, every day.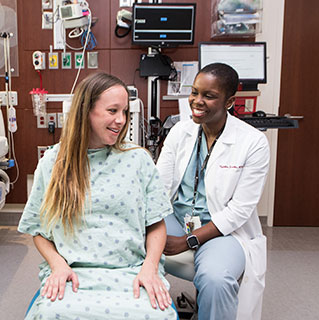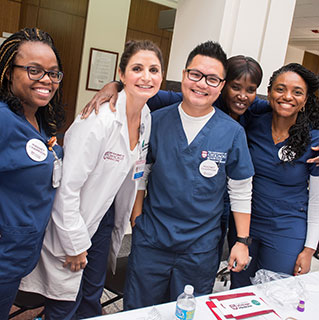 Why Choose UChicago Medicine
We are advancing the forefront of health every day by bringing research to reality and advanced care closer to our patients. Welcome to the forefront.