Skip to content
UChicago Medicine recognized as America's Best Hospital in three categories by Newsweek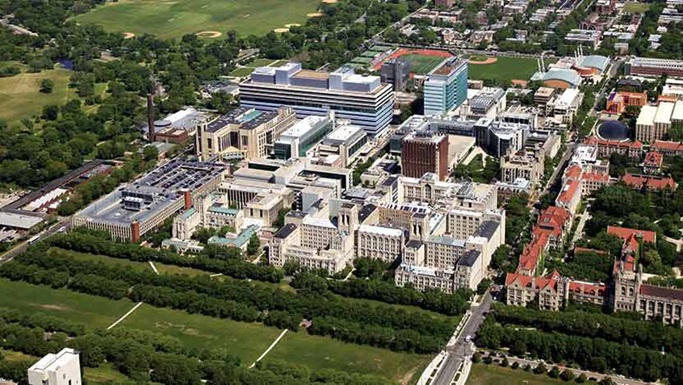 UChicago Medicine and its Comer Children's Hospital have both been recognized by Newsweek as top-ranked hospitals in the magazine's America's Best Hospitals lists for 2023, including recognition on the lists for best cancer hospitals, best maternity hospitals and best children's hospitals.
The magazine ranked the University of Chicago Medical Center as No. 25 on its 2023 list for America's Best Cancer Hospitals. The highest-ranked facility in Illinois, the Hyde Park-based medical center, a cornerstone of the University of Chicago Medicine health system, was specifically cited for an exceptional breast cancer treatment program. The University of Chicago Medical Center's cancer specialty care was named best in Illinois in U.S. News & World Report's annual survey.
With a world-class reputation for its leading oncology and hematology treatment and discovery, UChicago Medicine is one of only 72 hospitals in the U.S. to be designated as a Comprehensive Cancer Center by the National Cancer Institute. To continue its mission of offering pioneering care to the South Side, the academic health system is building an $815 million, 575,000-square-foot freestanding cancer pavilion on its Hyde Park campus. Dedicated to cancer research and care, the building will be the first of its kind in Chicago when it opens in 2027.
Separately, Newsweek designated UChicago Medicine as a top hospital for maternity care. The magazine listed 384 leading maternity hospitals across the country, dividing the facilities into two performance categories: five-ribbon hospitals (159) and four-ribbon hospitals (225).
UChicago Medicine earned a five-ribbon designation for maternity care based on key performance indicator data, patient satisfaction data and neonatal care providers' recommendations for leading maternity hospitals.
Only six Illinois hospitals garnered five-ribbon status.
The academic health system opened its 25,000-square-foot Family Birth Center in 2016. The state-of-the-art labor and delivery unit is inside UChicago Medicine Comer Children's Hospital.
In addition to the organization's cancer and maternal health recognitions, four clinical areas at UChicago Medicine Comer Children's Hospital were ranked among the best in the country for specialized pediatric care. Newsweek did not rank facilities overall, but listed the Top 50 in specialty care. Comer Children's rankings were:
Results for each of the three lists were compiled for each category and hospitals were honored based on data sourced from quality metrics, patient experience and a nationwide online survey. The lists were published this summer.
UChicago Medicine previously earned high marks from Newsweek on its 2023 list of the World's Best Specialized Hospitals.
News from UChicago Medicine