Skip to content
Quick response from Ingalls Memorial team saves woman after second heart attack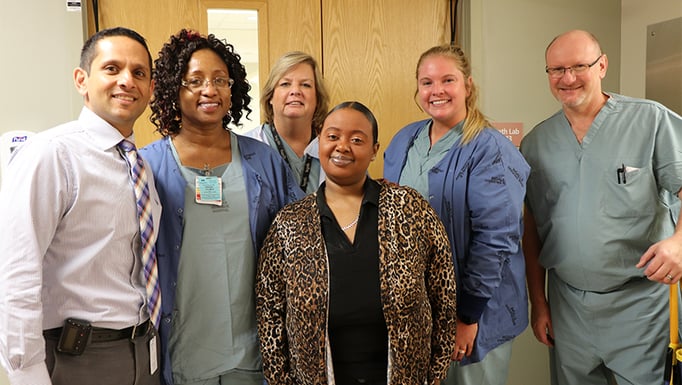 Group photo from left to right (cath lab staff who were a part of Prowell's case): Ripple Doshi, MD, Tressa Holmes, RN, Elsa Irwin, RN, Sonya Prowell (patient), Alexis Zivo, RN, and Rob Grobowski, Radiology Technologist
Sonya Prowell didn't expect to have two heart attacks by the age of 42, but quick action from paramedics and the UChicago Medicine Ingalls Memorial care team during the second attack helped save her life.
In August, Prowell was working on her computer at home in Calumet Park when she felt the start of a heart attack, experiencing the same symptoms she felt during her first heart attack eight years ago. "My arm was hurting, and I started sweating like I had just run a race," she said. She asked her husband to drive her to the hospital but knew they should call 911 when she felt too weak to get up from the living room floor. "I knew I might not make it to the hospital if we didn't call an ambulance," Prowell said.
The Calumet Park Fire Department transported Prowell to the Ingalls Emergency Department. Emergency Department staff quickly assessed Prowell's condition and sent her to the cardiac catheterization lab where cardiologist Ripple Doshi, MD* performed an angioplasty of her coronary arteries.
"As an accredited Chest Pain Center, Ingalls is required to achieve a benchmark of 90 minutes from first medical contact to balloon inflation when a patient is having a heart attack," said Trish Martinez, BSN, RN, chest pain coordinator. "Prowell had the procedure within 64 minutes. The quick actions by EMS, along with shuttling the patient through our ED and onto the Cath Lab table, were nothing less than stellar. The cardiac muscle was saved exponentially for this young woman."
Prowell was sent home after two days in the hospital and has spent time working out at the Ingalls Cardiac Rehabilitation gym. Though heart troubles run in her family, Prowell recently quit smoking after 22 years and is determined to adopt a healthier lifestyle with better food choices and exercise.
"I had a heart attack at 33 and 42 years old; you don't see that every day," Prowell said. "Even with both heart attacks, I've had faith in God. I prayed for my life, and God has spared it both times."
UChicago Medicine Ingalls Memorial offers leading-edge heart care in Harvey, as well as at our Family Care Centers in Flossmoor, Calumet City and Tinley Park. Call 708-333-2300 or schedule an appointment online.
*Dr. Doshi is an independent medical practitioner and is not an employee or agent of Ingalls Memorial Hospital or University of Chicago Medical Center ("UChicago Medicine").
Learn more about heart and vascular disease