Skip to content
Unexplained chest pain? A common condition called INOCA could be the cause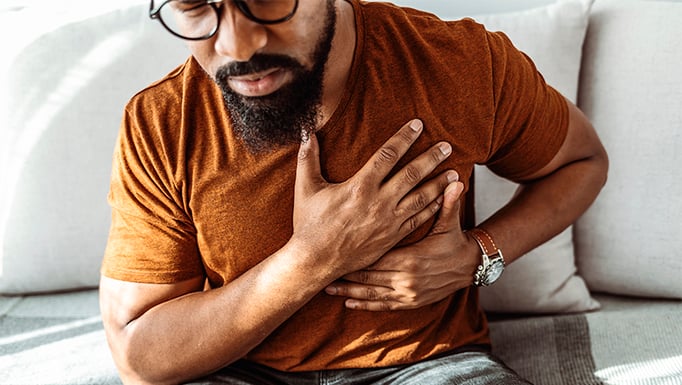 Chest pains can be frightening, especially when they prompt a trip to the emergency room. But what happens when those initial tests don't identify any obvious problems?

One potential cause for unexplained chest pain is INOCA, which stands for ischemia (decreased blood flow to the heart) with non-obstructive coronary arteries. A common but often overlooked condition, INOCA symptoms include chest pain or chest pressure as well as a subtle shortness of breath or heartburn that may occur during exercise.

INOCA is rarely life-threatening, but can be disabling for patients. The right diagnostic tools and treatment plans can lead to much better outcomes.

What is INOCA?
Many people with INOCA are first diagnosed with acute coronary syndrome, a type of severe blockage. Once that's ruled out with a basic blood test, patients are often told that their chest pain is not heart-related. That can be frustrating. They're not having a heart attack, but they're not getting answers and the condition is severely impacting their quality of life.

INOCA can be broadly categorized into structural abnormalities of microcirculation and functional abnormalities. The structural abnormalities could be narrowing of the small blood vessels because of cholesterol build-up or damage to the walls of small arteries. They also can be due to fibrosis (thickening) of small blood vessels, or disease of the heart muscle itself.

Functional abnormalities act as a stressor or noxious agent that can cause the artery to clamp down inappropriately or fail.

How do you differentiate INOCA from other heart conditions with similar symptoms?
A stress test is very good at diagnosing a blockage in one of the big blood vessels of your heart, but it's pretty terrible at diagnosing problems in the microscopic blood vessels. You have to take it a step further. At the University of Chicago Medicine, our cardiac MRI team looks at the flow and resistance of the tiny blood vessels in the heart.

Through our cardiac catheterization lab, we can also perform coronary physiology studies to evaluate the microscopic circulation and resistance; at the same time, we can verify that the arteries are open with an angiogram.

What ends up happening for most INOCA patients is that they get a whole battery of tests — often in the emergency department, often including an angiogram — but never get to the answer. My approach has been to look at what tests have already been done. If I have a high enough suspicion that this is INOCA, I may proceed directly to the invasive coronary physiology study at the same time as the angiogram.

What happens after a patient is diagnosed with INOCA?
One way to improve a patient's outcomes is to use the coronary physiology study and try to determine what is causing the chest pain — whether it's due to functional abnormalities of the coronary arteries, a structural abnormality, or both. Once you have a good idea of that, you can direct medications to match the specific type of microvascular dysfunction. You're getting a more precise diagnosis and treatment plan. We've learned that by performing treatment according to their coronary physiology study, chest pain patients tend to have a higher quality of life six and 12 months later.

Patients who have INOCA can also implement lifestyle modifications, which include diet, exercise, weight loss and quitting smoking. In addition, we can aggressively treat risk factors such as hypertension and diabetes.

If someone has chest pain, how can they find out whether or not they have INOCA?
More providers are becoming aware of this condition, but only a few can perform the necessary diagnostic test to direct therapy. For now, you have to see somebody who's an expert in INOCA and has expertise in testing and treatment. UChicago Medicine's clinic has been doing this since 2014. Patients can see me in clinic, where I talk to them about their symptoms, look at the testing they've had in the past and come up with a plan for either more testing or directed therapeutics.

Our clinic is also involved in a number of registries that generate data about other patients like them, and we soon will be enrolling patients in studies that will test newer therapies for INOCA.
Coronary Artery Disease and Chest Pain
The University of Chicago Medicine has assembled one of the nation's finest teams of heart experts who specialize in diagnosing and treating all aspects of coronary artery disease. From treatments to alleviate chest pain to rescuing the heart after heart attack, our teams of specialists are always available to offer the finest care.
Read about our diagnostic and treatment options
Find a Coronary Artery Disease Location Near You
Request an Appointment
The information you provide will enable us to assist you as efficiently as possible. A representative will contact you within one to two business days to help you schedule an appointment.
To speak to someone directly, please call 1-773-702-9461. If you have symptoms of an urgent nature, please call your doctor or go to the emergency room immediately.
Read more about chest pain and coronary artery disease