Skip to content
Destination UChicago Medicine eases the stress of traveling for care
Stella Stiver of Albuquerque, NM needed an experienced surgeon to perform surgery. Her doctor had diagnosed her with Crohn's, a chronic inflammatory bowel disease. The physician told her she wouldn't be able to find a surgeon who would perform the procedure in her hometown and referred her to David T. Rubin, MD, co-director of UChicago Medicine's Digestive Diseases Center, for a consultation.
In the summer of 2017, Stella and her husband Bob travelled to Chicago to meet Rubin, who recommended she undergo a laparoscopic ileostomy surgery, performed by colorectal surgeon and co-director of Digestive Diseases Center, Neil H. Hyman, MD. The couple agreed to return to UChicago Medicine in September for the procedure.
Stella began to feel anxious about having surgery 1,300 miles from home. But one conversation with Kimberly Muhammad, patient navigator at Destination UChicago Medicine, went a long way to ease her concerns. Destination UChicago Medicine is a concierge service offered to patients from across the United States who travel to UChicago Medicine for care.
"Kim called me right away," said Stella, "and told me that if there was anything I needed, she was there to help." Muhammad soon took care of all the appointment scheduling and hotel arrangements. "Basically all I had to do was book my flight," Stella said.
"Our team is committed to making access to care seamless for those who travel to us," said Destination UChicago Medicine director Caroline Costello. "Our mission is to help reduce the anxiety traveling for care can cause through our empathic outreach."
The team provides assistance with appointment scheduling, including the first visit and follow-up needs, medical records retrieval, travel recommendations, hotel information, reservations and local areas of interest, as well as in-person help for any patient services located on the medical campus.
Because of our long-standing reputation for excellence in both patient care and research, patients travel from all over to be seen at UChicago Medicine. A program like Destination UChicago Medicine is vital to facilitating outstanding care for patients who travel here for treatment. – David T. Rubin, MD
When Stella and Bob arrived at the hospital, they learned surgery had been delayed by two hours. Muhammad had already found the couple a private room where they could relax while waiting. After the successful surgery, the couple spent the next two weeks in Chicago as Stella recovered.
Just before a return visit for scheduled follow-up surgery in March 2018, Stella received a phone call from Muhammad with great news. She was able to negotiate even better hotel rates and arrange for a handicapped room to ensure as comfortable a setting as possible for the recovery.
"Kim did everything she could to make the entire process of traveling for surgery as smooth as possible," Stella said.
She and Bob even had the opportunity to enjoy some of the local sites Muhammad recommended during their second visit. They visited the Frank Lloyd Wright Robie House, the Museum of Science and the Chicago Lakefront Trail.
"Because of the care we received, both clinical and nonclinical, Chicago became like a second home to us," Stella said.
But it's a second home she doesn't plan on visiting again any time soon. Thanks to Rubin and Hyman, Stella feels better than she has in years. It's an outcome she couldn't imagine without the support of Destination UChicago Medicine every step of the way.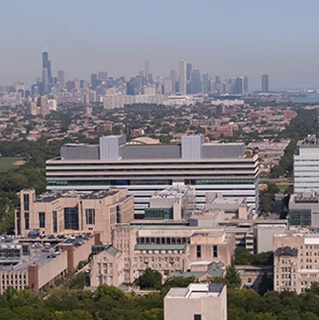 Patients Traveling to Receive Care
Destination UChicago is a new program providing concierge services for patients traveling from beyond our service areas.
Learn more about the program
Inflammatory Bowel Disease Center
Outstanding patient care is at the center of everything we do. Our world-renowned specialists not only continue to push boundaries with their leading-edge research but also integrate the latest therapies into their treatment plans to offer you the most advanced care available.
Learn more about our IBD Center
Inflammatory Bowel Disease Related Articles