Skip to content
COVID-19 vaccines and pregnancy: What you need to know if you're pregnant, trying to get pregnant, or breastfeeding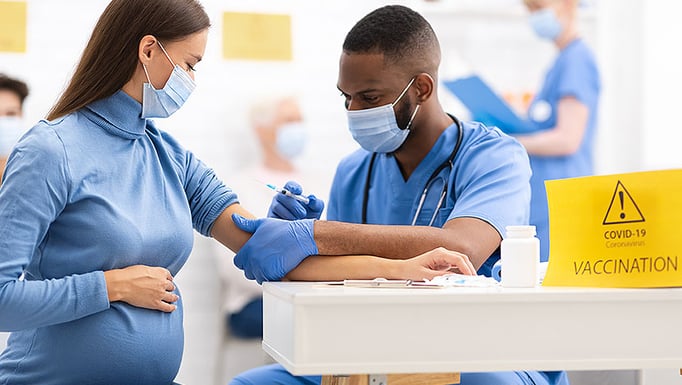 In August 2021, the Centers for Disease Control released new data showing that the currently available COVID-19 vaccines are safe for pregnant people, and issued a recommendation that all people over the age of 5 be vaccinated against COVID-19. This is particularly important due to recent data showing that pregnant people are at increased risk of complications from COVID-19, and as the more contagious Omicron variant circulates in our population, the risk of contracting COVID-19 is higher. As of January 31, 2022, the FDA granted full approval for the Pfizer-BioNTech mRNA vaccine (called Comirnaty) for individuals over the age of 16 and the Moderna mRNA vaccine (Spikevax) for individuals over the age of 18.
Knowing many patients have questions about the vaccine and its efficacy and safety, University of Chicago Medicine reproductive health experts — specializing in maternal-fetal medicine, reproductive endocrinology and infertility, high-risk pregnancies and general obstetrics — answered common questions about the vaccine and pregnancy.
The CDC has indicated that the vaccine should be administered to those who are pregnant.
Here's what Abbe Kordik, MD, Assistant Professor of Obstetrics and Gynecology; Joana R. Lopes Perdigao, MD, Associate Professor of Obstetrics and Gynecology; Maryam Siddiqui, MD, Associate Professor of Obstetrics and Gynecology; and A. Musa Zamah, MD, PhD, Associate Professor of Obstetrics and Gynecology, had to say.
Can I get a COVID-19 vaccine if I'm pregnant, planning to become pregnant, or currently breastfeeding?
The CDC and the World Health Organization (WHO) have indicated that the vaccine should be administered to those who are pregnant. Additionally, several professional societies have advocated for pregnant people to be vaccinated. However, if you have specific questions or concerns about your own health status, you should discuss them with your healthcare provider.
While the overall risk of experiencing a severe course of COVID-19 is low, if you're pregnant you have an increased risk of getting severely ill if you contract COVID-19.
If I don't get vaccinated, what are the risks of contracting COVID-19 during pregnancy? How does the Omicron variant change those risks?
During pregnancy, the body undergoes a lot of changes, some of which can affect the strength of the immune system. While the overall risk of experiencing a severe course of COVID-19 is low, if you're pregnant, you have an increased risk of getting severely ill if you contract COVID-19. That means you have an increased risk of hospitalization, ICU admission, extracorporeal membrane oxygenation (ECMO) treatment and death.
Q&A: How COVID-19 can impact pregnancy

Recent data has indicated that individuals who experience severe COVID-19 symptoms have a higher risk of complications during and after pregnancy. Compared to asymptomatic COVID-19 patients, those with severe symptoms were at higher risk for cesarean delivery, preterm birth, stillbirth, hypertensive disorders of pregnancy, and postpartum hemorrhage. A recent study indicated that pregnant people who contract COVID-19 are 20 times more likely to die than those who do not contract the virus. For some people, pregnancy isn't their only health risk factor – they might be overweight or obese, have underlying high blood pressure or diabetes, or be part of a minority group that is vulnerable to more severe outcomes.
The Omicron variant of SARS-CoV-2 is more contagious than previous strains of the virus, which means that an individual is more likely to contract the virus if/when they are exposed. As the virus circulates at higher rates in the community, the risk of being exposed continues to increase. The Omicron variant seems to cause less severe illness than previous virus strains, but more research is needed. Some data suggests that while vaccinated people can still contract the disease, they have lower rates of severe illness than the unvaccinated.
While no vaccine is perfect, the COVID-19 vaccines, the mRNA vaccines by Moderna and Pfizer in particular, appear to be highly effective, even against the Omicron variant. A study of the Comirnaty (Pfizer) vaccine in Israel found that it was 78% effective at preventing infection in pregnant people. The vaccines are extremely effective at preventing severe illness and death in the general population; only a very small fraction of people who have been vaccinated end up being hospitalized for a COVID-19 infection.
Have the COVID-19 vaccines been tested in pregnant or breastfeeding people?
Pregnant people were not specifically included in the clinical trials; this is due to historical restrictions on including those who are pregnant in clinical trials. Moderna, Pfizer-BioNTech, and Johnson & Johnson have conducted DART studies in animal models to determine if there are any negative side effects of the COVID-19 vaccine in pregnancy; these studies are frequently used to make determinations about what medical treatments should be offered to pregnant people in the absence of human clinical trial data. The results so far have found no adverse effects of a standard mRNA vaccine dose on female reproduction, fetal development or postnatal development.
The CDC has been collecting additional monitoring data through their smartphone app, V-safe, and other monitoring systems to solicit reports of side effects following vaccination. The CDC has analyzed this data and found there were no safety concerns for pregnant people or their babies who were vaccinated during late pregnancy. Additional data looking at outcomes in nearly 2,500 pregnant people who received an mRNA COVID-19 vaccine before 20 weeks of pregnancy found no increase in the risk of miscarriage. The miscarriage rates for individuals after receiving the COVID-19 vaccine were around 13%, similar to the expected miscarriage rate in the general population.
If you are undergoing fertility treatments, the current recommendation is to continue the treatments and to get vaccinated.
Do I need to delay getting pregnant or fertility treatments if I'm planning on getting vaccinated?
Current recommendations say there is no reason to delay conception. If you become pregnant after receiving your first dose of the COVID-19 vaccine, you should not delay getting the second dose or your booster dose as scheduled. The only possible known risk for the vaccine is the possibility of a fever, a side effect experienced by around 10-15% of vaccine recipients. In animal studies, high fevers in early pregnancy have been associated with a slight increase in risk of birth defects and pregnancy loss. If this is a concern, the current recommendation is that you take a pregnancy-safe fever reducer such as Tylenol if you experience a fever after getting vaccinated.
If you are undergoing fertility treatments, the current recommendation is to continue the treatments and to get vaccinated. Speak with your physician and/or fertility specialists to make the decision that is best for you.
When during pregnancy should I get vaccinated?
In order to maximize protection against COVID-19, we recommend individuals get the vaccine and a booster dose as soon as it is offered.
Can the vaccine affect my fetus during pregnancy or reach my baby through breastfeeding?
The mRNA vaccines work by presenting your body with a small set of genetic instructions for producing the SARS-CoV-2 spike protein. Your body uses these instructions to generate the protein, which allows your immune system to learn what it looks like. That way, your immune system can recognize the protein if you should ever encounter the actual SARS-CoV-2 virus and prepare an immune response to keep you from getting sick. mRNA is extremely short-lived and easily degraded; this is why the vaccine must be stored at such cold temperatures and used quickly after preparation. Once the vaccine has been injected into your arm, your body either uses the instructions to make those spike proteins or it rapidly breaks down the small amount of mRNA that's remaining. It is therefore extremely unlikely that any of the mRNA would be able to get into breast milk or into the fetus through the placenta. Additionally, because it's so easily degraded, it cannot survive the acidic environment of your baby's stomach, so the vaccine itself cannot affect your baby.
The vaccine is made up of mRNA, and contains no live virus. Therefore, it is impossible to contract COVID-19 from the vaccine, or spread the virus to others.
Recent data indicates that vaccination during pregnancy may be beneficial to the baby; the vaccine tells your body to provide antibodies against the virus that causes COVID-19, which provide the protection against the disease. Researchers have found those antibodies in umbilical cord blood in people who have received the mRNA vaccines, indicating that the protective antibodies might pass to the baby. As physicians see an increase in the number of very young children (under six months of age) with COVID-19, it is particularly important for pregnant people to be vaccinated to protect their unborn child, as well as non-birthing parents and other caretakers. Surrounding vulnerable infants with vaccinated caretakers helps create a wall of protection against the highly infectious disease.
Will the vaccine cause infertility or damage to the placenta?
There is also no evidence that the COVID-19 vaccine would reduce your natural fertility or harm the placenta or fetus. While the COVID-19 vaccine is new, the mechanism of action of this mRNA vaccine and existing safety data provide reassurance regarding their safety. A recent study published in The American Society for Reproductive Medicine (ASRM)'s Fertility & Sterility found no difference in implantation rates in patients with previous vaccination, previous infection, and no previous vaccination or infection.
The president of the ASRM states that "no matter where you are in the family-building process, the COVID-19 vaccine is safe and saves lives."
Will breastfeeding pass immunity on to the baby?
Multiple studies done over the past year show that COVID-19 vaccines generate an immune response and an increase in antibodies found in breast milk. This supply of maternal antibodies in breast milk may provide infants protection from the illness. With other vaccinations, using the power of passive immunity to protect newborns is shown to be an effective way of preventing disease in newborns. Recent studies have shown that breastfeeding people who have received COVID-19 vaccines have antibodies in their breast milk, which could help protect their babies. More research is needed, however, to determine what level of protection these antibodies may provide to the baby.
Additionally, another study after COVID-19 vaccination showed no mRNA vaccine particles in breast milk after vaccination.
We believe that in the vast majority of cases, the benefits outweigh the risks, and the vaccine is much safer than contracting COVID-19.
Will you recommend that your patients get vaccinated?
We strongly believe that all pregnant people should receive the COVID-19 vaccine and/or booster. There have been no safety or adverse pregnancy- related outcomes in studies of the vaccine in pregnancy so far.
Are you vaccinated?
Some of us are breastfeeding and some of us are pregnant or are planning to be pregnant in the near future. We all have patients, friends, and family that we want to protect, and we are all frontline healthcare workers.
We are grateful to be vaccinated and boosted, and hope that others will take advantage of this opportunity to protect themselves, their children and the other members of their community.
Meet Our Physician Contributors
Learn More About COVID-19