Skip to content
'She made it': Preschooler beats acute lymphoblastic leukemia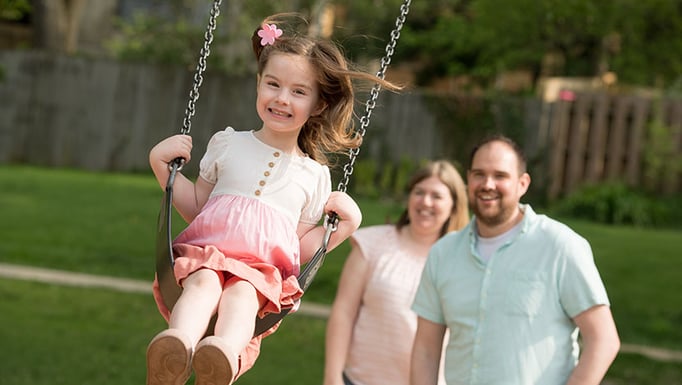 Nikki Arseneau dreamed about the day for 2 ½ years.
It happened on Feb. 7, 2023.
Her daughter Joy, 5, rang the bell to mark the end of her treatment for acute lymphoblastic
leukemia
. Family members and staffers cheered and took videos as the bell clanged in the second-floor hallway of University Chicago Medicine
Comer Children's Hospital
.
Nikki wept.
"I hugged my sister-in-law and I said, 'She made it,'" Nikki said.
Joy is now cancer-free, but it was a long and difficult road.
The family's journey began in October 2020. Joy, then 3, ran a low-grade fever for two weeks. Medication didn't help, so
Caroline Olaleye, MD
, Joy's pediatrician at UChicago Medicine at Ingalls - Flossmoor, ordered blood tests.
Olaleye called and directed Nikki and her husband, Jordan, to take Joy immediately to Comer's emergency room. The child's platelet and red blood cell counts were dangerously low, and she had severe anemia.
"She told us, 'Pack a bag and send (Joy's brothers) to Grandma's. And don't Google anything!'" Nikki recalled.
More blood tests followed in the ER. Then pediatric oncologist
Perry Morocco, MD
, briefed the couple in private. Joy had leukemia, a type of blood and bone marrow cancer. The next steps: identify the type of leukemia and map out a treatment plan.
"When he left the room, Nikki grabbed me and said, 'Am I awake? Am I dreaming? Is this really happening?'" Jordan said. "We were in shock that this would happen to our little girl. She never even had a cold before this. It was the worst day of our lives."
Joy was diagnosed with acute lymphoblastic leukemia (ALL), the most common and treatable form of
pediatric cancer
. She fell into a "standard risk, favorable" category, meaning the prognosis was good.
However, she still needed to undergo a six-phase treatment that included 2 ½ years of chemotherapy. Her hair would fall out. She would have spinal taps, bone marrow biopsies, transfusions, and a port inserted into her chest. She would need to take steroids, which would cause mood and appetite swings. There would be regular doctor and hospital visits.
"This treatment is very much a marathon and not a sprint," Morocco said.
An estimated 6,540 people in the U.S. are expected to be diagnosed with ALL in 2023, according to the
American Cancer Society
. It's a common childhood cancer, but the disease can worsen if left untreated.
Outcomes have dramatically improved over the years. Five decades ago, the five-year survival rate was just 3%. Now, cure rates exceed 85%, the
Leukemia and Lymphoma Society reports
.
Comer – a top hospital for treating pediatric oncology – uses the latest clinical trial results, scientific research, and a multidisciplinary team of experts who customize treatments for children.
"At Comer, we have a truly collaborative approach, and we have providers with decades of experience treating ALL," Morocco said.
Medhavi Honhar, MD
, a pediatric oncology fellow who treated Joy, said the Comer team studied the biology and genetics of Joy's cancer.
"In this day and age, when there are so many kinds of cancer treatments, we need to be more specific to the patient's specific type of cancer. They're discovering more molecular and genetic variations in tumor biology, and that helps us triage and focus on what needs to be given to each patient," Honhar said.
A difficult first month
The first month of treatment was tough. Joy barely spoke except to repeat five words: "I want to go home."
To complicate matters, restrictions for the new COVID-19 pandemic allowed just one parent to accompany Joy on visits and made the hospital playroom off-limits.
Joy spent most nights at home, but long days in the hospital. She passed the time playing with her dolls, her "daughters." She regaled the staff with stories about their lives, including one with cancer who was getting better.
Comer's support team – Child Life specialists, social workers, therapists and nurses – played a critical role in shifting Joy's attitude about the hospital and treatment. Staff members also helped her family navigate the paperwork and financial burdens, Nikki said.
The staff pointed Nikki, a librarian at Memorial Junior High School in suburban Lansing, and Jordan, an editor-producer at ABC 7 Chicago, to a variety of financial resources to help with the family's expenses and medical bills, including grocery gift cards and a Make-A-Wish trip to Walt Disney World.
They provided moral support, too – telling them, yes, this was difficult, but they were going to get through it.
"This diagnosis affects the entire family," Honhar said. "The accessibility families have to their Comer oncologists is remarkable. We're committed to be there every step of the way."
Now she's just a normal kid again. Despite everything she's gone through and faced, she is her name.
Joy loved the nurses, who sometimes used a bubble gun to fill the room with bubbles and danced with her. Even the lighthearted way they spoke to her made a big difference.
"They wouldn't baby her," Nikki said. "One said, 'Listen, girl, you've got to cooperate if you want this cookie. You have to let your nurse give you this shot.' Joy really responded to it."
Child Life staff members also met with Joy's two brothers, explained what ALL is, and answered their questions about their sister's treatment. They gave each boy a stuffed toy monkey, the same as the one they gave to Joy, and helped them make get well cards for her.
"Child Life made the experience of being in clinic a lot easier, to the point where Joy would look forward to coming to the hospital. Even though she'd have to get blood drawn, she knew they'd be there with an iPad or Play-Doh or bubbles," Nikki said. "It helped to know we had a whole community at the hospital who cared about us, as well as our family and a community in Homewood."
During her treatment, Joy was enrolled in a clinical trial that evaluated chemotherapy regimens. After her first month of treatment, Joy's bone marrow and blood tested negative for cancer.
The treatment was working, but needed to continue to prevent the cancer from recurring. In early 2023, Joy's physicians pronounced her cancer-free.
Joy must undergo monthly lab work for a year and remain on antibiotics until her immune system recovers. Then she will graduate to
Comer's Childhood Cancer Survivors Center
, where she'll get support for any post-cancer issues or needs.
"Now she's just a normal kid again," said Nikki, adding that she'll start kindergarten this fall. "Despite everything she's gone through and faced, she is her name."
"She's done wonderfully. She had a lot of courage," Honhar added. "Her prognosis is great. I can't wait to see pictures of her growing up."