Skip to content
Black women more likely to die from breast cancer: What factors are influencing this disparity and how can they be addressed?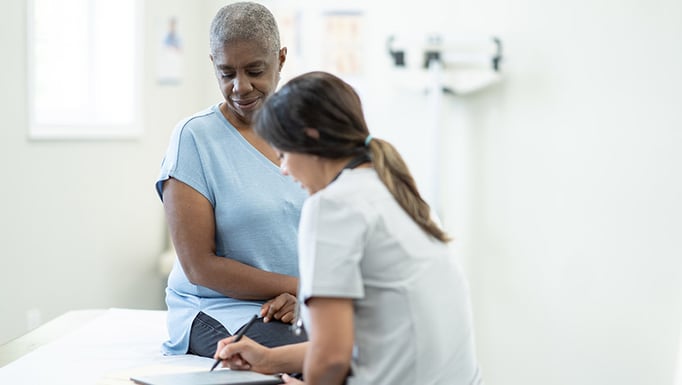 Awareness about the importance of breast cancer screenings and improved access to resources are having a positive impact on diagnosing breast cancer early and saving lives. According to the American Cancer Society, the death rate for breast cancer in the United States dropped 43% between 1989 and 2020.

Although this is good news, breast cancer studies have uncovered a troubling trend. Black women are still dying at a nearly 40% higher rate from the disease than white women.

Sasmita Misra, MD,* a community physician at UChicago Medicine Ingalls Memorial, cites four primary factors influencing the higher death rate of Black women from breast cancer: genetics, cultural norms, socioeconomic status and access to care.

A recent study published in Cancers found that Black women may be genetically predisposed to higher incidences of triple-negative breast cancer than white women because this fast-growing cancer resists hormonal therapy/surgery. This type of cancer often requires having the lump or entire breast removed, followed by chemotherapy to target unseen cancer cells.

This approach to treating breast cancer may sound aggressive, but it may mean the difference between life or death for the patient and "is where trust in the medical provider is essential," said Misra.

Studies show that Black patients, who are taken less seriously when they report a health issue to their physician, are more likely to distrust their provider. This mistrust can lead to delayed testing and treatment.

A woman's first breast screening and screening frequency depends on multiple factors. Guidelines can help women determine when it's time for a breast screening.
For most women, regardless of race, 40 is the recommended age to begin annual breast screenings.
If a woman has a genetic risk – for example, if the mother or grandmother had breast cancer – it is recommended that annual breast screenings begin at age 30 or 10 years earlier than the age of the immediate family member diagnosed with breast cancer. For instance, if the patient's mother was diagnosed with breast cancer at age 35, the patient should start getting breast screenings at the age of 25.
Regardless of their age, the patient should immediately be screened if there is a lump or bleeding and prolonged breast soreness.
Studies have found that yearly screenings are critically important to saving lives. Skipped screenings mean that cancerous cells may grow undetected.

According to Misra, earning patient trust is not easy, but physicians can start by clearly explaining the condition to patients and recommending a specific treatment.
Sometimes patients may delay getting screened because they worry about the cost. However, public and private insurance plans, including Medicaid and Medicare, are required by law to cover the cost of yearly breast screenings.
She also suggests that providers direct patients to resources specific to their condition and treatment options. This helps build trust and understanding and may improve the willingness of patients to undergo recommended tests and make lifestyle changes.
For some Black women, issues about access to care prevent timely breast screenings.
"Sometimes patients may delay getting screened because they worry about the cost," said Misra. "However, public and private insurance plans, including Medicaid and Medicare, are required by law to cover the cost of yearly breast screenings. Additionally, patients may find local programs that help cover the cost or pay for the screening entirely."
UChicago Medicine Ingalls Memorial partners with is
A Silver Lining Foundation
to fund the cost of breast cancer screenings for those who are uninsured, underinsured or may be ineligible for other breast health testing programs.
"Whenever a patient is referred for a screening and they are unsure about the cost, the patient should talk with their provider about additional coverage options," advised Misra.
Although some factors, such as genetics, may put Black women at greater risk for getting breast cancer, it doesn't mean they have to continue dying at higher rates from the disease. The best defense is early detection.
"Thankfully, much progress has been made in cancer screenings and there are many UChicago Medicine locations where patients can get screenings close to home and during flexible hours, including weekends," said Misra.
Patients who are unsure about when or where to get a mammogram, especially if they feel a lump, should tell their
primary care doctor
.
UChicago Medicine has a variety of locations across Chicagoland offering breast screenings. A referral is not required to schedule a breast screening and patients can call (855) 702-8222 or (708) 915-3333 to schedule an appointment.
*Physicians who provide services at UChicago Medicine Ingalls Memorial are independent physicians with privileges at the hospital. Independent physicians are neither employees nor agents of UChicago Medicine Ingalls Memorial, the University of Chicago, or the University of Chicago Medical Center.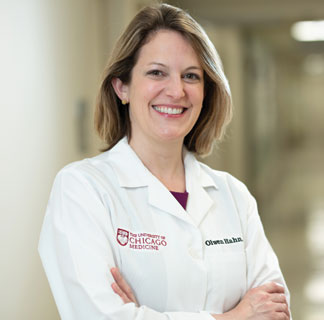 Breast Cancer Care
Our team represents expertise across the spectrum of breast cancer care: breast imaging, breast surgery, medical and radiation oncology, plastic and reconstructive surgery, lymphedema treatment, clinical genetics, pathology and nursing. Our comprehensive care approach optimizes chances of survival and quality of life.
Learn more about UChicago Medicine breast cancer care.