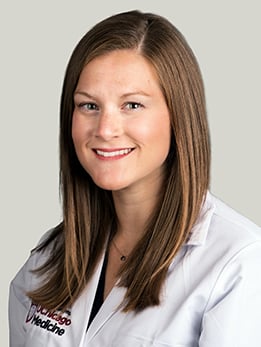 Gynecologic Oncology (Gynecologic Cancer), OB/GYN | More
Assistant Professor of Obstetrics and Gynecology
UChicago Faculty Physicians hold faculty positions with the University of Chicago and provide care for patients on the academic health system's main campus in Hyde Park and in care centers throughout the Chicago region.
Close
773-702-6118
Kathryn Mills, MD, specializes in gynecologic oncology and provides comprehensive, compassionate care for patients with cervical, endometrial, ovarian and uterine cancer. Dr. Mills offers her patients a personalized treatment plan to meet their special needs and, whenever possible, uses minimally invasive techniques to treat their gynecologic cancers. Dr. Mills is also an expert in gestational trophoblastic disease, a condition in which abnormal cells grow and multiply in the uterus during pregnancy.
Dr. Mills is committed to improving patient care through research, and her current work centers around the identification of novel, targeted therapeutics for women with gynecologic cancer. Her research has been published in respected, peer-reviewed journals, including Gynecologic Oncology Reports, Gynecologic and Obstetric Investigation and International Journal of Gynecologic Cancer.
In addition to her commitment to clinical work and research, Dr. Mills is also passionate about teaching medical students, residents and fellows and guiding them throughout their career.