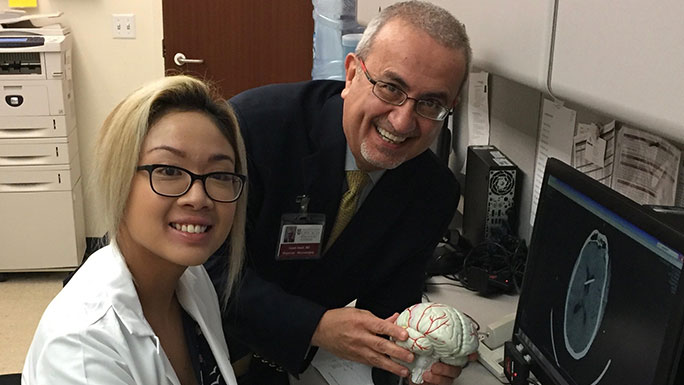 Our Neurovascular Surgery Expertise
The University of Chicago Medicine is home to internationally recognized neurovascular surgeons who are experts in diagnosing and treating vascular diseases of the brain and spinal cord. Our surgeons are skilled at treating a variety of complex conditions, including aneurysms, hemorrhagic strokes, vascular malformations of the brain and skull base tumors. Working with an interdisciplinary team of neurologists, neuro-oncologists, pediatric neurosurgeons and other experts, our neurovascular surgeons are dedicated to providing patients with innovative treatments that offer the best chance for success.
Unmatched Skill & Experience
Our neurovascular surgeons have decades of experience treating the most complex cerebrovascular problems, setting the standards for care. For example, our specialists have written leading textbooks and clinical guidelines on the management of aneurysms and vascular malformations of the brain. They continue to study every aspect of these conditions, including what factors contribute to the development. They are also actively engaged in advancing new therapies for many types of neurovascular conditions. Among the advanced treatment options available at UChicago Medicine are microsurgery and focused irradiation, which can improve outcomes in patients with life-threatening brain and spinal cord problems. In addition, our team routinely advises patients and families on the genetic risks associated with some of these inherited conditions.
National Leadership in Stroke Care
Our team of renowned neurological/critical care specialists recognizes that minutes count when it comes to treating strokes. They work closely with neurovascular surgeons who are highly skilled at using catheters and other minimally invasive techniques to treat strokes quickly and effectively. When appropriate, our team can recommend the latest stroke treatments available through clinical trials, including therapies that may not be available elsewhere. UChicago Medicine's Stroke Center has been recognized as a Comprehensive Stroke Center, a designation considered a "Gold Seal of Approval" for stroke programs that provide advanced, coordinated care.
Broad Range of Options for Skull Base Tumors
Tumors at the skull base involve delicate blood vessels, nerves and other structures. If left untreated, these conditions can lead to serious consequences, such as blindness and stroke. Fortunately, our team can offer aggressive treatment strategies that reduce these risks while still preserving function and quality of life. A multidisciplinary team that includes neurosurgeons, neuro-oncologists and radiation oncologists can provide a wide range of options designed to achieve the best outcomes. Each patient benefits from the combined skill and collaborative decision making of these experts.
Our Neurovascular Surgery Team
The University of Chicago Medicine's neurovascular surgery team has decades of experience in treating the most complex cerebrovascular conditions. In addition to providing patients with advanced therapies and personalized care informed by innovative neurovascular surgery research. Complex cases are discussed in neurovascular conference with multidisciplinary experts. Our team is available for urgent consultation and patient transfers.
Expedited patient transfer, urgent transfers and consultations
If you are a healthcare provider and wish to transfer a patient with a neurologic emergency or to speak with our team directly, call our dedicated NeuroICU transfer line at 1-773-834-NSICU (6742). It will be answered by an attending neuro-intensivist, addressing ischemic stroke, brain bleeding, status epilepticus, neurotrauma, hydrocephalus, tumors and other neurologic emergencies.
If requested, we will facilitate seamless transfer and make arrangements for bed assignment

To schedule a consultation for a less urgent neurovascular condition, call us at:

Stroke Neurology: 773-702-6222
Neurovascular Surgery: 773-702-2123
Neurointerventional Surgery: 773-702-5004
Transfer Center
Neurology & Neurosurgery Articles