Living with Inflammatory Bowel Disease Can Be Challenging
Our team offers monthly support groups as a resource to bring together patients facing these chronic diseases. As leaders in the field, we also provide ongoing educational programming to help both patients and medical professionals better manage IBD.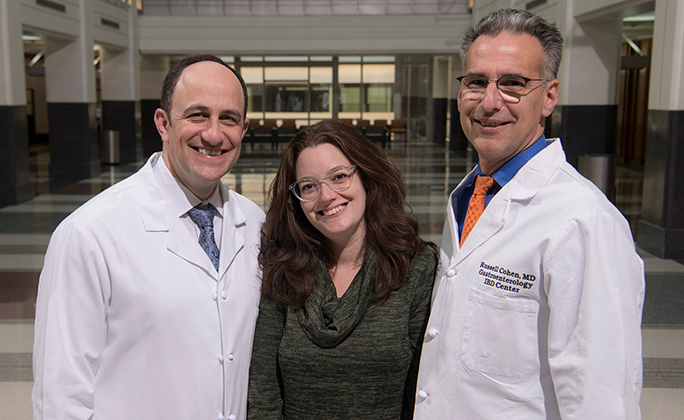 Monthly IBD Support Group
We host a monthly support group for patients with inflammatory bowel disease (Crohn's disease and ulcerative colitis) and their families. Support group events are held from 7 to 9 p.m. on the second Wednesday of each month unless otherwise noted. Due to the COVID-19 pandemic, our support group will be hosted online until further notice. Please contact us for more information.
Patient Advisory Board
A patient advisory board engages our patients as our partners in the science and delivery of Crohn's disease and ulcerative colitis treatment. This is an effort to receive feedback of IBD patients to improve patient experience at the University of Chicago Medicine. Please email ibdcenter@uchicago.edu for more information if you are interested in participating.
Educational Events for Patients & Families
The Inflammatory Bowel Disease Center offers events throughout the year. Check back frequently for more information.
Past Webinars and Live Event Recordings
Watch video recordings of past educational webinars and live presentations with our IBD experts.
These presentations were generously supported by an educational grant from AbbVie with additional funding from the GI Research Foundation.
IBD Education for Physicians & Nurses
Created in 2008, IBD University provides training and educational programs taught by the inflammatory bowel disease experts at the University of Chicago Medicine. IBD-U™ offers:
Advanced fellowship programs
Customized industry education programs
Patient education
Programs for physicians and allied health care professionals
Programs for visiting clinical observers and postdoctoral scholars
Training for medical students, residents and fellows
IBD Specialty Programs
Our Transitional IBD Clinic — one of the few in the country — is designed to meet the unique needs of teens and young adults ages 15 to 22. The clinic is a bridge between pediatric and adult care that provides the tools and support that our young adult patients need in order to take a more active role in IBD management. For patients who attend out-of-state college, we help identify a local physician with whom we can partner to provide ongoing care.
Crohn's disease and ulcerative colitis can affect women differently than men. Our new comprehensive Fertility, Pregnancy and Sexual Function Program for women with inflammatory bowel disease brings together specialists from a variety of disciplines, including obstetrics and gynecology and gastroenterology, to address these challenges. We focus on helping women manage their disease before, during and after pregnancy.
Learn more about our program for women with inflammatory bowel disease
Dr. Sushila Dalal discusses what you should know if you are pregnant, or are thinking about becoming pregnant, and have inflammatory bowel disease
VIDEO TRANSCRIPT
(PDF)
Inflammatory Bowel Disease Related Articles