Closed-Chest, Robotic Approach Speeds Recovery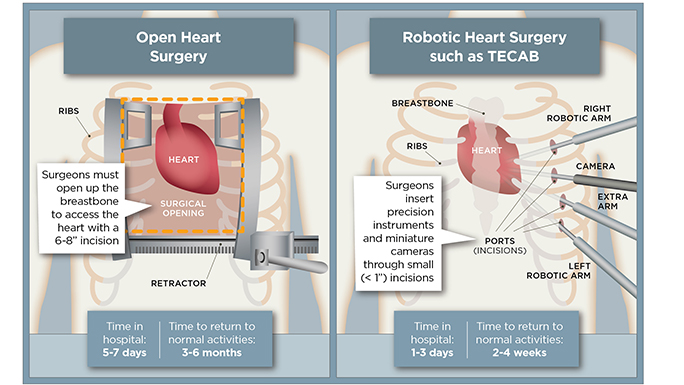 Totally endoscopic coronary artery bypass (TECAB) surgery is a breakthrough approach to performing coronary bypass surgery.
Having performed more than 2,000 robotic TECAB procedures, the cardiac surgeons at the University of Chicago Medicine are highly skilled in endoscopic coronary artery bypass.
The goal of totally endoscopic coronary artery bypass surgery is the same as all coronary bypass procedures — to improve blood flow to the heart and to alleviate chest pain. The main difference is that instead of making a long incision through the breastbone, TECAB is performed through four to five fingertip-sized slits with the help of the da Vinci Surgical System.
What to Know About TECAB
Why Choose Robotic Heart Surgery?
Learn about the benefits of robotic heart surgery.
Request an Appointment
The information you provide will enable us to assist you as efficiently as possible. A representative will contact you within one to two business days to help you schedule an appointment.
You can also make an appointment with our providers by:
– Scheduling a virtual video visit to see a provider from the comfort of your home
– Requesting an online second opinion from our specialists
– Filling out an online questionnaire (e-visit) to get a same-day diagnosis and treatment for common conditions.
To speak to someone directly, please call 1-888-824-0200. If you have symptoms of an urgent nature, please call your doctor or go to the emergency room immediately.
Read more about chest pain and coronary artery disease