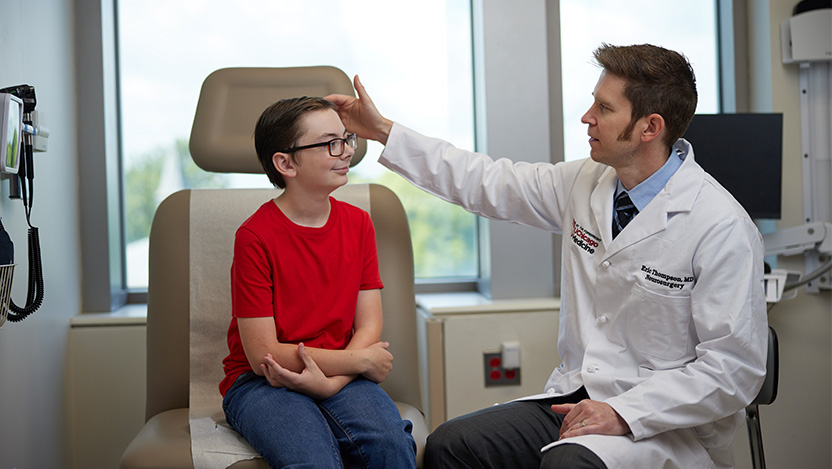 At the University of Chicago Medicine Comer Children's Hospital, our pediatric neurosurgery experts provide the most up-to-date and effective treatment for the entire spectrum of neurological disease. Every year, we perform hundreds of complex neurosurgical procedures on infants and children.
Multidisciplinary Pediatric Neurosurgery Expertise
Our pediatric neurologists work closely with our pediatric neurosurgeons to identify patients who may benefit from surgery. The goal of neurosurgery is to successfully correct or reduce the effect of hydrocephalus, epilepsy and other neurological problems without negatively affecting a child's development or brain functions.
When pediatric neurosurgery is required, our neurosurgeons tailor their approach to the needs of each child. In many cases, our pediatric neurosurgeons are able to use the latest techniques in minimally invasive surgery, which offer shorter recovery times, less pain and fewer surgical risks than traditional surgery.
Why Choose Us for Pediatric Neurosurgery
We offer the latest techniques in minimally invasive surgery. For example, our experts can treat hydrocephalus and brain tumors through small, dime-sized incisions in the skull. Benefits of these procedures include shorter recovery times, less pain and fewer surgical risks than traditional surgery.
Information from 3D computer models can help our neurosurgeons identify the exact location of a brain tumor and its relationship to adjacent parts of the brain. Armed with this detailed information, our neurosurgeons can operate with pinpoint accuracy, minimizing trauma to the skull and other brain structures. Neurosurgeons at Comer Children's often are able to remove tumors more completely than neurosurgeons who do not have this technology, while avoiding damage to the child's development and brain functions.
This emerging field of neurosurgery offers new hope to children with difficult-to-treat diseases such as spasticity and dystonia. In functional pediatric neurosurgery, neurosurgeons implant drug pumps and electric current-producing stimulators to treat children with movement disorders. These approaches affect the function of the nervous system without injuring it, and eliminate the need to remove brain or spine tissue.
Deep brain stimulation — implantation of electric current producing stimulators in the brain — has only recently become widely available across the country for adults with movement disorders. In cooperation with the adult deep brain stimulation program at UChicago Medicine, which is staffed by physicians who pioneered this treatment in adults, we are now offering this treatment to children.
Pediatric Neurosurgery Advanced Practice Nurses
Amanda Johnson, DNP, APRN, CPNP-PC/AC
Judith Holleman, MSN, APRN, CCRN, PCPNP-BC, CPNP-AC
Pediatric Neurology and Neurosurgery Locations in Chicago, South Suburbs and Merrillville
Chicagoland Children's Health Alliance
A collaboration among the University of Chicago Medicine Comer Children's Hospital, Advocate Children's Hospital and Pediatrics at NorthShore University HealthSystem
The three organizations are committed to seamless, multidisciplinary care for children and their families. Our collective neurosciences team delivers compassionate and leading-edge care close to home that leads to the best outcomes for children, adolescents, and young adults.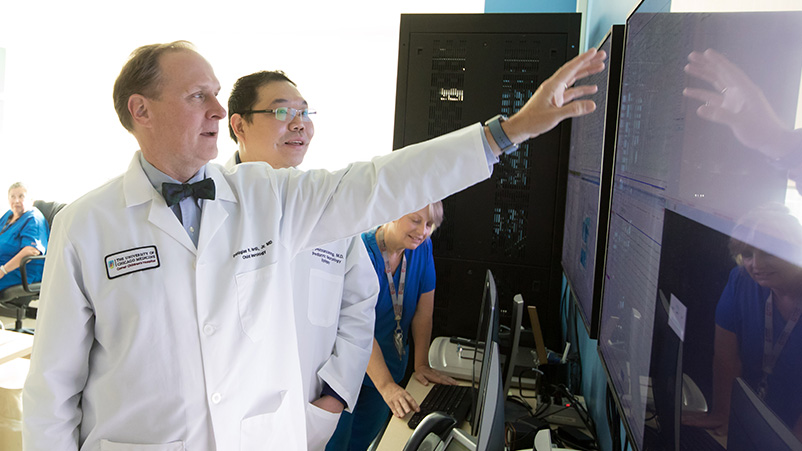 Request an Appointment
The information you provide will enable us to assist you as efficiently as possible. A representative will contact you within one to two business days to help you schedule an appointment.
To speak to someone directly, please call 1-773-702-2123. If you have symptoms of an urgent nature, please call your doctor or go to the emergency room immediately.
Pediatric Neurology & Neurosurgery Articles