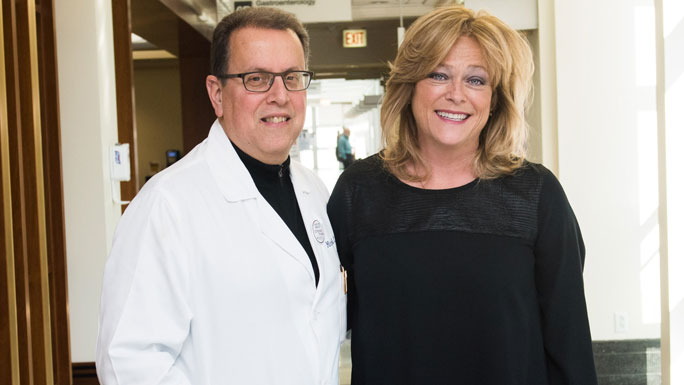 Pancreatic cancer is one of the most difficult cancers to treat. Research studies have shown that, because treatment and surgery for pancreatic cancer are complex, patients have better outcomes and lower complication rates when treated at an institution that handles a high volume of cases.
The University of Chicago Medicine has an extensive clinical program for the treatment of pancreatic cancer. And no other hospital in the Chicago area matches our combined expertise. Our specialists in surgical oncology, medical oncology, gastroenterology and radiation therapy are at the forefront of new technology, new clinical approaches and new treatments for pancreatic cancer.
Therapy for pancreatic cancer may include surgery, chemotherapy, radiation therapy, interventional endoscopy or a combination of these treatments.
Surgery
UChicago Medicine surgeons are nationally and internationally known experts in pancreatic cancer treatment and have many years of experience performing complex gastrointestinal surgeries for this condition, including:
Whipple procedure (pancreaticoduodenectomy): The surgical removal of the "head" of the pancreas, as well as the gallbladder (duodenum) and part of the common bile duct. It is the most common surgery to remove pancreatic tumors. The American Cancer Society recommends patients have the Whipple operation at a hospital that does at least 15 to 20 of these surgeries a year. UChicago Medicine surgeons perform five times that many Whipple procedures annually.
Total pancreatectomy: The surgical removal of the whole pancreas, the gallbladder, the bile duct, the spleen, nearby lymph nodes, part of the stomach and part of the small intestine.
Distal pancreatectomy: The surgical removal of the body and the tail of the pancreas with or without the spleen.
In some cases, surgery for pancreatic cancer can be performed using minimally invasive techniques, such as laparoscopic and robotic surgery. Because these approaches potentially reduce the complications associated with open surgery and may lessen pain and recovery time, surgeons at UChicago Medicine are continually evaluating these techniques for pancreatic cancer surgeries.
Chemotherapy
UChicago Medicine medical oncologists find innovative ways to integrate chemotherapy with each patient's multidisciplinary treatment plan. For patients who are planning to undergo surgery, we use neoadjuvant chemotherapy to eradicate early micrometastases — dangerous "cancer-initiating cells" that can be hiding elsewhere in the body even before surgery. Chemotherapy (alone or in combination with radiation therapy) can also potentially convert inoperable tumors to operable tumors. When a patient has advanced or metastatic pancreatic cancer, chemotherapy may be used to slow tumor growth, relieve symptoms and extend survival.
Clinical researchers at the Center for Gastrointestinal Oncology actively investigate new therapies for pancreatic cancer. Our oncologists are pioneers in this area — often being among the first to offer certain experimental treatments for the disease. As a result, our patients have the opportunity to participate in several institutional and national pancreatic cancer clinical trials.
Radiation Therapy
UChicago Medicine radiation oncologists were among the first in the nation to conduct studies using advanced radiation techniques to treat pancreatic cancer, including:
Intensity-modulated radiation therapy (IMRT): Delivers high doses of radiation more precisely than conventional radiation therapy. Subsequently, normal tissues can also be better protected, enabling higher doses aimed at the tumor.
Stereotactic body radiation therapy (SBRT): Delivers a course of treatment in five days or less, using advanced methods of tumor targeting to facilitate much higher daily doses of radiation.
At UChicago Medicine we have a vast array of technology for immobilizing and targeting tumors. In conjunction with pre-treatment placement of markers in select cases, these approaches can be used to provide pinpoint accuracy.
Pain Control & Palliative Care
Because the pancreas is located near several major organs and a complex network of nerves, most patients with advanced pancreatic cancer experience pain. Pancreatic tumors can cause gastrointestinal obstructions and other problems that may require additional treatments. We partner with patients to give them the best possible quality of life while battling this disease.
Pain Medication
Our pain management and palliative care specialists are dedicated to finding the most efficient pain control solutions. Pain medication is administered via different methods, including:
Intravenous (through injection into a vein)
Oral (by mouth)
Peridural (through injection into spinal fluid or tissue near the spinal cord)
Transdermal (through the skin, via pain patches or creams)
Portable and implantable infusion devices are used where indicated to ensure continued quality of life with the least amount of complications due to pain.
Powerful Nerve Blocks
One particularly effective pain management technique is the neurolytic celiac plexus block (NCPB). NCPB involves the injection of medication directly into the nervous system to block the pain signals sent from the pancreas to the brain. Anesthesiologists perform this procedure with the aid of specialized X-ray techniques. In most patients, pain can be substantially reduced pain while also decreasing the amount of medicine given to the patient by 50 to 70 percent.
Endoscopic Stent Placement
Pancreatic cancer can obstruct the bile duct and the small intestine, causing discomfort, jaundice and pain. To relieve the obstruction, interventional gastroenterologists use endoscopes to insert expandable mesh hollow tubes, called stents, into the narrowed area. The stent is then released to expand the narrowed area.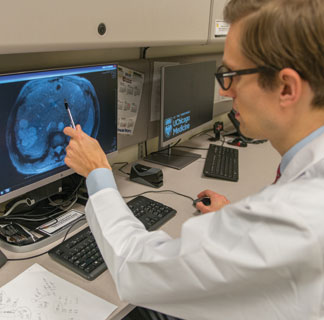 Shedding Light on Pancreatic Neuroendocrine Tumors
Approximately 5%-10% of all pancreatic tumors fall under the category of pancreatic neuroendocrine tumors (pNETs). pNETs have a different prognosis than adenocarcinomas and are treated completely differently.
Learn More About pNETs
Whipple Surgery Offers Hope and Potential Cure for Pancreatic Cancer
After undergoing chemotherapy and the Whipple surgical procedure for pancreatic cancer, Karen Bluemke and her husband are now finding time for fun at their new oceanfront condo in Florida.
Read Bluemke's Story