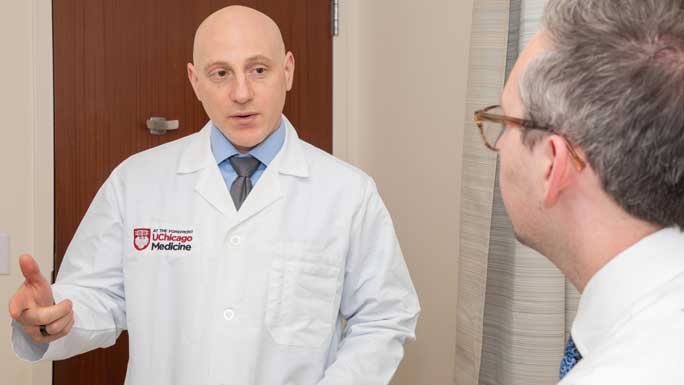 Pancreatic cancer is a serious condition that requires expert, focused care. At the University of Chicago Medicine Center for Gastrointestinal Oncology, our pancreatic cancer team includes internationally known medical, radiation and surgical oncologists, as well as highly regarded experts in interventional gastrointestinal endoscopy, cancer genetics, pain management, pathology, advanced diagnostic imaging and supportive oncology. This multidisciplinary team works together to provide a thorough and comprehensive approach to pancreatic cancer diagnosis and treatment.

The UChicago Medicine physicians who treat pancreatic cancer are the same scientists researching new and better ways to conquer this devastating disease. Our patients have access to promising investigational treatments long before they are widely available at other hospitals.
Our Commitment to Respond Quickly
Pancreatic cancer is a complex disease that requires prompt treatment. When this diagnosis is made or suspected, it's important to receive an immediate evaluation by a qualified team of pancreatic cancer experts. We're committed to seeing patients quickly.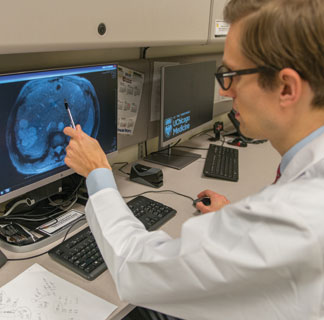 Shedding Light on Pancreatic Neuroendocrine Tumors
Approximately 5%-10% of all pancreatic tumors fall under the category of pancreatic neuroendocrine tumors (pNETs). pNETs have a different prognosis than adenocarcinomas and are treated completely differently.
Learn More About pNETs
What Is the Whipple Procedure?
Learn about the Whipple procedure, or pancreaticoduodenectomy, the most common surgery for removal of cancer of the pancreas.