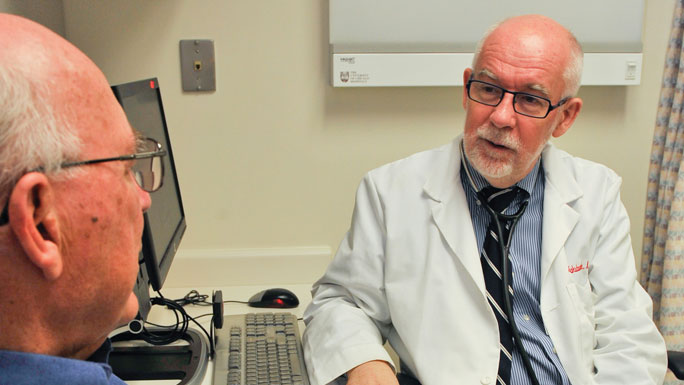 There's new hope for patients with multiple myeloma, a cancer of the plasma cells (a type of white blood cell found in the bone marrow). While multiple myeloma is considered a chronic and incurable condition, advances in scientific research are bringing innovative and exciting treatments to people who have newly diagnosed, relapsed or refractory (hard-to-treat) disease. More and more people are attaining lengthy remissions and are surviving for many years.
"There is no question that the efforts of the myeloma community in the last decade have dramatically improved outcomes and changed the natural history of this disease," said Andrzej J. Jakubowiak, MD, PhD, director of the myeloma program at the University of Chicago Medicine Comprehensive Cancer Center. "While the advances are, in part, related to high-dose chemotherapy with stem cell transplant support, they are mostly attributed to the introduction and availability of new drugs."
Comprehensive Care for Multiple Myeloma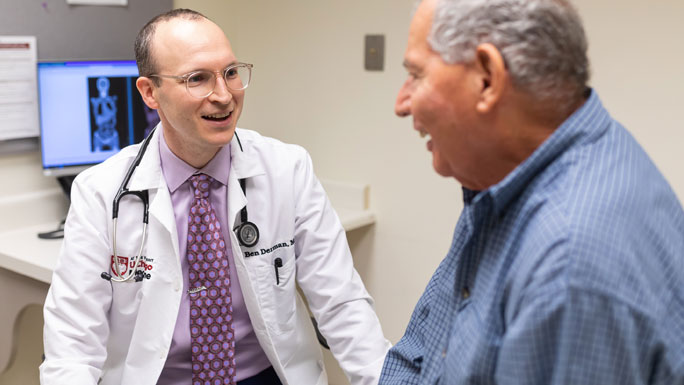 The hematologists/oncologists on our multiple myeloma team are nationally known experts in the treatment of this disease. As lead investigators and co-investigators on numerous national clinical trials, these same physicians are actively involved in the discovery and design of new and innovative therapeutic advances.
Our treatment team provides a personalized approach for the care of patients with multiple myeloma. Our goal is to control disease growth, achieve remission and help our patients live a good quality of life. We also offer comprehensive support services to help our patients manage their multiple myeloma symptoms and the side effects that may occur as a result of therapy.
Treatment for multiple myeloma is often complex and may involve a combination of therapies. We provide the full range of treatment options — tailored to each patient — including traditional and emerging therapies:
Chemotherapy with novel drugs thalidomide, lenalidomide and bortezomib — a class of drugs that change the environment around malignant cells, preventing them from growing and reproducing. Different combinations of these medicines, both with each other and with more traditional chemotherapeutic agents, are often considered and very effective.
Autologous stem cell transplantation — a conventional approach and now a safer, more effective therapy. In many cases, patients can have a stem cell transplant as an outpatient. UChicago Medicine had the best one-year stem cell transplant outcomes in Chicago and the highest relative to predicted outcomes, according to 2020 and 2021 annual reports from the Center for International Bone and Marrow Transplant Research. Learn about our work to improve stem cell transplant survival rates.
New cellular therapies, such as CAR T-cell therapy — such as Idecabtagene vicleucel (Abecma) and ciltacabtagene autoleucel (Carvykti) are recent FDA-approved cellular therapies for patients with treatment-resistant multiple myeloma. UChicago Medicine was the first hospital in Chicago to offer both breakthrough treatments for advanced-stage disease. Many patients can receive CAR T-cell therapy on an outpatient basis.
Clinical trials of new drugs — the newest generation of therapies similar to bortezomib (Velcade), thalidomide and lenalidomide, but designed to be better tolerated and more powerful. Drugs such as carfilzomib, pomalidomide, elotuzumab and others are able to overcome resistance seen in the already approved drugs.
Targeted therapy — a recent advancement in multiple myeloma treatment, targeted therapies detect and attack cancer cells without damaging normal cells.
Supportive care — chemotherapy, radiation and other therapies may be recommended to slow bone loss and treat bone pain.
Multiple Myeloma Research
UChicago Medicine physicians and scientists are at the forefront of basic and clinical research in multiple myeloma. Our program works collaboratively with basic scientists at the UChicago Medicine Comprehensive Cancer Center to investigate and develop new therapies for multiple myeloma. In addition, members of the multiple myeloma team at UChicago Medicine are active participants in the Multiple Myeloma Research Consortium (MMRC) — an association of 25 academic medical centers dedicated to accelerating research on multiple myeloma, creating new treatment protocols and bringing the most promising therapies to patients in a timely manner.
Multiple Myeloma Physician Leaders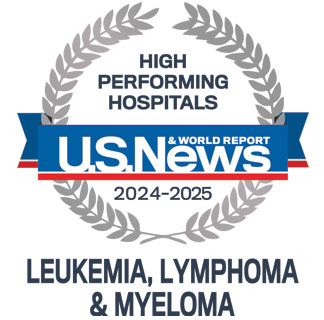 High Performing in Leukemia, Lymphoma and Myeloma
According to U.S. New & World Report's 2023-2024 rankings, UChicago Medicine is high performing in leukemia, lymphoma and myeloma.
Learn more
Outpatient Stem Cell Transplant: No Place Like Home
Rather than the typical three- to four-week hospital inpatient stay for a stem cell transplant, Rebecca Zoltoski spent a few hours in the outpatient unit daily, where she underwent tests and the infusion of healthy cells to overpower cancer cells.
Read Zoltoski's story