Specialized Care for Acute Myeloid Leukemias, Myelodysplastic Syndromes and Myeloproliferative Neoplasms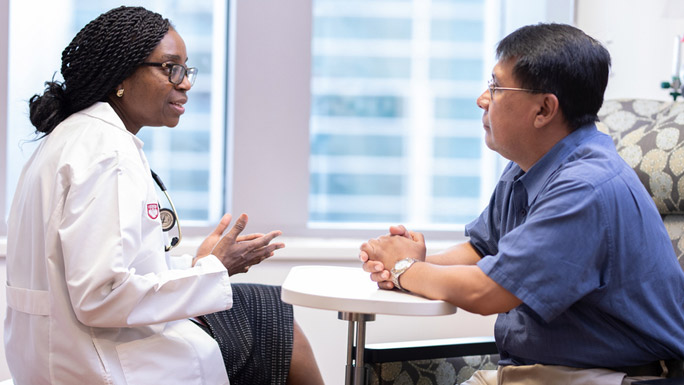 High-risk myeloid cancers such as acute myeloid leukemia (AML), some myelodysplastic syndromes (MDS) and myeloproliferative neoplasms (MPN) can progress quickly and therefore require prompt medical care. UChicago Medicine Comprehensive Cancer Center leukemia experts created the Complex Acute Leukemia and Myeloid Malignancies Clinic (CALMM) to address the unique needs of these patients by providing comprehensive, personalized care with timely access to advanced treatments, including clinical trials and targeted therapies. We also provide expedited access to our transplant and cellular therapy program when considering stem cell transplant as a treatment option.

The CALMM Clinic offers care for patients diagnosed with myeloid malignancies including the following:
Relapsed or refractory acute myeloid leukemia

Acute myeloid leukemia with high-risk or genetic features

High-risk myeloproliferative neoplasms (also known as myeloproliferative neoplasms, or MPN)

Myelofibrosis

Accelerated-phase MPNs

Blast-phase MPNs

Myelodysplastic syndromes (MDS)
MDS/MPN overlap syndromes

Chronic myelomonocytic leukemia (CMML)

Atypical chronic myeloid leukemia (aCML)

Chronic neutrophilic leukemia (CNL)
The Best Treatment Plan Is Guided by a Thorough Diagnosis
Because there are several subtypes of leukemia and myeloid malignancies that require different treatments, it's important to get an accurate diagnosis to help determine the best treatment plan. UChicago Medicine hematopathologists (physicians who specialize in diagnosing diseases of the blood) are nationally recognized for their expertise in pinpointing leukemia and myeloid malignancy subtypes.

Our Dedicated Team of Leukemia and Hematology Experts
Each patient's case is reviewed by an interdisciplinary team of leukemia specialists. This team recommends care based on each patient's unique condition.

Comprehensive Care, Including Access to New Treatments
The CALMM Clinic focuses on creating treatment plans that are designed to both target cancerous cells and to reduce the risk for disease recurrence. Most importantly, the treatment plans are tailored to each patient's needs.

Our team offers the full spectrum of treatments and services for acute leukemias and myeloid malignancies, including:
Coordinated Care — Right from the Start
At the first visit to the CALMM Clinic, new patients have the opportunity to meet with a leukemia physician, a stem cell transplant physician and a leukemia nurse navigator. Each patient receives a new patient handbook that includes helpful information about the treatment process and answers to common questions.

Nurse navigators play a central role, working closely with patients and their families from the beginning and throughout the care journey. Nurse navigators serve as a "go-to person" to answer questions and to help guide patients through the care process. They coordinate essential treatment and support services including lab tests, clinic visits, mental health and nutritional counseling, social work care and more.
Our Commitment to Seeing Patients Quickly
Because fast-growing leukemias and myeloid malignancies require immediate care, our team is committed to seeing patients quickly. Call 1-855-702-8222 to request an appointment at the CALMM Clinic.