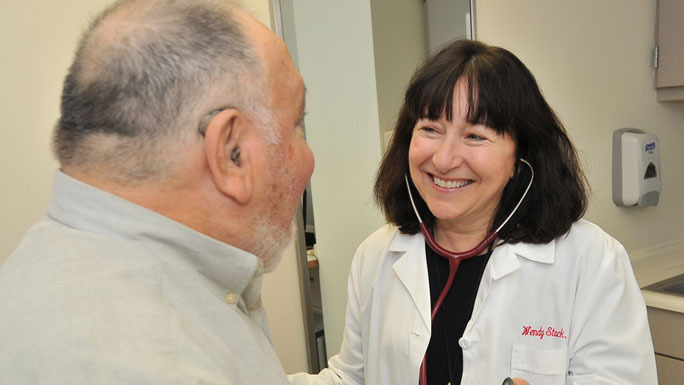 The outlook for many adults with leukemia, myelodysplastic syndromes (MDS) and myeloproliferative neoplasms (MPN) is getting brighter every day — thanks to major breakthroughs being made and tested at the University of Chicago Medicine Comprehensive Cancer Center and other leading cancer centers across the country. As one of the largest programs in the Chicago area, our leukemia specialists care for more than 300 new patients each year.
Access to the Newest Cancer Drugs
Our physicians are nationally renowned for their research and clinical expertise. As a result, our leukemia program is commonly among the first in the country to test new experimental leukemia drugs and treatments. This includes:
Leading a trial that resulted in the approval of a new medication for acute myeloid leukemia
Being one of the first centers to test new antibody therapies for relapsed acute lymphoblastic leukemia that resulted in their approval
Being among the first to offer CAR-T cell therapy in children and adults with acute lymphoblastic leukemia
Being the first center in the region to open an umbrella trial for molecular targeting of acute myeloid leukemia (AML) in older adults
Behind the scenes, our physicians and researchers are busy unlocking genetic mechanisms that may predispose a person to developing leukemia and myelodysplasia. They are also looking at molecular changes within blood cells that trigger the disease. Important findings from this work have led to our success in gaining approvals for new therapies that specifically target these abnormalities, disabling the cancer cells' ability to grow and survive. We have more than 30 ongoing clinical trials based on these specifically targeted treatment approaches to personalized therapy.
One of the Top Diagnostic Teams in the Country
Work by our molecular genetic research team has led to more precise diagnostic approaches, as well as new and effective treatments. Our world-renowned team of hematopathologists (physician-scientists who analyze blood samples and tissue to identify blood cancers), clinical researchers and our molecular genetic diagnostics group literally "wrote the book" — the World Health Organization's textbook — on classifying blood cancers. Physicians from around the world consult with our diagnostics team on complex leukemia cases and other blood disorders to ensure a proper diagnosis is made.
Care for Complex Acute Leukemia and Myeloid Malignancies (CALMM)
Our leukemia experts created the Complex Acute Leukemia and Myeloid Malignancies Clinic (CALMM) to address the unique needs of these patients by providing comprehensive, personalized care with timely access to advanced treatments, including clinical trials as well as targeted therapies.
Leukemia Risk & Prevention
We offer the only program in the area to offer personalized risk assessment for patients and families who may be at an increased risk for developing leukemia due to genetic factors.
Adolescent & Young Adult (AYA) Program
UChicago Medicine is the only hospital in the region with a specialized clinic for adolescents and young adults (ages 15-39 years) with leukemia and other blood malignancies. This multidisciplinary program focuses on the specific issues that face this group during and following treatment.
Cellular Therapy for Older Adults
Our unique Transplant Optimization Program (TOP) offers evaluation and coordinated care for older adults with leukemia who may be candidates for stem cell transplant or CAR T-cell therapy.
Individualized Care from a Team of Specialists
There are many advantages to coming to a top cancer program like the one at UChicago Medicine. A team of physicians and nurses who specialize in acute and chronic leukemias, as well as myelodysplastic syndrome (MDS) and myeloproliferative neoplasms (MPN), direct each patient's care.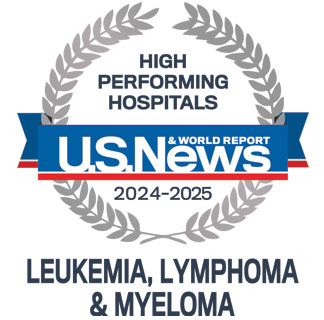 High Performing in Leukemia, Lymphoma and Myeloma
According to U.S. New & World Report's 2023-2024 rankings, UChicago Medicine is high performing in leukemia, lymphoma and myeloma.
Learn more
Convenient Locations for Cancer Care
Request an Appointment
The information you provide on this secure form to request an appointment with a UChicago Medicine leukemia expert will enable us to assist you as efficiently as possible. A representative will contact you within one to two business days to help you schedule an appointment.
You can also make an appointment with our providers by:
– Scheduling a virtual video visit to see a provider from the comfort of your home
– Newly diagnosed patients can schedule a 15-minute introductory Express Expert Cancer Opinion virtual session at no cost
– Requesting an online second opinion from our specialists
To speak to someone directly, please call 1-855-702-8222. If you have symptoms of an urgent nature, please call your doctor or go to the emergency room immediately.
For Referring Physicians
To refer a patient for leukemia care, please call UCM Physician Connect at 1-800-824-2282.
Leukemia Related Articles