The University of Chicago Medicine's Brain Tumor Center represents the forefront of groundbreaking care for tumors of the central nervous system (CNS), the part of the nervous system that consists of the brain and spinal cord.
Our multidisciplinary team of neuro-oncologists, neurosurgeons, radiation oncologists and hematologist/oncologists work together to plan and deliver individualized care for patients with the most complex brain and spinal cord tumors.
Why Choose UChicago Medicine for your brain or spine tumor treatment?
UChicago Medicine surgeons perform hundreds of brain and spine tumor operations every year.
We offer definitive diagnostic assessments using the latest technology and minimally-invasive techniques to pinpoint even the most difficult-to-detect tumors.
Patients benefit from our full range of comprehensive treatment options for non-malignant and malignant brain and spinal cord tumors.
Leading the Advancement of Brain & Spinal Cord Tumor Treatment
At the Brain Tumor Center, our treatment strategies are guided by innovative research conducted at UChicago Medicine. Our scientists are helping build critical foundations for future advancements in the treatment of brain and spinal cord tumors.
Through our basic research program, UChicago Medicine scientists investigate the underlying mechanisms involved in how brain and spinal cord tumors develop, survive and spread. Collaborative initiatives with the UChicago Medicine Comprehensive Cancer Center aim to substantially advance the treatment and prevention of brain and spinal cord metastases. This scientific research is supported by numerous grants, including a $90 million grant supporting the Ludwig Center for Metastases Research.
Access to Innovative Clinical Trials
UChicago Medicine researchers are conducting clinical research focused on brain and spinal cord tumors. Our Comprehensive Cancer Center offers access to the entire range of Phase I, II, and III clinical trials supported by the National Institutes of Health (NIH) for newly-diagnosed and progressive gliomas, as well as brain metastases.
In addition to national trials supported by the NIH, we also conduct industry- and investigator-sponsored clinical trials. These studies involve a range of treatments including surgery, radiation, chemotherapy, targeted drugs, immunotherapy and vaccines. Your doctor can help you decide whether a clinical trial is right for you.
Request an Appointment for Cancer Care
The information you provide in this form will enable us to assist you as efficiently as possible. A representative will contact you within one to two business days to help you schedule an appointment.
For your convenience, you can make a virtual visit appointment with a cancer expert in the following ways:
– Schedule a virtual video visit to see a provider from the comfort of your home
– Newly diagnosed patients can schedule a 15-minute introductory Express Expert Cancer Opinion virtual session at no cost
– Request an online second opinion from our specialists
To speak to someone directly, please call 1-855-702-8222. If you have symptoms of an urgent nature, please call your doctor or go to the emergency room immediately.
For Referring Physicians
To refer a patient for cancer care, please call UCM Physician Connect at 1-800-824-2282.
After Semitrailer Crash, a Trucker Receives Life-Changing Brain Tumor Diagnosis and 'Awake' Operation
After Donald Schwartz's semitrailer crashed, doctors performed brain surgery on him while he was awake to remove a cancerous tumor.
Read Schwartz's story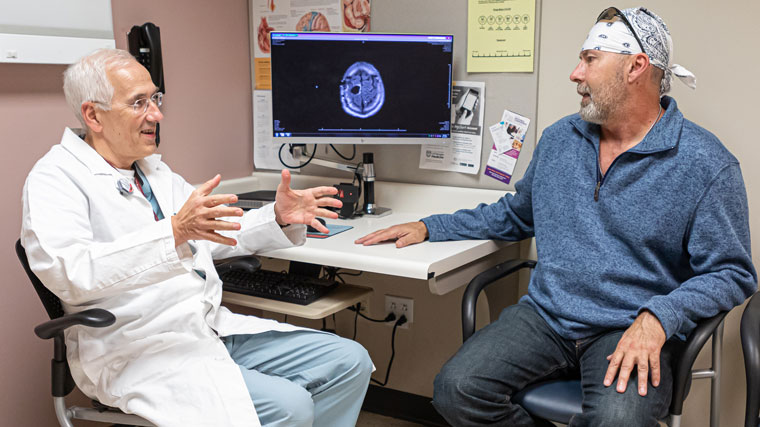 Convenient Locations for Cancer Care