Skip to content
Q&A: Can congenital heart disease affect pregnancy?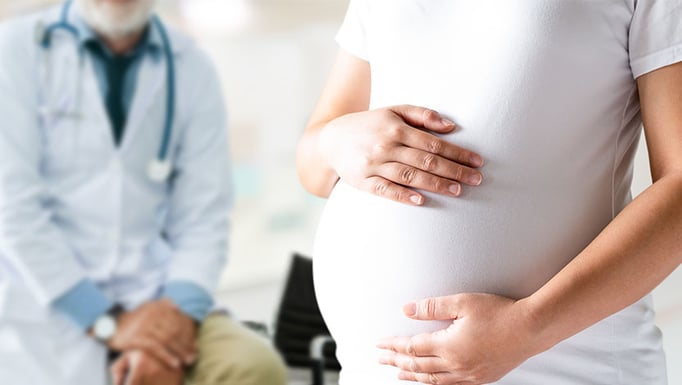 If you have adult congenital heart disease (ACHD), it can be difficult to predict how pregnancy will affect your heart. You may have a relatively smooth pregnancy like many patients with ACHD, or you may develop serious complications that require specialized care.
At the University of Chicago Medicine, our team understands that every heart — and every pregnancy — is unique. As specialists in maternal-fetal medicine, adult congenital heart disease, and obstetric anesthesiology, we combine our expertise to provide the best care possible for patients with adult congenital heart disease during pregnancy. Our team is committed to giving you the support you need before, during and after your pregnancy. Here, we offer answers to common questions about how ACHD may affect your pregnancy, labor and delivery, as well as your baby's health.
Does congenital heart disease affect pregnancy? What are the risks?
Your risks for having heart symptoms, a cardiac event, preterm delivery or other poor outcomes depend on your type of ACHD. If you have a corrected heart defect like a tetralogy of fallot, you may only have a slightly higher risk for symptoms or complications during pregnancy. If you have an aortic value stenosis, the risks to you and your baby during pregnancy may be higher. The most serious risks are cardiac events, such as arrhythmias, pulmonary edema, stroke or sudden cardiac death.
At UChicago Medicine, we will help you understand your risks and develop a plan to manage any symptoms you may have during pregnancy, as well as to reduce any potential risks to you and your baby. Each patient is treated on an individual basis to provide catered specialty care.
If I have congenital heart disease, when am I most at risk during my pregnancy? What warning signs should I watch for?
With ACHD, your risk for cardiac events increases at about 28 to 32 weeks into your pregnancy. That's because your heart has to pump 50% more blood at this point in your pregnancy, compared with the beginning of your pregnancy. This can increase the stress on the heart.
Some warning signs to watch for during this time include the following:
Shortness of breath
Fatigue
Rapid heartbeat (palpitations)
Chest pain
Leg swelling (edema)
At UChicago Medicine, our multidisciplinary team will carefully monitor your heart health during this period and make sure that both you and your baby stay well and to reduce the risk of preterm birth.
Your cardiac risk is also higher during delivery and in the first 24 hours after you deliver. This is why your care team should have advanced expertise in helping patients with ACHD deliver and recover safely. At the Family Birth Center, our team applies extensive knowledge and experience to effectively manage our patients' health risks during this critical time.
If I have congenital heart disease, is my baby at risk for having a heart defect?
Your baby has about a 5% chance of having a heart defect if you have ACHD. However, the risks may be higher if you have certain genes associated with congenital heart disease.
At the Family Birth Center, we offer fetal echocardiograms, which use sound waves to provide a detailed picture of your baby's heart. This test can reveal defects in your baby's heart that may require treatment after delivery.
As soon as you're thinking about becoming pregnant, request an appointment for a preconception evaluation.
Can congenital heart disease cause miscarriage?
Although congenital heart disease can be associated with higher risk for miscarriage, most patients receiving regular care with their cardiologist and effectively managing their cardiovascular conditions should not have significantly higher risk. Congenital heart disease may also be associated with higher risk of preterm birth and fetal growth restriction. However, most of these risks can be reduced by regular prenatal care and regular follow-up with a cardiologist.
When should I see a specialist if I have congenital heart disease and want to get pregnant?
As soon as you're thinking about becoming pregnant, request an appointment for a preconception evaluation. We start by reviewing your medical history and discussing your potential risks to help you prepare for your pregnancy. We also can adjust any medications that may interfere with your pregnancy. None of your medications will affect your fertility.
What steps should I take if I have ACHD and want to reduce my risks during pregnancy?
Our team of experts can help you design a plan based on your heart condition, age and overall health. Depending on your type of ACHD and the results of your echocardiograms and any other tests, we may also recommend certain medications, such as:
Diuretics, which can help remove extra fluid from your body to reduce stress on your heart
Beta blockers, which can slow your heart rate if it is too fast
Low-dose aspirin, which can reduce the risk for irregular heartbeats and blood clots
Can my heart medications affect my baby?
Most heart medications are safe to take during pregnancy and it's important to keep taking them to minimize risk for yourself and your baby. However, certain heart medications can affect your baby. That's why it's important to see specialists who can review your medication and suggest alternatives that are safe during pregnancy.
If you are taking heart medications, you need to be monitored closely through your pregnancy. Certain medications may slow your baby's growth, so we may recommend weekly ultrasounds to check your baby's development and determine if your medications should be changed during your pregnancy.
Can I have a vaginal delivery if I have congenital heart disease?
At UChicago Medicine, we help many patients with heart conditions have a vaginal delivery. In fact, our Family Birth Center has a highly experienced team and the latest technology designed to support a safe vaginal delivery.
Your team will discuss whether you can have a safe vaginal birth based on your heart health and design a plan to ensure you have the safest delivery possible. If a cesarean delivery (C-section) is necessary, our team can perform the delivery in a safe, well-monitored setting that prioritizes your and your baby's health while making the experience as family-centered as possible.
Meet Our Physician Author Team
Find an Adult Congenital Heart Disease (ACHD) in Pregnancy Specialist Near You
Request an Appointment
You can also schedule an appointment instantly for in-person and video visits through our online scheduling portal.
The information you provide will enable us to assist you as efficiently as possible. A representative will contact you within one to two business days to help you schedule an appointment.
To speak to someone directly, please call 1-888-824-0200. If you have symptoms of an urgent nature, please call your doctor or go to the emergency room immediately.