Skip to content
As awareness grows, more LGBTQ+ couples consider fertility options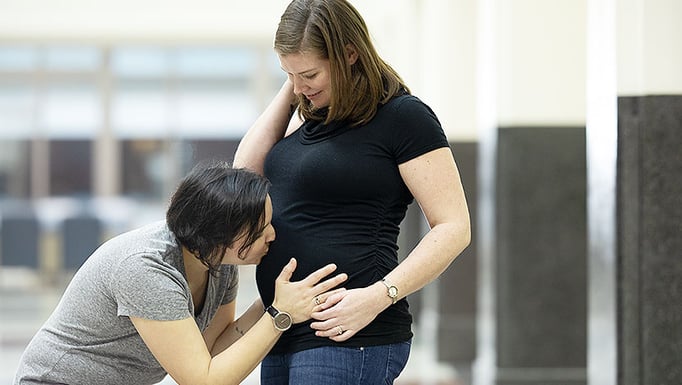 In the LGBTQ+ community (lesbian, gay, bisexual, transgender, non-binary and queer), people are becoming increasingly aware of the fertility options available to them.
Some may assume they're unable to have a family, and are surprised to learn that opportunities exist.
The first step in family planning for LGBTQ+ people is to gather good information from a trusted source. The University of Chicago Medicine is an excellent starting point. It's nationally recognized for its LGBTQ+-friendly policies and practices. It's been named a "Healthcare Equity Leader" by the Human Rights Campaign Foundation for the past six years. It's also where Howard Brown Health, a Chicago healthcare provider specifically for LGBTQ+ people, often refers patients to discuss their fertility options.
UChicago Medicine's doctors at the Center for Reproductive Medicine and Fertility offer LGBTQ+ people help with becoming pregnant, finding a gestational carrier, or using fertility preservation so a person can have a child at a later date.
What are some of the challenges an LGBTQ+ person faces when trying to start a family?
There are many ways to build a family. For people who are interested in having genetically related children and who are part of the LGBTQ+ community, there may be some obstacles, but having a family is possible. There are three tools needed for family building: an egg, a sperm, and a uterus. Same sex couples, or sometimes people who identify as transgender or gender non-conforming, may be missing one or two of these tools. We can help people get all three. Sometimes, this may involve a person donating sperm or eggs, or offering to carry the pregnancy.
Is any of this covered by insurance?
Nationally, it is uncommon for insurance to cover fertility services. But some insurance policies are increasingly progressive, so it is important to talk to your insurance company. Infertility, to most insurance companies, is defined as having unprotected intercourse for one year without being able to conceive. Many people in the LGBTQ+ community may not meet that criteria and may not be covered. Unfortunately, there is some disparity in insurance coverage.
Why is UChicago Medicine a good place for LGBTQ+ people to get healthcare and family planning?
We're a small group of specialists, and we're very invested in making sure everyone feels comfortable with the care that they receive. We've treated people across the whole spectrum using third-party reproduction – this means assisting people to build their families with the help of donor eggs, donor sperm or a gestational carrier. We also treat transgender and gender non-conforming people who may be interested in preserving their fertility prior to starting gender-affirming treatments or before surgery. We're comfortable with it. We're academically interested. And we're trying to move things forward to do everything in the most medically safe way, and give them the most options to build their family.
How accessible are sperm and egg donors, or surrogates, to LGBTQ+ patients?
They're accessible, but each case depends on what people are bringing to the table. A single gay man or a single gay woman may want different things. For gay males who have sperm, the main option is in vitro fertilization (IVF) with a donated egg and a gestational carrier. Gay women with a uterus and ovaries can have intrauterine insemination (IUI), or IVF with donor sperm, but there are questions of whose eggs are used and who carries the pregnancy. Transgender people, depending on who they are partnered with (if anyone) may have many options.
Does it complicate things if someone is taking hormones?
It can. Gender-affirming hormones can suppress the normal conversation between the testes or ovaries which make hormones, and our brains, which control how our ovaries and testicles function. Gender-affirming hormones can make it harder for you to conceive on your own or to save eggs and sperm for future use. Using hormones doesn't mean that family building is impossible, but it might make it more challenging. Check with a reproductive specialist to see what options are available to you.
Why did you get involved in this type of care?
As an African American woman who's experienced health disparities growing up, I feel connected to groups who are underserved. Building your family is a basic human right, and everyone deserves it. It's important, and also scientifically challenging. I brought what I learned working with LGBTQ+ patients at the University of California-San Francisco — where there's a large LGBTQ+ population — to UChicago Medicine.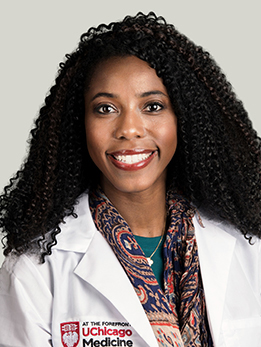 Amanda Adeleye, MD
Reproductive endocrinologist Amanda Adeleye, MD, specializes in reproductive medicine and infertility treatment, including fertility preservation, in vitro fertilization (IVF) and intrauterine insemination (IUI).
Learn more about Dr. Adeleye
Convenient Clinic Locations in Hyde Park, South Loop and Hinsdale
1101 S. Canal St.
Suite 201 & 202
Chicago, IL 60607
877-336-5667
12 Salt Creek Ln.
Salt Creek Suite 106
Hinsdale, IL 60521
888-824-0200
Request an Appointment
The information you provide will enable us to assist you as efficiently as possible. A representative will contact you within one to two business days to help you schedule an appointment.
You can also make an appointment with our providers by:
– Scheduling a virtual video visit to see a provider from the comfort of your home
– Requesting an online second opinion from our specialists
– Filling out an online questionnaire (e-visit) to get a same-day diagnosis and treatment for common conditions.
To speak to someone directly, please call 1-888-824-0200. If you have symptoms of an urgent nature, please call your doctor or go to the emergency room immediately.
Learn More About Reproductive Health