Skip to content

Five-and-a-half years ago, Sara Llibre decided to celebrate her upcoming 50th birthday by re-kindling her athletic career. The mother of two started running and eventually did her first marathon. Within a few years, the La Grange resident joined a triathlon team and completed her first Ironman (2.4 mile swim/112-mile bike/26.2-mile run) race.
But heavy training took a toll and a year-and-a-half ago, Llibre's right hip hurt so much she could barely run. An MRI showed impingement (the hip bones rubbing together) and a labral tear in her hip. One doctor told Llibre she'd never run again.
Intent on getting a second opinion, she visited Sherwin S. W. Ho, MD, associate professor of orthopaedic surgery and director, sports medicine fellowship program, at the University of Chicago Medicine.
"Dr. Ho knows athletes and I could tell that he knew exactly from my description of the pain what I was dealing with," said Llibre. "He didn't promise me anything but he said chances were good that I could run again. And he was right."
In January 2014, Ho performed a minimally invasive, outpatient procedure that repaired the impingement and tear. Eight months later, in September 2014, Llibre ran a pain-free Ironman Wisconsin and set a personal record while placing fourth in her age group. Now she's looking forward to another personal record while competing in the Ironman competition in Louisville, KY.
"It just feels natural to me," said the cheery Chicago public school teacher, about training and racing.
"If we get to these patients early enough, we can save the hip and allow them to continue with an active, healthy lifestyle," explained Ho, an expert in sports medicine and minimally invasive arthroscopic procedures of the shoulder, elbow, hip, knee and ankle. "Especially in athletes such as Sara who want to do triathlons late in life, a surgery like this can give them additional miles and years on their hips."
"To me, Dr. Ho is a miracle worker," she said.
Just a decade ago, impingement (known as femoroacetabular impingement or FAI) often went undiagnosed and patients were told they were suffering from tendonitis or arthritis and to live with the pain. When the pain was advanced enough to show up as arthritis on an X-ray, patients would get hip replacements.
"Today with the advent of better MRIs and minimally invasive procedures, we can diagnose patients who have impingement and tears and treat them before they get arthritis," explained Ho. "Our job as hip preservation specialists is to maintain our patient's natural hip and avoid the need for hip replacement later in life."
Impingement generally occurs with hip flexion beyond 90 degrees. The hip's ball and socket are designed to flex to a certain degree but when you exceed that limit repeatedly, the two bones can bump into each other, causing pain and in Llibre's case, damage to the labrum – a rim of cartilage around the socket.
A runner flexes tens of thousands of times over the course of a run. But other activities can aggravate hips as well: "Going up stairs, squatting to pick something up, sitting, biking, playing tennis, soccer, skating – pretty much everything we do is done with hips in flexion so that can predispose us to this particular problem (FAI)," explained Ho.
In Llibre's case, Ho repaired the tear and addressed the biomechanical defect (impingement) by reshaping the bones that rubbed against each other. (Tendonitis and early arthritis can also be addressed during surgery.)
For Llibre, the 90-minute procedure was a life-changer. She was on crutches for almost four weeks but after three weeks started swimming and a few weeks later, began biking. Three months later she was running again, at about 80 percent effort. "I got such good advice from Dr. Ho about how much I could do and when to back off – and I didn't have to back off a lot."
Llibre's now back to training six days a week, usually twice a day.
"To me, Dr. Ho is a miracle worker," she said.
Ho is part of a team of University of Chicago Medicine orthopaedic specialists dedicated to comprehensive hip care. The team also includes Hue Luu, MD.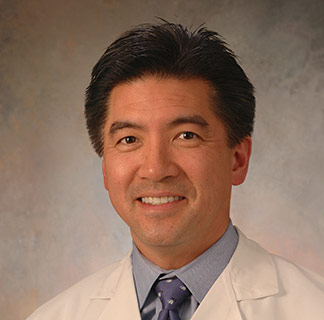 Sherwin S.W. Ho, MD
Dr. Sherwin Ho is an expert in sports medicine, specializing in minimally invasive arthroscopic procedures of the shoulder, elbow, hip, knee and ankle.
Learn more about Dr. Ho
Orthopaedic Hip Care
The orthopaedic specialists at the University of Chicago Medicine offer comprehensive care – non-operative, arthroscopic and joint replacement – for patients with hip pain, instability or disability.
Read more about our orthopaedic hip services
Learn more about orthopaedic care