Skip to content
Nurse gets back on her feet after knee replacement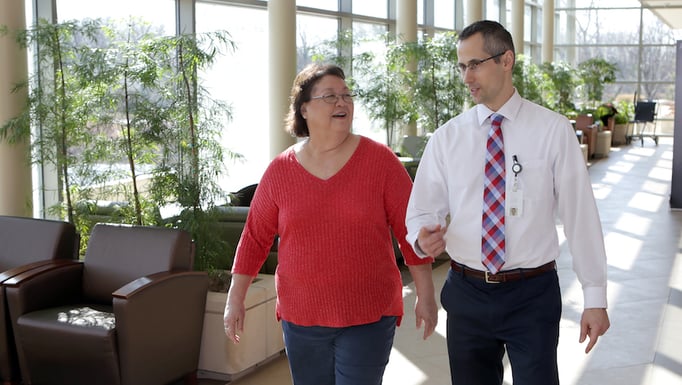 Katherine Krol doesn't have much time to put up her feet. She keeps an eye on her 92-year-old mother and keeps on top of the activities of her sister, her adult children and four grandchildren regularly.
Recently widowed, Krol also works as a registered nurse. So when her right knee started hurting nine years ago, she powered through the pain, then sought some initial treatment but the pain returned and was soon intolerable.
"Every time I walked, I had pain," Krol said.
It hurt to walk down the hallway when her patients needed something and when her grandkids would say, 'Nana, come do this,' she couldn't.
A friend recommended Phil Nigro, MD, an orthopaedic surgeon with offices in Tinley Park, Flossmoor and Calumet City, which offers adult and pediatric outpatient consultations and post-surgical follow-up care for a variety of orthopaedic issues, including workers compensation, hand and wrist care, sports injuries and much more. All locations are affiliated with UChicago Medicine Ingalls Memorial.
Nigro performed her friend's knee replacement and she loved his bedside manner.
This is a more natural knee replacement that allows people to recover more quickly.
After evaluating Krol, Nigro determined that her knee was bone-on-bone, meaning the cartilage had completely worn away between the bone ends. Krol was ready to get the problem solved.
She had knee replacement surgery in November, in a procedure called kinematic alignment, which Nigro brought into his practice in the last two years. It allows the knee joint bones to be resurfaced without cutting ligaments around the knee.
"This is a more natural knee replacement that allows people to recover more quickly," Nigro said.
Krol went into surgery prep at 7 a.m. and was back in her room by 10 a.m. "They had me up and walking at 2:30," she said.
Nigro released Krol the next day. Though she wasn't able to host Thanksgiving, she gave up her walker the very next day, urged by her daughter. "I needed that scolding," she said. "It was scary."
The first day back at work Krol parked on the garage's second floor. She cringed, remembering the pain she used to have climbing the stairs. Not anymore, though.
"It was so nice not to have any pain," she said.
Orthopaedic Knee Care
The orthopaedic specialists at the University of Chicago Medicine offer comprehensive non-operative, arthroscopic and joint replacement care for patients with knee injuries and knee pain.
Explore our knee services
Learn more about orthopaedic care