Skip to content
#ChicagoFit Health and Fitness Festival seeks to break Guinness World Record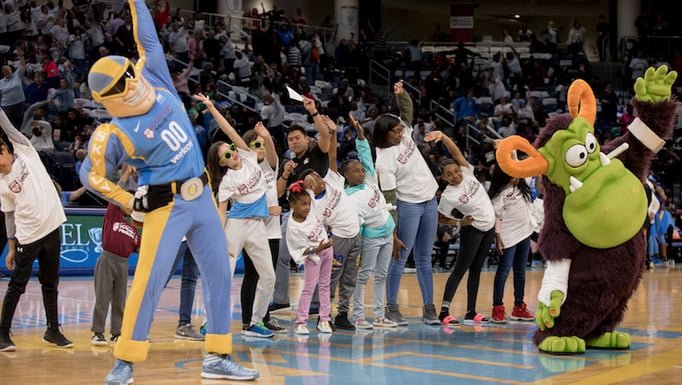 Watch out, Kevin Durant.
The University of Chicago Medicine and the WNBA Chicago Sky plan to make history this summer.
Through their partnership, the organizations are hosting the inaugural #ChicagoFit Health and Fitness Festival on Sunday, July 8, at Soldier Field's South Parking Lot. The free event will feature an attempt to break a Guinness World Record for the largest multi-venue basketball clinic, which is currently held by Durant, Golden State Warriors' all-star player and 2018 NBA Finals MVP. Last year, Durant hosted a clinic in India for 3,459 children.
To beat Durant's record, #ChicagoFit will hold one basketball clinic at Soldier Field's lot and at Wintrust Arena — with the help of athletes and participants representing the Special Olympics. The basketball clinics will be led by Sky coaches Amber Stocks and Awvee Storey.
"The Chicago Sky and UChicago Medicine wanted to do something that brings our shared values to life, and we felt this health and wellness event would further serve our collective community," said Sharon O'Keefe, president of the University of Chicago Medical Center. "We are determined to get everyone of all ages moving, so expect lots of energy, excitement and inspiration for getting fit and living healthy."
Organizers will hand out T-shirts and a Chicago Sky-branded basketball to the first 4,000 participants. Attendees also will have access to free health and wellness assessments and screenings, giveaways and prizes, as well as opportunities to get photos and autographs with athletes from the Chicago Sky.
In addition, the Chicago Bulls, White Sox and Bears will host stations that feature prizes, giveaways and mascot meet-and-greets. The stations also will offer activities where sports fans can show off their skills, including pitching baseballs, throwing footballs and dribbling.
#ChicagoFit kicks off at noon Sunday, July 8, with the "World's Largest Basketball Clinic" beginning at 2 p.m. For more information, or to register, visit: sky.wnba.com/chicagofit/.
The Chicago Sky and UChicago Medicine announced a multiyear partnership in February 2018 that names the academic health system as the official medical provider and a major sponsor of the team. In addition to preseason cardiac screenings for the team, UChicago Medicine is providing comprehensive player- and patient-centered services in orthopaedics and sports medicine, women's health and primary care.
Community Outreach and Health Equity Articles