Skip to content
Michelle A. Josephson, MD, FASN, elected president of largest kidney disease society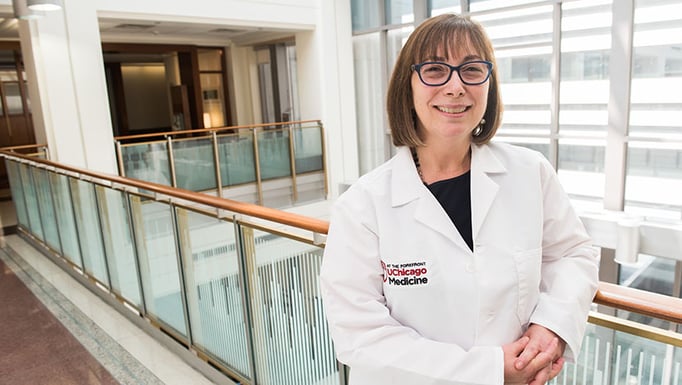 Michelle A. Josephson, MD, FASN, is the new president of the American Society of Nephrology.
University of Chicago Medicine physician Michelle A. Josephson, MD, FASN, is the new president of the American Society of Nephrology (ASN). She assumed the role January 1.
Josephson, Professor of Medicine, focuses her clinical work on complications in transplant patients. She is a nationally renowned expert on BK virus nephropathy, which can cause dysfunction in a transplanted kidney. She also is a specialist in pregnancy and the management of hypertension, bone disease and hyperlipidemia in kidney transplant recipients.
At UChicago Medicine, Josephson is the Medical Director of the Kidney Transplant Program and directs the Transplant Nephrology Fellowship Program. Through her work, she is committed to innovative research, comprehensive education, and top-notch care in kidney transplantation.
In the past, she has chaired the Transplant Advisory Group, the Policy and Advocacy Committee, and the ASN Early Program on Kidney Transplantation. She has also been a member of numerous ASN committees and groups, including the ASN COVID response team.
Josephson also chaired the American Society of Transplantation (AST) Cutting Edge of Transplantation 2020 and 2021 meetings, and co-chaired the KDIGO Controversies Conference on the Failing Allograft. She served from 2007 to 2010 as a Councilor-at-Large on the AST Board of Directors and from 2005 to 2006 as President of Women in Nephrology. She serves on the editorial board of the Clinical Journal of the American Society of Nephrology and was an Associate Editor for the journal Transplantation.
"It's an exciting time to be ASN's incoming president," said Josephson. "I'm truly honored to be in this role as we continue to see numerous advances and increased awareness related to kidney health with ASN at the forefront."
ASN has more than 20,000 members representing 132 countries. Since 1966, the organization has worked to prevent, treat and cure kidney diseases throughout the world by educating health professionals and scientists, advancing research and innovation, communicating new knowledge and advocating for the highest quality care for patients.
Kidney Transplant Program
UChicago Medicine's Kidney Transplant Program is dedicated to offering the highest level of care. We continue to improve transplant medicine through our research, providing patients access to the newest therapies and treatments.
Learn more about the kidney transplant program