Skip to content
International Program At UChicago Medicine: Sulaimon's Story
At just 14 years old, Sulaimon needed a new heart, but his needed treatment was not available in his home country of Kuwait. His family found the help he needed thanks to Dr. Jeevanandam and the International Program at UChicago Medicine.
International Programs at UChicago Medicine: Sulaimon's Story
[MUSIC PLAYING] Sulaimon was, we noticed that he sleeps a lot. He's tired most of the time. He complains of rapid heartbeat. It started to get worse, you know, day after day. We reached the point that his legs started swelling, so that was the red flag basically. So we took him to hospital. We did an X-ray, and the heart was huge basically.

There was no pulse. And they resuscitated him with DC shocks, CPR for like 30 minutes but didn't revert back to normal. So we even thought that-- they called us, and they said, well, it's over. Your child is not going to make it.

So I was in Kuwait to do some talks and to meet with some of the cardiologists and talk about our program. It just so happened that his father was a doctor in the same hospital, so I talked to the father as well. And I told him that the best opportunity for Sulaimon to have any type of quality of life is to hope that he ever becomes a transplant candidate. But obviously, in that condition and how sick he was, and the fact that none of his organs were working, he really wasn't a transplant candidate. And I said, well, come to University of Chicago. And we'll give it a shot.

[NON-ENGLISH SPEECH]

When I knew that Sulaimon was sick, he had heart disease. And he needed to be treated soon, because his heart function was about 20%. It was my pleasure to travel to another place. I was not scared. But I wasn't able to leave him, not even for one minute.

So he got transported over on air ambulance, came over on a artificial heart. And over the next six weeks or so, he started getting better. His kidneys got better. He was able to come off the ventilator. He started to walk around the unit, and essentially endeared himself to the entire Heart and Vascular Center and all the nurses on the fourth floor.

Talking about Sulaimon, the first thing, I mean, when they see a familiar face, right, someone that speaks their language, this is huge. This is why it's so essential when they get here to have someone, not just a coordinator, it's someone that speaks their language.

Everything was arranged, basically, from the ambulance since we started coming here. They offered as well to give us accommodation. They provided a social worker to communicate with us. And of course, Claudia was daily with us, talking to us. Even if we are not there, she would visit Sulaimon every day. She was like the port of communication. We would talk to her to communicate with other doctors. If we had any comments or complaint, I would go back to her.

Everything was going through the international office and Claudia basically, accommodation, transportation, and arranging the doctor meetings, and everything. So everybody was helpful and professional and emotional at the same time. The surgery took a long time. They were calling us I think every hour to tell us about the update.

Well the surgery went great. And he's actually done remarkably well. He's actually assimilated himself into American culture, and goes to school here, and enjoys going to schools learn English.

[NON-ENGLISH SPEECH]

I'm satisfied with this experience. I want to thank this hospital that opened a door of hope and happiness to the whole family. They continued providing care until the last day when he was discharged. And they're still doing that. I want to thank everyone, from the biggest employee to the simple ones. I want to thank all employees, and everyone that worked with us.

So I would like to thank them all, you know, all the staff, medical, nurses, social worker, everybody actually was doing a great job.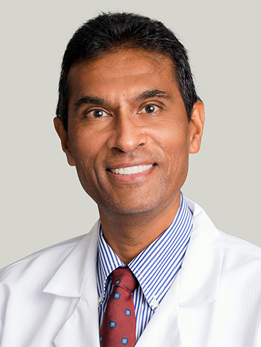 Valluvan Jeevanandam, MD
Dr. Valluvan Jeevanandam specializes in the surgical management of heart failure, and is an expert in high-risk cardiac surgery. He has performed more than 1,000 heart transplants — including the total artificial heart — and countless cardiac surgery procedures.
Learn more about Dr. Jeevanandam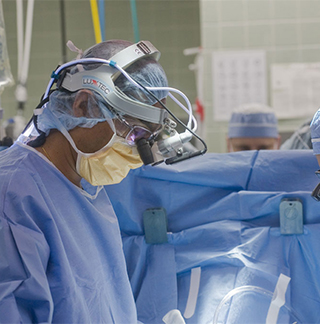 Heart Failure and Transplantation
At the University of Chicago Medicine, we bring the best minds in medicine together to meet the needs of patients facing heart failure and transplant.
Read more about our heart failure expertise
International Program Articles