Skip to content
What's new in robotic heart surgery?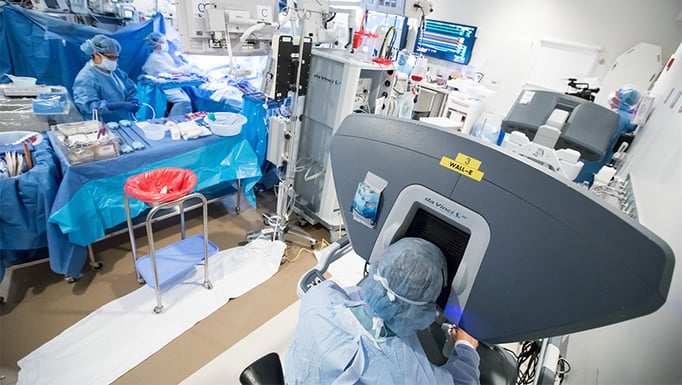 Husam Balkhy, MD, leads the University of Chicago Medicine minimally invasive and robotic cardiac surgery program, one of the most robust and comprehensive in the nation. Here he discusses what's new in cardiac surgery, including how robotic procedures are getting patients back to their lives more quickly than ever before.
What developments have you seen in cardiac care over the last five years?
We've seen multiple exciting advances in cardiac surgical care. Robotic innovations are particularly exciting, and these advances allow us to deliver complex care through tiny incisions and get patients back to their active lives more quickly than ever before.
Additional advances include percutaneous aortic valve replacements, which is replacing the heart's aortic valve through the blood vessels, as opposed to open heart surgery, and improvements in ventricular assist devices, which are implantable pumps for people with weakened hearts or heart failure.
What makes UChicago Medicine's cardiac surgery program stand out in its approach to care?
No other institution in the country offers more innovative and highly advanced cardiac robotic surgery procedures. Through our program, we operate on patients from all over the world who seek our expertise using very small access and avoiding large incisions. The result is fewer complications, less pain, an earlier recovery and a quicker return to normal activity for our patients.
UChicago Medicine also offers a rare collaboration among cardiac specialists so we can customize cardiac care for every person and condition. We strive to always provide less invasive and more effective therapies for our patients.
What innovative treatment options do you offer cardiac patients?
Our cardiac care team provides leading-edge treatment options — both surgical and nonsurgical — for the full spectrum of cardiac conditions. Our team annually performs hundreds of minimally invasive robotic surgeries, including multi-vessel totally endoscopic coronary artery bypass surgery, an incredibly innovative procedure that is not widely available.
In our state-of-the-art arrhythmia technology suite, we offer patients precise imaging and magnetic navigation for the treatment of irregular heartbeats, including the hybrid epi/endo robotic-assisted ablation to surgically create new pathways for normal electrical activity. We are consistently striving to harness the most effective medical interventions and offer our patients solutions to all their cardiac care needs.
What role does technology play in your cardiac care?
While nothing can replace skilled, attentive physicians working to provide tailored treatments for individuals' specific needs, technology plays a crucial role in our delivery of exceptional cardiac care. Our leading technology includes anastomotic coronary devices, which are used to simplify coronary bypass surgeries; robotic-assisted surgeries for smaller incisions and faster healing times; novel intra-aortic balloon pump devices to help patients with heart failure; the latest technology in ablative techniques for heart rhythm disturbances; and use of the latest generations of percutaneous valve solutions. We are at the forefront of technology in cardiac surgical care, which allows us to provide previously-unattainable results for even the sickest of patients.
What developments do you expect to see in cardiac care in the next five years?
I expect to see more technological advances in cardiac care, including better and more durable percutaneous valves for valve replacement and repair and newer generation robotic systems that address some of the more complex cardiac lesions. Heart failure therapies will continue to advance, as well, with better and smaller ventricular assist devices that can potentially be implanted using less invasive surgery.
While my team is always looking for innovative ways to deliver great results to our patients, we will continue to provide exceptional, foundational care that includes listening to our patients and offering customized solutions to fit their diagnosis and lifestyle.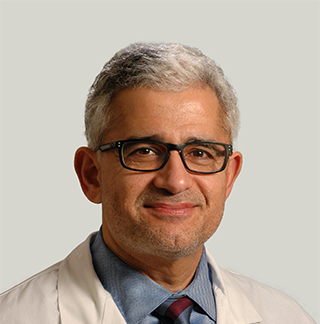 Husam Balkhy, MD
Husam H. Balkhy, MD, is a pioneer in the field of minimally invasive and robotic cardiac surgery. He specializes in the treatment of coronary artery disease, heart valve disorders, atrial fibrillation and other cardiac diseases, using robotic and less invasive techniques in order to reduce pain, disability, and recovery time.
Learn more about Dr. Balkhy
Read more about heart surgery