Skip to content

Mark Brauner and his family
The Brauners of Eugene, Oregon, make no small plans. On July 31, the family -- their 11- and 13-year-old daughters, plus mom and dad -- began a year-long voyage around the world.
The plan is to go "all over," according to Mark Brauner, DO, the father. Their itinerary, still a work in progress, started in Frankfort, then Paris, to be followed in September by a trip, at their older daughter's request, to Lyons for the Carnivorous Plant European Exhibition and Exchange. Then some time on a houseboat in Amsterdam.
After western Europe, comes an extended visit to the middle east, especially Iran; several stops in Africa, including Tanzania and maybe South Africa; probably a few weeks in India; followed by travels throughout south-east Asia, up to north-east China, and then south and east to Korea and Japan. By early summer of 2016 they should be on their way to South America, to spend a few weeks in Ecuador, then Peru to visit Machu Picchu, maybe Brazil, and finally a short stop on Galápagos Island.
Then it will be over: back to the United States, back to work for the parents and back to school for the kids.
The Best Laid Plans…
There was just one hitch. On June 5, Brauner, a 49-year old emergency room physician, had a heart attack.
"I was leaving work when I felt some discomfort, chest pain," he recalled. He considered taking an aspirin and going home anyway. But the pain got worse, his heart began to flutter and he felt seriously dizzy. He returned to the emergency room.
He quickly determined what was going on. When he's not treating patients, Brauner studies reperfusion injury, how the sudden restoration of blood flow after a heart attack can damage the heart and lungs when a blockage is cleared.
He also knew he was in good hands. The ER team confirmed his suspicions and quickly took him to the cardiac catheterization laboratory.
There, they could see that most of his coronary arteries were pristine, but one of them, the circumflex branch of his left coronary artery, was almost completely blocked. Sluggish blood flow through the vessel, narrowed by atherosclerotic plaque, allowed a clot to form, shutting it down almost completely.
The left circumflex matters. It brings blood to part of the left ventricle, the heart's largest pumping chamber, and then curves around to the back of the heart to feed other crucial structures. So interventional cardiologists at Sacred Heart Hospital in Eugene, OR, used a thin flexible wire to poke a hole through the plaque and inflate a tiny balloon on the tip of the wire to expand the opening. Then they inserted a stent—a little wire tube, like the spring on a ball-point pen—to prop the artery open.
This worked. The global adventure was back on.
Heartbroken Part II
A follow-up angiogram in early July revealed that the stent was clogged, 90-percent occluded. Definitive treatment now meant cardiac surgery, a bypass graft. So four weeks before boarding a plane for the trip of a lifetime, the dream vacation/adventure the family had been planning for years, Brauner was facing an operation that would require an estimated two to three months of recovery.
This did not fit the plan. Working with his father, a professor at Indiana University, and a brother who is a surgical nurse, Brauner began searching for better options. Cardiovascular surgery is a high profile, lucrative field. Major hospitals take pride in their heart care teams. More and more leading centers have begun to recruit surgeons with experience using a technical aid, the surgical robot.
Patients prefer this. The robot, controlled by a surgeon, uses small tools inserted through five dime-sized punctures instead of one big incision necessary for traditional open surgery. It has become standard for many surgical procedures. Relatively few hospitals, however, have experienced robotic teams accustomed to operating on the heart.
Brauner, influenced by his research interest, had additional requirements. He wanted a surgeon who could operate on a beating heart, who could do so without even a small thoracotomy -- an incision in the chest. He was looking for surgeons who could do the case "totally endoscopically," through small holes less than half an inch in in diameter. These requirements narrowed the field even more.
He found a handful of robotic cardiac surgeons, "but most of them only do one vessel," he said, "the left anterior descending artery (LAD), located on the front of the heart." Brauner's case involved the circumflex artery, which branches off the LAD and curves around to the back.
Brauner still managed to find "a few players who do this," he said, but only one of them, Husam Balkhy, MD, at the University of Chicago Medicine, seemed to have a reliable track record with such cases.
Change of Heart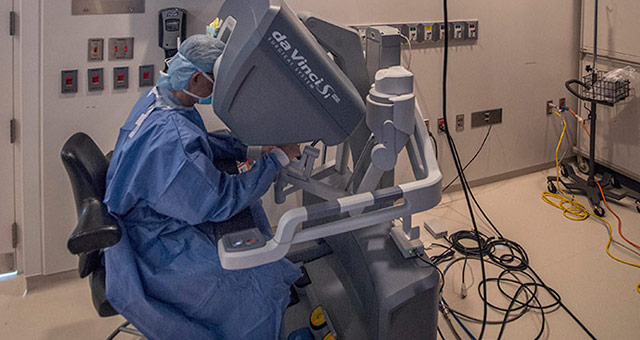 Dr. Balkhy using the Da Vinci machine to perform robotic heart surgery.
Balkhy, one of the world's most experienced robotic cardiac surgeons, devised his own protocol for such cases. Instead of entering the chest from the front, he gains access through small ports between ribs on the left side of the chest. He partially deflates the left lung to provide better visualization and operates on the beating heart. "I know of no one else who currently does it this way routinely," he said.
So, Brauner called to chat with Balkhy, doc-to-doc. He got voice mail, left a message. Twenty minutes later, Balkhy called back.
"We spoke for 20, 25 minutes," Brauner said. "Dr. Balkhy explained exactly how he does this operation, the risks and benefits, how many he has done, outcomes. He answered all my questions and all of his answers made sense."
"I gave myself 24 hours to mull it over. Then I called him back. We scheduled the case for July 13, four days after my call. I flew to Chicago on Saturday night. On Monday, he operated."
"This case took just under three hours," Balkhy said. "Dr. Brauner had a tight ostial lesion in the circumflex artery on the back of the heart. These can be challenging cases for stent placement because the blockage is so near the origin of the vessel. They often develop problems that require a bypass. We've seen this before."
Balkhy attached a new graft using the left internal mammary artery from Brauner's chest wall, which he connected to the blocked artery on the back of his heart. The subsequent blood flow was "excellent," he said. "The case went perfectly. We removed the breathing tube in the operating room at the end of the procedure."
Brauner spent the first night in an intensive care unit and woke up the next morning feeling, in his words, "really crummy." His nurse explained that this was normal "for someone who just had five holes poked into his chest." But after some Tylenol, the removal of his Foley catheter—the "worst part, by far, of my visit," he said—and a middle-distance walk through hospital hallways, he reported he was feeling "really good right now." He spent one more night in the hospital and one in the Quadrangle Club, the University's on-campus hotel for patients and visiting dignitaries, then flew back to Oregon.
"On the whole," Brauner said, "it was remarkable. I was fortunate to find a surgeon so sensitive to my issues. The team used every angle to attenuate injury and preserve chest architecture. They know how to get people functioning again."
Day three – A Report from Paris:
On July 31, according to plan, the Brauners flew overnight to Frankfurt. Then they moved on to Paris where they ate dinner at an Italian restaurant and went to see the lights at the Eiffel Tower. Samantha, Mark's wife, emailed friends and physicians the next morning that he is "feeling strong with no weird heart flutters. So relieved…" She also added that "waking up in Paris was not bad."
Learn more about heart and vascular disease