Skip to content
Quick collaboration within UChicago Medicine saves Harvey resident's leg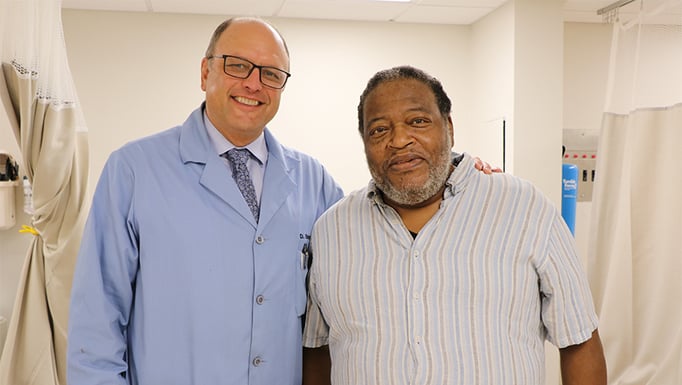 Dale Brink, DPM, and Larry Webb
When swollen toes on Harvey resident Larry Webb's foot got suddenly worse last year, coordination of excellent care within the University of Chicago Medicine health system saved his leg from amputation.
Webb, 64, noticed the toes on his left foot began to swell and feel tender in summer 2020, but didn't think much of it.
"I play cards with some older guys who have had gout. I thought that's what I was dealing with, and I seemed to have all the symptoms," Webb said. He tried over-the-counter medication for gout, but didn't see any improvement, he said.
He soon noticed the condition of his big toe had gotten worse, and an infection developed. By September, gas gangrene had set in. Gas gangrene occurs when bacteria gather in a wound that has little to no blood supply. The bacterial infection produces toxins that release gas and cause tissue death. The condition can be life-threatening.
Webb came to the UChicago Medicine Ingalls Memorial emergency department in Harvey and was assessed by podiatrist
Dale Brink, DPM
*.
"When he came in, he was almost certain to lose not just his foot, but his leg up to the knee due to what began as a diabetic foot infection," Brink said. "It could have been something as simple as a hangnail that got infected, and then couldn't heal due to poor circulation." Webb was diagnosed with type 2 diabetes at age 45.
Brink and his team performed an emergency surgery — an open flap amputation — to amputate the toes on Webb's left foot and allow the infection to begin to resolve.
"I was told they might have to amputate my leg or the rest of me would be gone; in other words, it was so serious that I could die," Webb said. "But Dr. Brink took an extreme amount of care to save the rest of my foot and potentially my life."
Days later, Brink said they discovered a large occlusion, or a blockage, in the arteries below Webb's knee that was preventing his amputation wound from healing. This was likely caused by a complication of diabetes. He was transferred to UChicago Medicine in Hyde Park for vascular surgery.
"Dr. Brink explained all along what the next step would be," Webb said. "I knew another surgery would be difficult, but I was willing to take that chance and I'm a better, healthier person for it."
Trissa A. Babrowski, MD
, vascular surgeon and director of UChicago Medicine's
Limb Salvage Program
, performed a nine-hour-long bypass surgery to attach a vein below Webb's knee and above his ankle, rerouting the blood supply around the blocked artery in his leg.
Webb's case was more complicated than most because he was in the beginning stages of renal failure, Babrowski said, which prevents the kidneys from properly filtering waste from the blood. But Babrowski said it's not uncommon for diabetic patients to have amputations starting in the feet.
"About 40% of all amputees are diabetic," Babrowski said. "On the South Side of Chicago, the amputation rate is 20 times the national average. The Limb Salvage Program aims to make a positive impact on those numbers. By doing procedures like this, we try to prevent amputation and provide an opportunity for patients to have functional limbs to remain independent."
This surgery allowed better blood flow down to Webb's foot so his amputation wound could begin to heal. After the surgery and recovery, Webb returned to Ingalls Memorial for additional wound care and rehabilitation. In all, he stayed at Ingalls Memorial and UChicago Medicine in Hyde Park for just over six weeks before moving to outpatient treatment.
One wound care technique used was a wound VAC, or vacuum-assisted closure of a wound. This device decreases air pressure on the wound, pulling out fluid, reducing swelling and helping the wound heal more quickly. During the treatment, which for Webb lasted two months, the vacuum device stayed on his foot 24/7. Webb came to the hospital three times a week to have Ingalls' wound care experts change the dressings and canister.
Webb also developed edema, swelling of the leg common after bypass surgery, that was treated by Ingalls' lymphedema therapy department.
"I think this is a great case because it shows what we can achieve with integration of our programs in vascular care and limb salvage," Brink said. "Mr. Webb truly had a team approach to limb salvage and a lot of different modalities were used to ultimately heal his foot."
Webb said he wanted thank all the members of the teams that helped save his foot and leg.
"Before this experience, I couldn't even get a shot without panicking. The wound care and rehab teams at Ingalls made my experience phenomenal," Webb said.
Webb said he hopes that, with additional therapy and his new prosthetic shoes designed to take pressure off the front of the foot, he can get back to exercising and jogging again soon. Also, he said he learned the importance of not delaying care for any sore, wound or other abnormality that he might observe on his feet, legs or other part of his body.
*Dale Brink, DPM, is an independent medical practitioner. Physicians who provide services at Ingalls Memorial are independent physicians with privileges at the hospital. Independent physicians are not employees or agents of Ingalls Memorial, the University of Chicago, or the University of Chicago Medical Center.
Limb Salvage and Preservation
The University of Chicago Medicine is the home of one of the most experienced and innovative limb salvage programs in the country. Our multidisciplinary team works closely together to quickly diagnose conditions and deliver limb salvage treatments before your foot and/or leg suffers further damage.
Learn more about our expertise.
Find a Limb Salvage Clinic Near You
Request an Appointment
The information you provide will enable us to assist you as efficiently as possible. A representative will contact you within one to two business days to help you schedule an appointment.
You can also make an appointment with our providers by:
– Scheduling a virtual video visit to see a provider from the comfort of your home
– Requesting an online second opinion from our specialists
To speak to someone directly, please call 1-888-824-0200. If you have symptoms of an urgent nature, please call your doctor or go to the emergency room immediately.
Read more about vascular disease