Skip to content

While performing on stage, Chicago actress Dara Cameron, 33, can make audiences laugh or cry, feel joy or sorrow. She needs to give it her all every time. "And that's hard to do when you have a chronic illness," Cameron said.
But with help from the digestive diseases team at UChicago Medicine, Cameron has now been in remission from Crohn's disease — a type of inflammatory bowel disease (IBD) — for more than three years and able to thrive in her theatrical career.
This holiday season, she's delighting audiences as the flirtatious Violet in "It's a Wonderful Life: Live in Chicago," a 1940s-style radio broadcast staging of the popular Christmas movie.
Finding a solution for Crohn's disease
Cameron was diagnosed with Crohn's in 2001 at age 16. Medications helped but she still regularly experienced abdominal pain and nausea. She often stayed home from high school and, to her great disappointment, missed many play practices.
During college, while pursuing a degree in theater arts, Cameron met and fell in love with fellow student – and future husband — actor, composer and lyricist Michael Mahler.
"Crohn's is a disease that can change the quality of your life at any time. But I have a team in place at UChicago Medicine that will take care of me. At the end of the day, it's reassuring." - Dara Cameron
"Michael really earned his stripes during our college years," said Cameron, describing how he accompanied her to the emergency room whenever she suffered severe flare-ups from IBD.
During her first professional job, as an understudy in a children's play for a Chicago theater in 2006, Cameron experienced "blinding pain and crippling nausea." She needed emergency surgery for a perforation in her small intestine. "And I was unceremoniously fired from my first gig," she said.
Fortunately, Cameron was able to restart her acting career. And despite feeling "okay, not great," she sang and acted on stages in New York and across Chicago and its suburbs.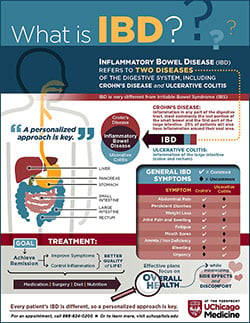 But, in 2013, just as she was to open as a lead for a comedy in Chicago, she became seriously ill. Gastroenterologist David Rubin, MD, a world-renowned IBD expert, diagnosed a stricture in her intestine — a narrowing that could lead to a complete blockage — and recommended surgery.
Distraught, Cameron pleaded with Rubin to allow her to delay the procedure.
Rubin prescribed a special diet as a short-term solution. He also promised her that, after the surgery, he would help her better manage her condition to prevent further recurrences.
Monitoring Crohn's symptoms after surgery
Cameron opened the show to great reviews and completed the successful play's full run. In early 2014, IBD surgeon Roger Hurst, MD, removed two portions of her small intestine.
"The key is to know the patient's needs and lifestyle so that the treatments can be chosen and timed to provide them with the flexibility and control they need." - David Rubin, MD
Since then, Rubin's team has been monitoring Cameron for signs of recurrence — before any symptoms come back.
"One of the greatest advances we've made in managing Crohn's disease is our ability to prevent it after surgery," Rubin said. "I routinely tell patients that surgery is the fastest way to get well and stay well. We literally "reset" the disease."
Cameron's stage career has taken off. She credits her care team at UChicago Medicine with keeping her healthy, happy and in remission. "And they helped me make my dreams come true," she said.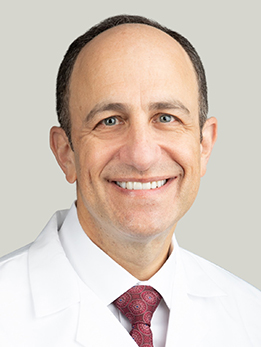 David T. Rubin, MD
Dr. Rubin specializes in the treatment of digestive diseases. His expertise includes inflammatory bowel diseases (Crohn's disease and ulcerative colitis) and high-risk cancer syndromes.
See Dr. Rubin's physician bio