Skip to content
Active again after Crohn's disease and colon cancer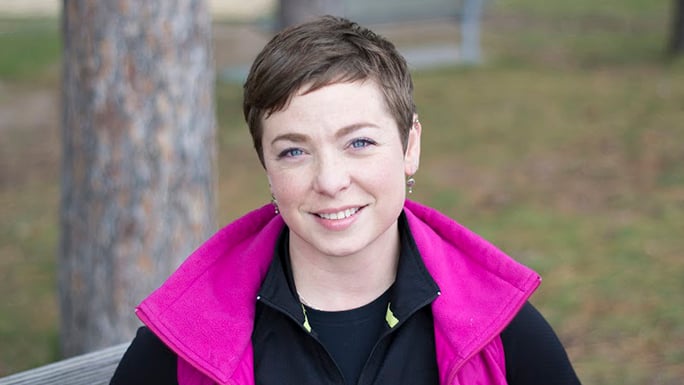 When Erika Kielhorn Hefke, 39, isn't busy working as a family nurse practitioner, you can find her running or swimming laps. But the thought of enjoying physical activities and a full-time career was pure fantasy for much of Erika's teen and young adult years, due to inflammatory bowel disease (IBD).
Hefke, of Marquette, Mich., was diagnosed with IBD at age 15 after noticing blood in her stool. She was hospitalized frequently over the next several years and suffered from dehydration, weight loss, persistent bloody stool and significant diarrhea. She missed class often, due to hospitalization, and was unable to participate in sports or social activities without special accommodations. "I constantly needed to be close to a bathroom and was profoundly anemic, fatigued and malnourished -- food went right through me," Hefke said.
Then, after Erika was treated at a local hospital for septic shock, her mother, Margot Landa Kielhorn, decided it was time to bring her to experts at the University of Chicago Medicine. The IBD Center at the University of Chicago Medicine has a long history of excellence in the research and treatment of Crohn's disease and ulcerative colitis. Kielhorn, who also has Crohn's disease, has been receiving care at UChicago since she was diagnosed 40 years ago. Impressed with her physicians and the care she has received, Kielhorn hoped that the UChicago IBD team could help bring her daughter's symptoms into remission.
Hefke met with a team of specialists that included David T. Rubin, MD, a renowned IBD expert and Section Chief of Gastroenterology, Hepatology and Nutrition. Although Hefke's IBD was particularly active and resistant to many medications, the team was persistent in finding a treatment that would help put Hefke on the road to recovery.
This detailed and comprehensive approach allowed Hefke to focus on her education, in spite of the fact that her symptoms were not in complete remission. Hefke graduated from high school on time and with good grades, thanks to her discipline and dedication, as well as help from excellent teachers and her physician team. Inspired by the quality of care she received at the University of Chicago Medicine, Hefke attended nursing school and completed her nursing degree.
Tailored treatment
Over the years, Rubin tailored Hefke's treatment to her unique and evolving needs. She appreciated that her team evaluated new therapies as they became available. "If things could be better, my team would help me find the way."
Hefke's symptoms went into complete remission after she starting taking a biologic agent called Tysabri, a therapy that was new at the time and that only a few doctors were prescribing. She was one of the first patients in the country to receive the drug.
Rubin says it's not unusual for the physicians on his team to push the envelope. "We're one of the oldest IBD centers in the world," he said. "Our experts are known for doing groundbreaking research and for offering patients new treatments and techniques."
UChicago Medicine experts are known for doing groundbreaking research and for offering patients new treatments and techniques.
Then, when Hefke was 35, a routine colonoscopy revealed a polyp. Although the growth was non-cancerous, Rubin suggested a follow-up colonoscopy six months later. "I gave him a hard time because, as an oncology nurse, I knew the standard of care was to come back in one year," Hefke said. "Besides, I was living 600 miles away." Rubin understood that it was an inconvenience, but believed Hefke should have the test sooner, as patients with IBD can have elevated risk of colon cancer.
Fortunately, Hefke followed Rubin's advice and returned to Chicago for another colonoscopy.
Rubin used chromoendoscopy, a novel diagnostic tool that requires advanced expertise. "Chromoendoscopy uses a special dye that allows us to see the colon much better, and helps us find cancer and pre-cancer quickly and easily," Rubin said.
For Hefke, the procedure showed Stage IIB colon cancer.
"It was a tremendous blow to me and my family because I felt healthier than I had in years," Hefke recalled.
Rubin recommended that Hefke undergo a bowel resection to remove the diseased portion of her intestine. Using minimally invasive techniques, surgeons took out the unhealthy bowel and created an ileostomy, which allows stool to pass through the abdominal wall into a detachable pouch. The surgery removed both the cancer and the Crohn's disease.
Following recommendations from University of Chicago Medicine oncologist Blase Polite, MD, Hefke also received chemotherapy.
Paying it forward
Cancer-free and with her Crohn's in surgical remission, Hefke returned to graduate school and completed a master's degree in nursing. Now she's paying it forward by helping others with IBD. A family nurse practitioner, she focuses care on primary prevention and works with chronically ill patients, including individuals with Crohn's disease or ulcerative colitis, to find a treatment plan that best suits their quality of life goals.
Hefke also makes home visits to people with or facing ostomy surgery and lectures at the local nursing school on Crohn's disease, ulcerative colitis, colon cancer and ostomy care. "I'm a better provider because I am a patient at University of Chicago Medicine. They fostered that in me," Hefke said.
Outside of work, Hefke enjoys kayaking, camping, mountain biking, swimming and running. She's currently training for her second half marathon while raising money for the Crohn's & Colitis Foundation of America.
"I'm so grateful I made those journeys to the University of Chicago Medicine," Hefke said. "Not only did my care team give me the best quality of life I could have had for the first 20 years before cancer, but they also saved my life and expanded my opportunities after treatment. Now, my quality of life is exceptional!"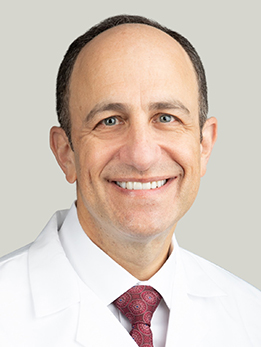 David T. Rubin, MD
Dr. Rubin specializes in the treatment of digestive diseases. His expertise includes inflammatory bowel diseases (Crohn's disease and ulcerative colitis) and high-risk cancer syndromes.
See Dr. Rubin's physician bio