Skip to content
UChicago Medicine Simulation Center and Comer Children's Hospital debut a new mobile unit to be used for training
Members of the Simulation Center staff pose in front of the new Simulation Mobile Unit, made possible from a grant from the Comer Development Board.
The University of Chicago Medicine's Simulation Center and Comer Children's Hospital recently unveiled the UChicago Medicine Simulation Mobile Unit, a refurbished ambulance that will be used for many different types of training, both in the hospital and across the South Side community.
The mobile unit will serve both as a simulated ambulance for critically ill patient transport training and a mobile classroom for community-based education.
This ambulance allows us to share our training resources with our community and our community partners.
"This ambulance allows us to share our training resources with our community and our community partners," said Priti Jani, MD, the Comer Children's Hospital pediatric critical care specialist who oversees the Simulation Center.
The Simulation Center is a center for medical education and research that recreates clinical events using realistic, life-like patient simulators ("manikins") to help trainees hone their skills for patient care, teaming and quality improvement.
Leaders of the "Sim Center," as it is nicknamed, in partnership with Comer faculty, have spent years trying to obtain a grant for this training tool. This year, the Comer Development Board awarded the center a grant to buy and refurbish a used ambulance.
It will be used by the Sim Center for various educational initiatives, including:
Multidisciplinary "transport training" for staff from Comer and community hospitals. The ambulance can help clinicians, including nurses and physicians, learn the highest quality care for high-risk pediatric patients during all steps of the transport process between hospitals. Nearly half of UChicago Medicine's ambulance transports are for Comer patients.
Community outreach. The Sim Center's interactive manikins can now be transported out into the community, allowing CPR training and Stop-the-Bleed demonstrations to be done at local schools, community centers and events. It may also help increase awareness of healthcare careers.
The effort to purchase the ambulance was spearheaded by Jani, Gillian M. Brennan, MD, and Christine Carlos, MD, from the section of neonatology, in collaboration with Comer's Department of Pediatrics, the Simulation Center and the Comer Development Board.
"Several of our faculty already engage in community outreach. This just takes it to the next level," said Sim Center Executive Director Melissa Cappaert.
The colorfully painted ambulance uses the Comer letters to spell out Community Outreach Mobile Education Resource, with the phrase "Education for Real Life" below.
The ambulance is equipped with cameras and manikins that can be controlled via laptop from the front seat, allowing the trainers to simulate clinical scenarios and patient reactions. This type of interactive training used to only be available inside the hospital's simulation center.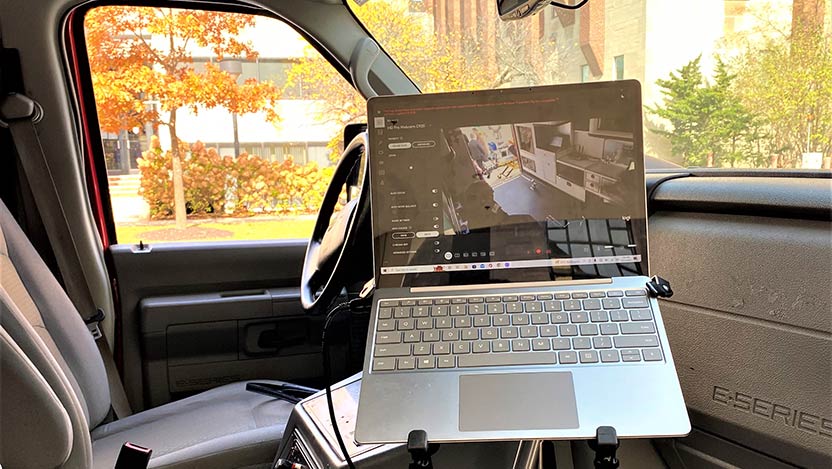 "Now we can take our Sim Center to them," said Neal Hluska, UChicago Medicine Simulation Technical Coordinator.
Among those attending the October 27 ambulance debut party were UChicago Medicine Chief Medical Officer Stephen Weber, MD, an executive leader for the Center; Comer Executive Vice Chair of the Department of Pediatrics, Michael Schreiber, MD; and Comer's mascot, REMOC.
Community Outreach and Health Equity Articles