Skip to content
Patient advocates in action: An interview with Malik Stuckey of the Urban Health Initiative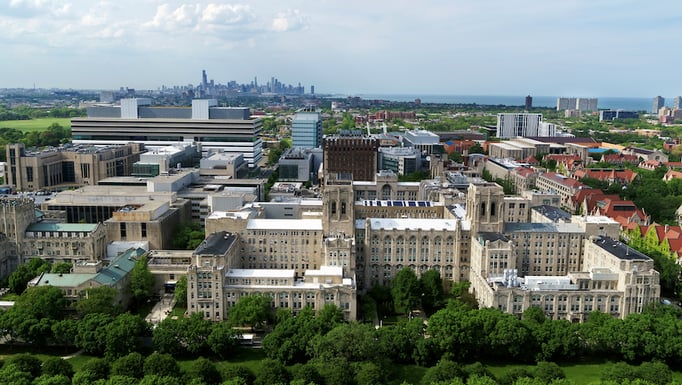 In this series, UChicago Medicine's Urban Health Initiative is placing a spotlight on the work our UHI staff, volunteers and community partners are doing in the South Side community. This conversation is with Malik Stuckey, a Senior Patient Advocate who joined the UHI team in October 2020.

Q: Can you describe the differences between when you first started in October 2020 and how things changed at the start of the pandemic?
A vast majority of our patients come from the emergency room. Given that we would have to be in person to see a lot of these patients in the emergency room and our care and transition clinic, that became completely remote. We had to call patients versus seeing them in person. That became a little more difficult, trying to connect with patients via telephone versus in person.
Q: Can you describe what an average day looks like for you as a patient advocate?
An average day is pretty difficult to describe. We're responsible for making sure patients have accurate and timely follow up appointments when they're discharged from the emergency room.
Typically, we have orders lists. Through that orders list, we're able to contact patients. We'll say, "Hey, I noticed you came into the emergency room, doctors wanted you to have a follow up with primary care. Is there anyway that I can assist you with that?" Then we go about the process of finding them their medical homes or the doctors at UChicago Medicine that they can see.
Q: What motivates you to wake up and go to work every day?
Navigating healthcare systems is difficult—even for those of us that are professionals. I want to be that bridge between healthcare and the community. I take pride in being able to explain the importance of having a medical doctor and having a primary care doctor.
Knowing that I can help a first-time mother, ease her anxiety about finding quality prenatal care is rewarding to me! They say it's not the job you do, it's the value you bring while you do it.
Q: Can you tell us about your connection to Chicago's South Side?

Born and raised in Chicago. Grew up on the South Side, 71st and Jeffrey. I've also lived on 98th and Throop. So I'm definitely well versed in the community. Always being around the community. Understanding and seeing the problems from when they evolved to getting to where they are now is one of the driving focuses that I have to do this work.
Q: What's something that has been the most challenging with your role as a patient advocate?
That's a good question. I would say probably the most challenging thing would be explaining to patients their insurances. I think a lot of patients think that because they were seen in the emergency room they can be seen for some of our other practices and some of our other specialty care.
So sometimes, just trying to explain to the patient, "Hey I know that you came here for this and I know that the hospital, the University of Chicago Medicine, is one of the greatest hospitals, and you see the commercials for it but I'm going to find you quality care somewhere else." So sometimes explaining that to patients can be a little bit difficult.
Q: What has been your biggest accomplishment so far at work?
I would definitely say this (spotlight interview) as of now. This UHI Spotlight is so cool to me. I think about Leif Elmo's (Executive Director, Community & External Affairs) interview and his picture with Michelle Obama. Having the opportunity to do this (interview) with you is definitely going to be on my list now!
Most recently, patient advocates were a part of the Emergency Room conference meeting. That gave us the opportunity to educate the ER staff on the importance of having primary care. Also, what the patient advocate role does and how the ER staff and patient advocates come together to make a better plan for the patients.
Q: What goals have you set for yourself in this role?
I want to understand as much as I can about health insurance and health coverage as a whole. And to build the trust of the South Side hospitals back into the community.
I think there's a stigma about some of the other hospitals in the area. Really setting the goal and trying to get as many people as I can to understand that "Hey, we understand that you have these thoughts, these preconceived notions but, we're here to change those and make things better for yourself and the rest of the community as a whole."
Q: If you could change one thing to make your job easier, what would it be?
Navigating the healthcare system should be easier in general. I would say most people don't know what their insurance covers or, most importantly, they don't know what care they can receive or what the cost will be.
I guess the easier way would be if the insurance companies could give out information sessions to their constituents about what their plans cover and what services they can receive. I think it would give a better overview for the patients for them to have that knowledge about what it is they can do with their insurances.
Q: Do you have any organizations on Chicago's South Side that you work with?
Not so much as a personal tie but UCM is actually one of 13 organizations coming together to help form what we call the South Side Healthy Community Organization (SSHCO). One component of the SSHCO is that it's building community healthy worker teams, like the patient advocates, at all of the sites within it's collaboratives. This will allow for patients to schedule appointments, get appointment reminders, screening for social needs and other stuff like that. It's going to help strengthen the efforts that UCM has and help its reach across the South Side of Chicago.
Community Outreach and Health Equity Articles