Skip to content
High school symposium encourages the next generation of medical professionals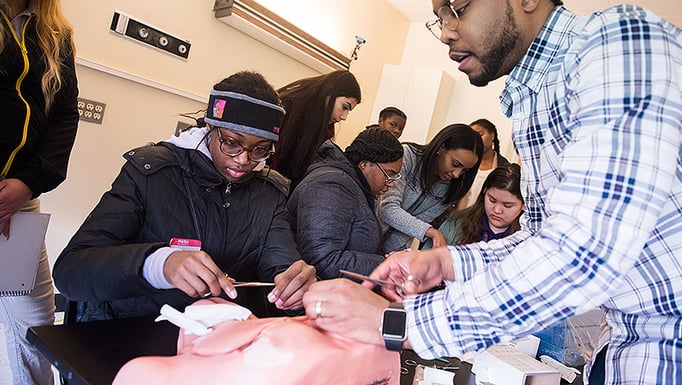 As a teen growing up on Chicago's South Side, Abdullah Hasan Pratt, MD, didn't have mentors or much exposure to the medical profession. Still, he dreamed of becoming a doctor. Now, Pratt, a third-year emergency medicine resident at the University of Chicago Medicine, wants to help today's South Side teens realize their dreams – particularly those residing in underserved communities surrounding UChicago Medicine. He developed the High School Medical Symposium program to inspire these students to consider and pursue careers in the field of medicine.
"The symposium gives teens a boot camp-style experience of what it is like to work in the medical field for a day," said Pratt, a graduate of the University of Chicago's Pritzker School of Medicine. "It is important to keep that spark alive and encourage them as they pursue their dreams of becoming the next generation of medical practitioners."
During one of Pratt's recent events, more than 50 students from EPIC Academy College Prep High School, a charter school located on Chicago's South Side, visited UChicago Medicine. Pratt welcomed the students and provided an overview of health concerns and disparities that affect South Side residents. He also highlighted the history of African American medical pioneers who have worked to address these disparities.
As part of the symposium, students heard from and asked questions of a panel of UChicago Medicine medical professionals.
"I was exposed to medicine because my mother was a registered nurse," said Ugochinyere Ohaja, DNP, FNPBC, an emergency department nurse practitioner and one of the symposium panelists. "However, I never had an opportunity like this and it's exciting to see these students interact with us to gain more insight and develop relationships that will assist them in their journey to become a medical professional."
The event also featured a guided tour of UChicago Medicine facilities, including the adult emergency department and trauma unit, the Duchossois Center for Advanced Medicine (DCAM), the Center for Care and Discovery (CCD) and the simulation center in Mitchell Hospital. In the simulation center, students learned how to conduct an ultrasound, perform cardiopulmonary resuscitation (CPR), suture and pack wounds to stop bleeding, and other clinical skills.
"I really enjoyed the tour and learning how to do stitches," said Jasmine Lomely, one of the participating students. "I thought I wanted to be a forensic scientist, but I now know that I want to work in a trauma center as a registered nurse."
Pratt is planning additional events and hopes to inspire more young people to pursue medical careers.
"I want them to know that they can work in this field and that there are people in their own community to assist them along their path," he said.
Community Outreach and Health Equity Articles