Skip to content
UChicago Medicine invests $686.2 million to benefit South Side and south suburban communities in fiscal 2022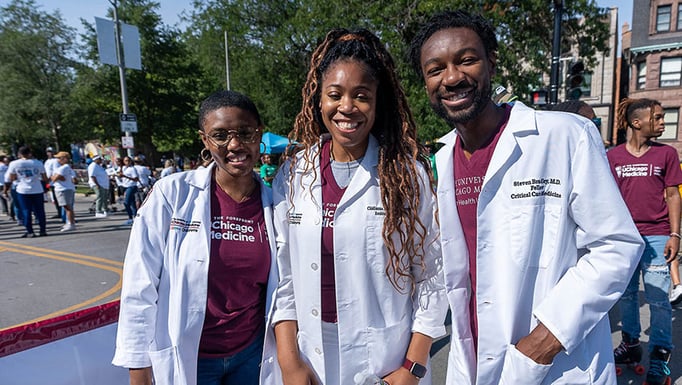 As part of its commitment to advance health equity, the University of Chicago Medicine invested $686.2 million in benefits and services to the community in fiscal 2022, an increase of 13.1% over fiscal 2021.
The University of Chicago Medicine provided $686.2 million in benefits and services to communities on Chicago's South Side and in the south suburbs in fiscal 2022, according to the health system's annual Community Benefit Report. This includes $586.7 million through the University of Chicago Medical Center and $99.5 million through UChicago Medicine Ingalls Memorial. Total investment increased by 13.1% over fiscal 2021.
Community benefit investments include uncompensated care for Medicare and Medicaid patients, financial assistance (charity care), unrecoverable patient debt, medical education and research, and other community support. Financial assistance (charity care) provided through the University of Chicago Medical Center increased 31.7%, up to $27 million.
"Through these investments, along with extensive community health programming and partnerships, UChicago Medicine has made health equity a strategic priority and a guiding organizational value," said Brenda Battle, RN, BSN, MBA, who leads UChicago Medicine's Urban Health Initiative and serves as the health system's Senior Vice President for Community Health Transformation and its Chief Equity Officer. "We are investing in the health and viability of the communities we serve — now and in the years to come."
Community benefit programs and partnerships are guided by the Urban Health Initiative, the Medical Center's division that works with community organizations on health-related programs, research and services. UChicago Medicine's Community Advisory Council, led by civic and faith leaders, also provides guidance to the Medical Center on key community health concerns, including racial disparities and social determinants of health. The Community Advisory Council provided instrumental guidance around the development of the Medical Center's Level 1 Adult Trauma Center and Violence Recovery Program, both of which will recognize their five-year anniversaries in May 2023.
UChicago Medicine serves more than 626,000 residents in 28 neighborhoods on Chicago's South Side and nearly 257,000 from 13 ZIP codes in the south suburbs. In these service areas, residents face significant health disparities contributing to shorter lifespans, higher incidence of chronic conditions like diabetes, heart disease and cancer, and increased risk for trauma from community violence. These residents are also vulnerable to harmful social determinants of health, resulting in higher incidence of unemployment, poverty and food insecurity.
"Addressing deep-rooted health inequities requires leveraging strengths and investments across our health system and research community, and importantly, through partnerships connecting us to those who can benefit from UChicago Medicine's health programming and resources," said Battle. "Community partners are critical to the reach and effectiveness of these programs, and we are grateful for their work with us to make high-quality healthcare more accessible and equitable."
The Community Benefit Report highlights some of these partnerships, including:
The 13-member South Side Healthy Community Organization collaborative working to increase access to care;
The street outreach initiative with Metropolitan Family Services and its Peace Academy to address intentional violence;
Equal Hope, which is focused on saving women's lives by ending health disparities in Illinois, especially for breast and cervical cancers;
Several workforce development partnerships and programs designed to increase racial equity and career opportunities for employees and South Side community members.
With extensive community guidance, health priorities for the service areas are assessed and reported every three years through UChicago Medicine's Community Health Needs Assessment (CHNA). The 2021-22 CHNA reported the following health priorities for its South Side service area: prevent and manage chronic disease (cancer, diabetes and heart disease); build trauma resiliency (violence prevention & recovery and mental health); and reduce inequities caused by social determinants of health — underlying contributors to health disparities and chronic disease (access to care, food insecurity, and workforce development).
For Southland communities served by UChicago Medicine Ingalls Memorial, the 2021-22 priorities are: prevent and manage chronic disease (cancer, diabetes and heart disease); provide access to care and services (maternal health and mental health); and reduce inequities caused by social determinants of health (food insecurity and workforce development).
To read the full online report, visit: community.uchicagomedicine.org/2022.
The 2022 Community Benefit Report Highlights
Advancing health equity: The South Side Healthy Community Health Organization — of which UChicago Medicine is one of 13 members — awarded $2.2 million in grants to community-based organizations. The grants will help with patient transportation services and provide support to help with social determinants of health concerns (including food insecurity, financial strain, jobs, and housing).
Chronic Disease
Cancer screening and prevention: The Center for Asian Health Equity (CAHE) addresses health issues and diverse healthcare needs of immigrants and communities of color. In 2021-22, CAHE Colorectal Cancer Prevention Programs screened 5,432 patients (26% screening rate) and completed 399 colonoscopies (22% completion rate); the CAHE Prostate Cancer Prevention Program held 75 outreach events with 6,824 men participating, and 505 men completed prostate cancer screening; the CAHE Liver Cancer Prevention Program reached 107,098 people, educated 732, and screened 4,306.
Tackling diabetes: UChicago Medicine's Community Fitness Program aims to reduce the diabetes health disparity on the South Side, where the diabetes rate is 30% higher than the rest of Chicago. For nearly 30 years, the program has been hosted at the Museum of Science and Industry, at no cost to community members. In fiscal 2022, classes were held virtually, with 2,847 in attendance.
Trauma Resiliency
Healing after trauma: In fiscal 2022, UChicago Medicine's Violence Recovery Program (VRP) worked with 2,136 patients, including 982 families and 276 children. Along with UChicago Medicine's Level 1 Adult Trauma Center, the Violence Recovery Program is recognizing its five-year anniversary in May 2023.
Funding for youth summer programs: Southland RISE (Resilience Initiative to Strengthen and Empower) awarded $150,000 to 18 South Side grassroots organizations for their summer violence prevention and trauma resiliency programs. Southland RISE is a collaboration between UChicago Medicine, Advocate Health Care and community groups. It was inspired by U.S. Senator Dick Durbin's Chicago HEAL (Hospital Engagement, Action and Leadership) program. Since 2019, Southland RISE has awarded $500,000 to more than 60 community-based organizations for their summer youth programs.
Social Determinants of Health
Connecting patients to care: Patient advocates work with patients coming to the emergency room to help them understand why it is important to have a medical home and primary care provider. They also help patients make appointments for follow-up care after leaving the emergency department. In fiscal 2022, UChicago Medicine's patient advocate program had 4,085 patient encounters and made 3,636 appointments for patients.
The Liaisons in Care (LinC) program's community health workers (CHWs) support patients with heart failure, adolescent sickle cell disease, stroke, seizure disorders, pediatric asthma, hypertension, diabetes, cancer and maternal child health — often visiting patients' homes. In fiscal 2022, CHWs handled 4,055 patient encounters, in-person, by phone or virtually.
Feeding those in need: The Feed1st food pantry program offers 11 sites in the Medical Center where patients, staff and community members can get free, healthy food, with no questions asked. In fiscal 2022, the Feed1st food pantry program gave out 26,286 pounds of free food and served an estimated 4,066 households.
Workforce and Community Development
Together with the University of Chicago, UChicago Medicine is the largest private employer on the South Side, with 24% of the total workforce residing in its South Side service area and 30% of new hires residing there. Employees residing in the South Side service area earn an average wage of $31.50 per hour, 6% above Chicago's average hourly wage, 10% above the state's average hourly wage and 12% above the national average hourly wage.
In fiscal 2022, UChicago Medicine spent $13.2 million with certified minority- and woman-owned construction and construction-related firms. Through contracts awarded and paid, $909,000 in wages went to minority and female construction workers. Between 2001 and 2022, UChicago Medicine generated $498.8 million in economic benefit for certified minority- and women-owned firms through its capital and renovation projects.
UChicago Medicine Ingalls Memorial
Helping with food insecurity: In 2021, Ingalls Memorial Hospital opened the first Complimentary Nutrition Station for cancer infusion patients in need in Harvey. This was done in partnership with Ingalls Development Foundation, the UChicago Medicine Comprehensive Cancer Center, Feed1st and the founder of the Center for Food Equity and Medicine, Dr. Ann Jackson. In 2022, the Nutrition Stations expanded to Flossmoor and Tinley Park. In fiscal 2022, 300 pounds of food were distributed through the station, serving 2,705 patients.
Strengthening community and economic health: The Ingalls Development Foundation provided $2.4 million to fund the Wood Street Community Health Corridor. This included an overall plan to promote economic development in Harvey, Illinois. The foundation also funded $18,750 in community scholarships for 20 health education students and $8,750 in support of the Ingalls Rooftop Garden.
Community Outreach and Health Equity Articles