Skip to content
Military training program provides skills sustainment for U.S. Army personnel, support for UChicago Medicine's trauma center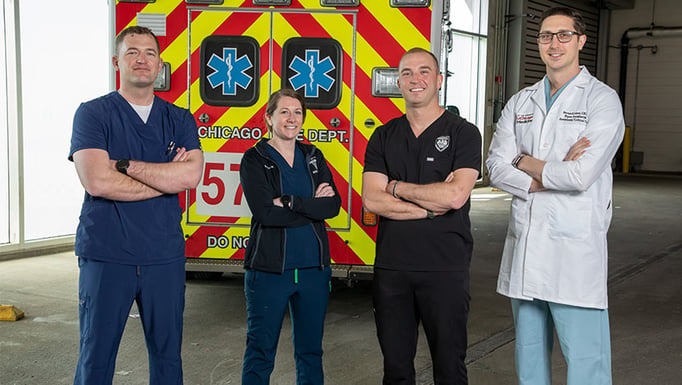 Bernard Lease, CRNA, Aaron Trautmann, DO, Alexandra Barikian, RN, and Nathan DeCarli, RN, are all members of the U.S. Army's 759th Forward Resuscitative Surgical Team (FRST) who provide care for patients at UChicago Medicine as part a military civilian partnership. (Photo by Jordan Porter-Woodruff)
As the University of Chicago Medicine's Level 1 trauma center marks five years of service, it celebrates a key tool in its success: partnerships that provide new resources for the center and skills sustainment to members of the military.
For the past two years, the U.S. Army Medicine Department Military-Civilian Trauma Team Training (AMCT3) program has embedded medical personnel into the UChicago Medicine trauma team.
Members of the Army's 759th Forward Resuscitative Surgical Team (FRST), based at Fort Bragg in North Carolina, integrate seamlessly with civilian counterparts to provide critical care to patients at the South Side academic medical center.
The Army team — which includes two trauma surgeons, an emergency medicine physician, a certificated registered nurse assistant, a critical care nurse and an emergency room nurse — help treat many patients who arrive at the hospital's busy trauma center.
The patients include those with blunt or penetrating wounds. That means the FRST members sustain their trauma care skills – that they may need on a future battlefield – while providing more resources to the trauma center.
"When we opened the trauma center in 2018, taking care of those we serve on the South Side of Chicago was top of mind," said Selwyn O. Rogers Jr., MD, MPH, founding director of the center. "But our secondary goals were to establish partnerships with bilateral benefits. This program has been an excellent example of that. We are providing a service to the Army while getting the benefit of additional resources to enhance our very busy trauma center on the South Side."
Skills sustainment for Army surgeons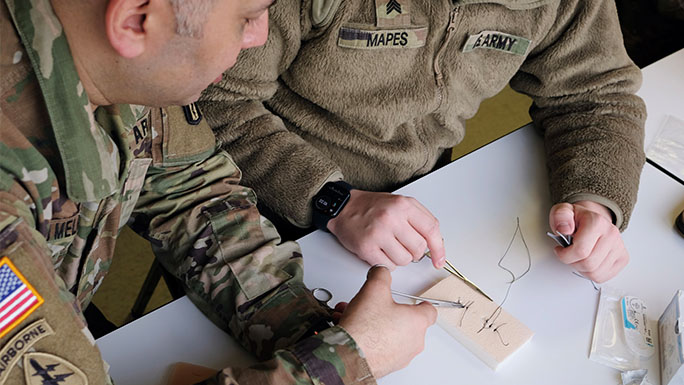 As the first member of the program at UChicago, trauma surgeon Lt. Col. Timothy Plackett, DO, MPH, arrived in early 2021. And though has been deployed many times throughout his 17-year Army career –including three tours of Iraq and two of Afghanistan – he's been his busiest as a surgeon at the South Side trauma center.
That's because UChicago Medicine's comprehensive trauma program cared for nearly 5,000 patients in 2022, including more than 1,700 people with penetrating trauma wounds, often the result of shootings or stabbings.
Not every penetrating wound requires surgery, but when one does, it's often close to the kinds of injuries that Army surgeons might treat in combat.
Throughout their time at the center, Plackett and fellow Army trauma surgeon Col. Nicholas Jaszczak, MD, FACS, performed twice as many surgeries as the average surgeon performs in the Army. They are both two years into their three-year terms.
"It's been a phenomenal experience for me," Plackett said. "It's given me skills sustainment, and when I talk to the patients and hear their stories, I love that connection. It's reaffirmed what my family has always said: that I'm happiest when I'm doing trauma surgery and taking care of patients. It's some of the most rewarding work that I've gotten to do."
Jaszczak, a trauma surgeon previously located at Oregon Health & Science University's AMCT3 program, said the volume of operative trauma is so much more than he has experienced elsewhere. This helps him keep up-to-practice on surgical trauma procedures.
"Like any skill, if you're not doing it regularly, it's perishable," he said. "And it has been neat to be a part of this still-new center in a community that is in need of a lot of health care."
Benefitting both reservists and residents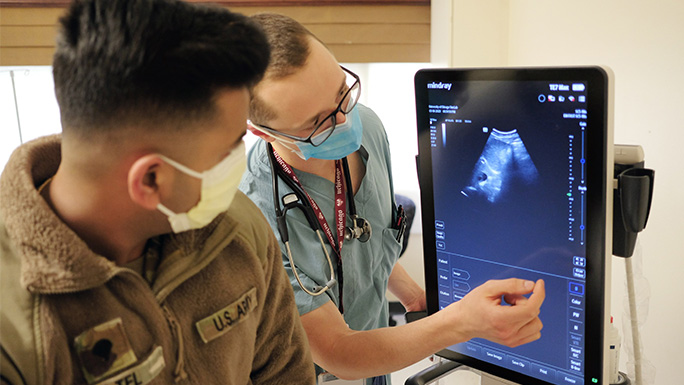 In addition to training members of the military in the trauma center, the UChicago Medicine trauma team has also begun training U.S. Army reserve members in daylong sessions, including in the hospital's Simulation Center. There, reservists like the members of the 357th Army Reserve unit practice assessing and treating injuries with techniques like intubations, tourniquet applications and ultrasounds.
Over the past year, the team has trained 30 reservists from units based around the Midwest.
"We want to help equip warfighters with all of our technologies and advancements in basic science and translational research, so they can be prepared on the battlefield," said Kenneth Wilson, MD, Trauma Medical Director of UChicago Medicine's trauma center.
A military surgeon in the U.S. Army Reserves, Wilson was instrumental in creating the AMCT3 partnership. "We ultimately want to be a hub for Army training throughout the Midwest," he said.
Not only does the program help train members of the U.S. Army, it benefits UChicago Medicine trainees, said Anthony D. Douglas, MD, a second-year surgical resident
"As a trainee, I relish the opportunity to work with many of our Army-trained trauma attendings, to learn from them, share stories, and provide the best care to patients on the South Side of Chicago," he said.
"Many of the Army medical professionals are accustomed to caring for patients in resource-poor environments," Douglas said. "The surgical skills and experience they develop in those situations benefit not only patients but also trainees who are learning from them."
Becoming a hub for training and sustaining
In February, Secretary of the Army Christine Wormuth visited UChicago Medicine to hear more about the success of the program. She toured the hospital, met with the Army team and spoke about the "win-win proposition" of such training programs.
More Army members will rotate through the trauma center this year, including a nurse practitioner and a physician assistant. The program has been so successful that the trauma team hopes to expand it to continue to build upon the expertise of embedded units.
"It's a great honor to be part of training and sustaining the skills of trauma surgeons, nurses, CRNAs and doctors who are on the front line of preserving and protecting our democracy," Rogers said.
Trauma and Violence Recovery Articles