Skip to content
UChicago Medicine updates plan for the city's first freestanding cancer facility, following 10 months of community input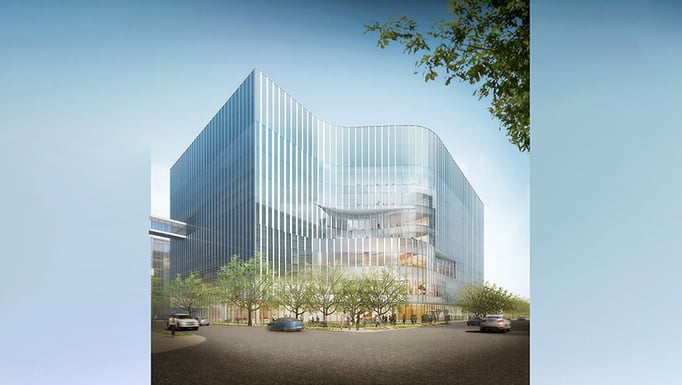 An exterior rendering shows the proposed standalone cancer center and hospital, which will be located at East 57th Street between South Maryland and Drexel Avenues.
After 10 months of planning and community engagement, the University of Chicago Medicine has updated its original proposal to build the city's first freestanding cancer hospital with an enhanced design that incorporates feedback from patients and residents of the South Side. The new cost and size of the project is $815 million for a 575,000-square-foot facility, with the ability for future expansion.
The project's scope reflects community-driven, patient-focused changes made following the Illinois Health Facilities and Services Review Board's approval of a master design permit in March 2022. The permit allowed UChicago Medicine to spend money on design and site planning and afforded the time to get input from members of the community, cancer patients and survivors.
We will be building a model for groundbreaking cancer care and prevention — established on the principles of access, equity, dignity and innovation — right here on the South Side of Chicago.
Changes to the cancer center project include patient-focused enhancements including a redesign of the ground-floor space to be a community hub for cancer prevention, screening and diagnoses, as well as private infusion bays, a dedicated breast center and shell space for future growth and technologies that have yet to be developed. The facility represents one of UChicago Medicine's largest investments in the South Side community.
The new proposal is outlined in UChicago Medicine's Certificate of Need application, which was filed with the state Review Board this month and seeks approval for the full construction of the cancer hospital. The new cancer hospital would consolidate care that is currently spread across at least five buildings on UChicago Medicine's Hyde Park campus, which is the hub of the academic health system. The plan also includes:
80 inpatient beds, including 64 medical-surgical beds and a 16-bed intensive care unit
90 consultation and outpatient exam rooms
A dedicated rapid assessment/urgent care clinic to protect immunocompromised oncology patients from extended emergency-room visits
Infusion therapy with private rooms grouped by cancer type
Cancer imaging suite with two MRIs, two CT scanners, two ultrasounds, two procedure rooms with mobile C-arm and fluoroscopy and an X-ray
A multidisciplinary breast center
Dedicated clinical trial spaces, for streamlined access to the latest research
A center dedicated to prevention, detection, treatment and survival, offering complementary therapies and stress reduction, community education and well-being support
"We will be building a model for groundbreaking cancer care and prevention — established on the principles of access, equity, dignity and innovation — right here on the South Side of Chicago," said Mark Anderson, MD, PhD, Executive Vice President for Medical Affairs at the University of Chicago. "With our long history of achievements in cancer and the great benefit of being interconnected with the University of Chicago, our new cancer facility will provide fertile ground for high-impact research so that we can tackle cancer's toughest challenges, dramatically shorten the drug-development timeline, deliver the care that the community needs, and save more lives."
Community Engagement
Just 50 years ago, a cancer diagnosis seemed unbeatable. Following the National Cancer Act of 1971, the country has seen remarkable advances in cancer detection and treatment. From 2001 to 2020, the rate of cancer deaths in the U.S. dropped 27%. However, the benefits of these advances have not been seen equitably across the nation's communities. In fact, cancer is the second-leading cause of death among South Side residents, who die from cancer at rate that's nearly twice the national average. UChicago Medicine's service area also sees elevated rates for some of the most preventable or treatable cancers: cervical, colorectal, lung and prostate cancers.
The situation is expected to get worse: The incidence of cancer on the South Side is projected to increase 19% in the next five years, compared to 9.1% in the five collar counties surrounding the City of Chicago.
Driven by these alarming statistics and facts, UChicago Medicine launched a rigorous engagement effort to get input from patients and the community so that the proposed cancer center would reflect their needs. UChicago Medicine spent 10 months soliciting feedback that started with its Community Advisory Council, which is composed of volunteers who represent a cross section of its service area. The campaign also included pushing out 200,000 surveys in-person and via social media and e-newsletters, conducting a telephone poll, hosting two town halls, attending community meetings, getting patient feedback, and engaging faith leaders, community hospitals and civic officials.
"We have an opportunity to build a world-class facility for our patients and the community that propels UChicago Medicine to become the premier destination for comprehensive cancer care, where groundbreaking science and compassionate care meet to provide an unrivaled approach to conquering cancer," said Tom Jackiewicz, President of the UChicago Medicine health system. "We will focus on a full-service patient and family experience offering a multidisciplinary approach, personalized therapies and clinical trials, as well as cancer prevention, screening and diagnosis, healthy lifestyle classes and more."
A Local, Global Destination
UChicago Medicine is already a world-renowned cancer center with international reach and one of only 71 hospitals within the U.S. designated by the National Cancer Institute (NCI) as delivering cutting-edge cancer care to patients in its communities since 1973. Its NCI Comprehensive Cancer Center designation is the highest federal rating a cancer center can achieve, yet many residents still leave the South Side to receive care.
UChicago Medicine's project proposes greater access to, and a dedicated space for, the treatment and management of the entire life cycle of cancer — from pre-diagnosis, cancer treatment, remission and beyond.
"South Side patients should not have to leave their neighborhoods to access world-class, human-centered cancer care that similarly attracts patients regionally, nationally and internationally," said Jackiewicz. "A comprehensive inpatient and ambulatory cancer facility of this caliber will mean more lives saved locally and around the globe."
A comprehensive inpatient and ambulatory cancer facility of this caliber will mean more lives saved locally and around the globe.
The new cancer center and hospital will build on nearly a century's worth of cancer-related achievements and discoveries at the University of Chicago. Its physician-scientists have made landmark breakthroughs — from the discovery that tumors feed on hormones to the first use of chemotherapies in treating leukemia to the demonstration of cancer's genetic nature. In 2017, UChicago Medicine became the first site in Chicago and Illinois to be certified to offer a revolutionary therapy for adults with diffuse large B-cell lymphoma and for children and young adults with acute lymphoblastic leukemia. CAR T-cell therapy involves a process that uses a patient's own genetically re-engineered T cells to find and destroy cancer cells.
"UChicago Medicine has more than 200 cancer researchers and physicians who are working to prevent and reduce cancer's devastating effects through clinical, translational and basic science research and advanced patient care," said Kunle Odunsi, MD, PhD, Director of the UChicago Medicine Comprehensive Cancer Center. "We can easily collaborate with colleagues across the University of Chicago, including microbiome specialists, molecular engineers, chemists, physicists, data scientists, economists, public policy researchers, psychologists, social workers and many more to tackle the toughest challenges in cancer."
Watershed Investment
The project's $815 million construction cost to build a 575,000-square-foot facility makes it one of UChicago Medicine's largest-ever expansion efforts to serve the community. Recent major projects were the $700 million construction of the 1.2-million-square-foot Center for Care and Discovery (which opened to patients in February 2013) and the $39 million expansion of the adult Emergency Department (late December 2017), which allowed for the launch of Level 1 adult trauma care (May 2018).
At least 41% of contract dollars will be awarded to minority-owned and woman-owned firms. And area residents will be given priority for workforce positions. The project is expected to generate about 500 construction jobs.
If approved by the state Review Board, the cancer hospital will add to the growing healthcare ecosystem aimed at reducing health inequality on Chicago's South Side. They include a collaborative of 13 South Side care providers, including UChicago Medicine, that launched the South Side Healthy Community Organization last summer. That effort, which is being scoped to serve about 400,000 residents with more seamless and more accessible healthcare, has been working to add 90 primary care providers and obstetric hires, access to nearly 50 priority specialists, 250 community healthcare workers/coordinators, and a connected care technology platform.
UChicago Medicine leaders hope the cancer hospital's additional beds and services also will ease the organization's current capacity constraints. The Medical Center averages 90% capacity and is routinely full with acutely ill patients. As a result, the hospital is often unable to accept patient transfers from community hospitals due to a shortage of available beds.
The facility, which will be built on East 57th Street between South Maryland and Drexel Avenues, is being designed by global architecture firm CannonDesign. Pending state approval, construction for the new cancer facility will begin in 2023, with a planned opening in 2027.
View a fact sheet about the proposed cancer center and hospital (PDF)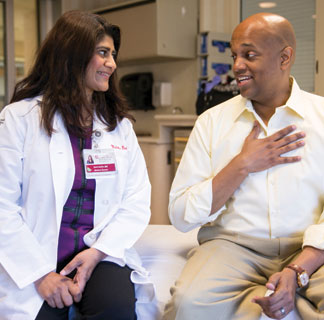 UChicago Medicine Comprehensive Cancer Center
UChicago Medicine is designated as a Comprehensive Cancer Center by the National Cancer Institute, the most prestigious recognition possible for a cancer institution. We have more than 200 physicians and scientists dedicated to defeating cancer.
Learn More About the Comprehensive Cancer Center
2022 Comprehensive Cancer Center Annual Report
We are proud of the accomplishments of our physicians and scientists who are leaders in their fields. Our annual report captures the advances in cancer research and care that defined 2022.
View our 2022 annual report