Skip to content
Triple-negative breast cancer survivor uses fashion to inspire others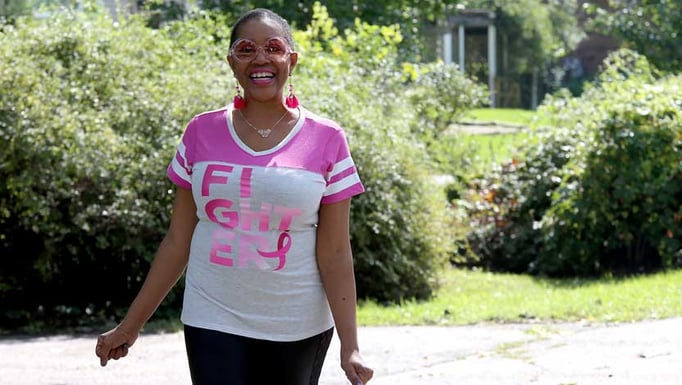 Triple-negative breast cancer survivor Deborah Gross-Madison uses fashion to inspire and encourage fellow cancer patients.
When clothing boutique owner Deborah Gross-Madison was diagnosed with triple-negative breast cancer, she started flaunting her fashion flair with a new purpose: to help others fighting breast cancer.
Shortly after her 52nd birthday in January 2019, Gross-Madison was diagnosed with an aggressive form of breast cancer. The South Holland resident sought the help of oncologist Danielle Sterrenberg, MD, just a few miles away at UChicago Medicine Ingalls Memorial Hospital.
Triple-negative breast cancer means that the three most common types of receptors known to fuel most breast cancer growth — estrogen, progesterone and the HER2 protein — are not present in the tumor. Because the tumor cells lack the necessary receptors, common treatments used for other types of breast cancer may be ineffective.
When I started to feel depressed during treatment, my goal was to give back to other breast cancer survivors.
Under the care of Sterrenberg, Gross-Madison began chemotherapy. Like many cancer patients who undergo chemo, Gross-Madison lost her hair, eyebrows and eyelashes during treatment.
"I began to not look like myself," she said. "When you look in the mirror, you know it's you, and you sound like you, but you don't feel like you. That can be devastating for someone who doesn't have the faith and support I had."
Gross-Madison, who owns an online fashion boutique that sells lingerie, accessories and costumes, said her business is to make women feel good about themselves. "When I started to feel depressed during treatment, my goal was to give back to other breast cancer survivors."
In June, she rented space at a movie theater in Lansing, Illinois, and hosted a fashion show to raise money for breast cancer survivors. The models, all of whom had lost a family member to cancer, wore yellow (for her bee-themed boutique name) or pink (for breast cancer awareness) in the inaugural "From Yellow to Pink" show. Friends and family attended and donated to the cause.
Gross-Madison, fondly known as "Queen Deborah," also uses her big personality to make inspiring Facebook videos that she posts on breast cancer support group pages. One video called "Bald and Boujee" — a play on the popular song "Bad and Boujee" — encourages women to feel sexy with a bald head. It got hundreds of views and comments from women saying it helped them to get through another day with cancer. "I just talk and hope that women feel motivated," Gross-Madison said.
She is also writing a book about her story that will be titled "From Yellow to Pink," and she hopes to open a physical location for her business in the next year.
"Deborah is so dynamic and full of energy," Sterrenberg said. "I look forward to her visits to my office, and it's a pleasure to take care of her."
Sterrenberg added that Gross-Madison's positive attitude helped her get through chemotherapy. "While chemo can be tough for patients, it's very helpful to have a good outlook and a trusting relationship with their doctor like Deborah has," Sterrenberg said.
Gross-Madison had surgery on her breast in August and will continue treatment with radiation this fall. "'Yellow to Pink' is who I am now," she said. "Cancer is scary, and I have my bad days and my doubts, too, but I have to fight."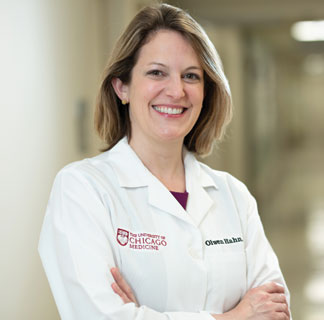 Breast Cancer Care
Our team represents expertise across the spectrum of breast cancer care: breast imaging, breast surgery, medical and radiation oncology, plastic and reconstructive surgery, lymphedema treatment, clinical genetics, pathology and nursing. Our comprehensive care approach optimizes chances of survival and quality of life.
Learn more about UChicago Medicine breast cancer care.