Skip to content
Summer research programs: Creating life-changing experiences for high school and undergraduate students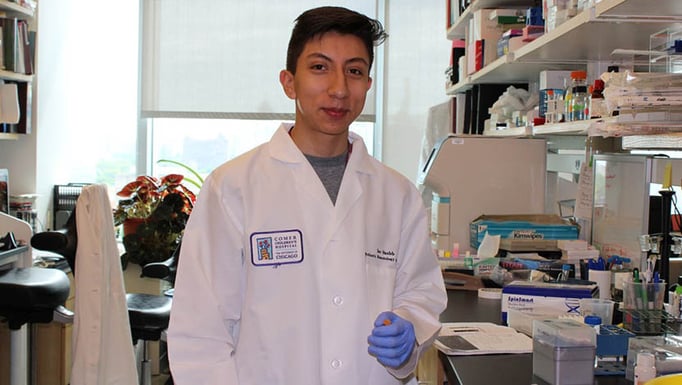 When Ecuador-born Cristian Carpio joined a University of Chicago Medicine research training program for high school and college students, he said, "it was essentially a kind of experiment with myself."

"I don't have any family in medicine or research or anything remotely in the world of academia."

As a teenager, he enjoyed science classes, "So I was like, 'Let's see what this research and medicine thing is about.'"

The then-high schooler at Walter Peyton College Prep in Chicago applied to UChicago Medicine Comprehensive Cancer Center's Chicago EYES (Educators and Youth Enjoy Science) on Cancer program in 2019.

"Luckily, I got in. And then I was hooked," Carpio said.

The Chicago EYES cancer research training program provides real-time, hands-on experience to biomedicine-minded youths. For two consecutive summers, students work full-time in the laboratories of established cancer researchers at UChicago Medicine.

Rigorous research training is complemented with a cancer-based summer lecture series, year-round career development and skill-building workshops. A network of faculty and peer mentors are dedicated to participants' success. Trainees' work is showcased in a symposium.
Part of what makes these programs great is that you get to work with such amazing and knowledgeable people.
After completing the cancer research program, Carpio returned as an intern in
Diversity in Cancer Research (DICR)
. The 10-week program is designed for undergraduates to expand their research experience.
"The science is what initially drew me to the programs, but they are so much more than that," said Carpio, today a premed student at Northwestern University. "Just being in that space and putting on a lab coat was so powerful to me."
From operating rooms to labs
The past two summers, Carpio has worked in a head and neck cancer lab co-led by
Nishant Agrawal, MD
and
Evgeny Izumchenko, PhD
. He first connected with Agrawal through the EYES program. Carpio, wanting to know more about a career in medicine, asked the program director if she could connect him with a physician.
"She gave me a list of people and I reached out to Dr. Agrawal," Carpio said. "I had an informational interview with him, and I was shadowing him in the operating room the following week. I was able to see some pretty incredible cases and the kind of impact a surgical oncologist has on patients with both benign and malignant tumors," he said.
Carpio also made an impression on Agrawal. The two stayed in touch during the pandemic. When the labs reopened to students, the researcher invited Carpio to complete his second year in the EYES program in his lab.
"Cristian was our first summer lab student, and the reason we participated in the program was actually because of him," Agrawal said.
"I met Cristian when he was a high school student and was amazed by how intelligent, determined and personable he was. He has a really pure drive to learn more about science and medicine, and I wanted to help keep him motivated and inspired to continue on this career path."
Building and sharing knowledge
Carpio's most recent project with the Agrawal/Izumchenko team explored the molecular mechanisms behind the progression of oral squamous cell carcinoma. This type of cancer has a mortality rate of about 50%.
"We were looking to identify what molecules and what genes drive our healthy cells to become cancer cells," Carpio explained. "If we can understand what's driving them, we can target them with new drugs."
As part of the research team, Carpio was tasked with creating Western blots, a technique used to identify specific proteins in blood or tissue samples. He worked closely with postdoctoral researchers, lab techs and the lab director, and met regularly with both principal investigators.
"Part of what makes these programs great is that you get to work with such amazing and knowledgeable people," he said. "In my lab, they took the time to answer any questions I had and gave me advice on medical school and my career path."
Izumchenko cites the opportunity to guide and inspire young researchers as the driving force behind his and Agrawal's decision to host summer research students.
"A major aspect of academic work is preparing the next generation of researchers," the cancer geneticist said. "I am here because I was lucky enough to have good mentors."
"Now, it's my turn to create an environment that seeds a love of research and medicine in students and, if the seed is there, help it grow," Izumchenko said.
Career guidance and skill development
In addition to lab work and mentorship, EYES and DICR offer participants year-round career and skills development workshops as well as community outreach and engagement opportunities. DICR participants also serve as peer mentors for other summer research trainees.
The Cancer Center hosts two additional pathway programs for high school students:
SHE in Oncology
and
researcHStart
.
For Carpio, who emigrated to the United States with his family when he was 3 years old, the programs have helped forge connections and given him the confidence to pursue a career in the medical field.
"I could talk for days about these programs," he said. "As an immigrant from a low-income household, this world of academia was so foreign to me."
"The fact that I got exposure so early on without any connections in medicine or research is such a monumental thing. It sent me on the trajectory I am on today, and I don't think I would be in medicine or even really know what cancer research is without these programs. It really has been life-changing."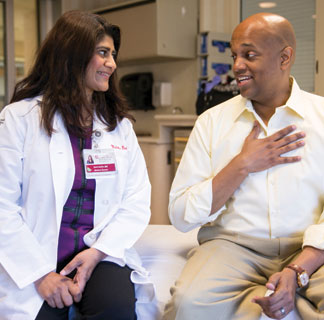 UChicago Medicine Comprehensive Cancer Center
UChicago Medicine is designated as a Comprehensive Cancer Center by the National Cancer Institute, the most prestigious recognition possible for a cancer institution. We have more than 200 physicians and scientists dedicated to defeating cancer.
Learn More About the Comprehensive Cancer Center