Skip to content
New hope for lung cancer: A Q&A with thoracic surgeon Jessica Donington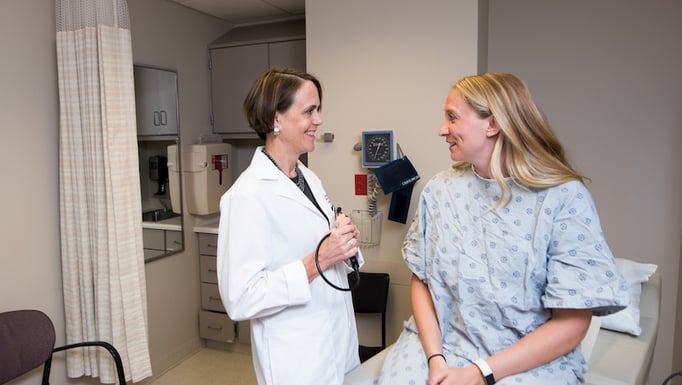 Just in time for November's Lung Cancer Awareness Month, we sat down with University of Chicago Medicine's inaugural chief of the newly-created section of thoracic surgery Jessica Donington, MD, to deconstruct common myths surrounding the disease, which is the world's deadliest form of cancer. Donington is an experienced thoracic surgeon who treats the full spectrum of lung, esophageal and chest conditions with a focus on providing comprehensive, multidisciplinary care for both benign and malignant diseases.
A leader in thoracic surgery with more than 20 years of experience, she gave us insight on commonly asked questions about lung diseases and her plans for the new section of thoracic surgery, in addition to why she's passionate about this field and the exciting advances on the horizon.
UChicago Medicine: Welcome to UChicago Medicine! As an expert in thoracic surgery, what are some common misconceptions and questions you get from patients?
Jessica Donington: One misconception I often hear is that only smokers can get lung cancer, which is false. About 15 percent of lung cancer patients in the U.S. never smoked, and up to 60 percent are former smokers. Anyone with lungs can get lung cancer, especially those with a medical or family history. I also hear that lung cancer is not curable. Cure rates have risen to 80 percent for stage I of the disease, and new treatments and clinical trials are advancing care every day. Here at UChicago Medicine, we're fortunate enough to have access to some of the newest, most innovative clinical trials in the country.
What are your plans and goals for the newly-created Section of Thoracic Surgery?
One of my biggest goals is to ease access and streamline care for patients with lung cancer. I am collaborating my colleagues from oncology, pulmonary medicine and supportive care to create a multidisciplinary team with a single clinic and a shared educational and research infrastructure. Most lung cancer patients need to see various specialists during their treatment. So, our goal is to create a multidisciplinary team that will care for them from screening and diagnosis through treatment and into survivorship.
As one of the leading women in thoracic surgery, what drives you and makes you passionate about this field?
I fell in love with thoracic surgery as a medical student and was incredibly fortunate to have many mentors (mostly men) who did not think my gender was an obstacle to becoming a thoracic surgeon. I hope that I serve as a role model for young women in surgery and medicine to know that there are no specialties off limits to them. General thoracic surgery requires a lot of time in training, but it is a field that is very open to women and provides a balance of great cases, amazing pathology and a reasonable schedule.
What exciting advances are on the horizon for your field?
In thoracic surgery, we are at a time when more and more of our procedures are being done minimally invasively, which is a tremendous advancement. Not only does it allow for faster recovery and less pain than open procedures, but it has also allowed for a large population of patients who are too frail or have poor lung function to have curative surgery. The other huge change in early stage lung cancer care is the new recommendation from the U.S. Preventive Services Task Force for routine low dose CT screening for lung cancer in high risk populations. This has a dramatic potential to diagnose people at an earlier stage and reduce lung cancer deaths. The adoption of CT screening for lung cancer has been slow in the U.S. One goal of our multidisciplinary efforts in thoracic oncology is to increase access and awareness of CT screening in Chicago and its surrounding areas.
What is one piece of advice that you wish people followed when it comes to lung and thoracic health?
I wish people who smoke would reach out for help to stop. We have great programs and experts on our campus who can do just that. If you have smoked, ask your doctor if you are a candidate for CT screenings.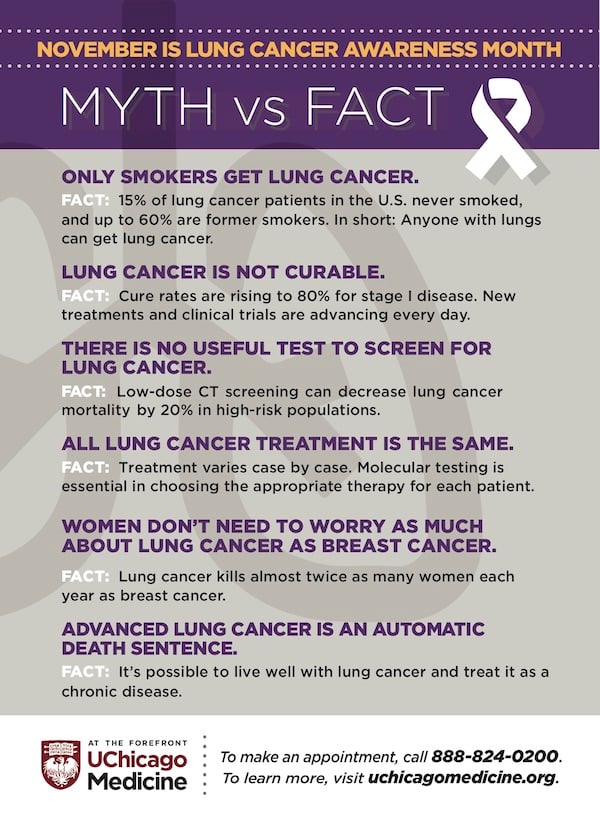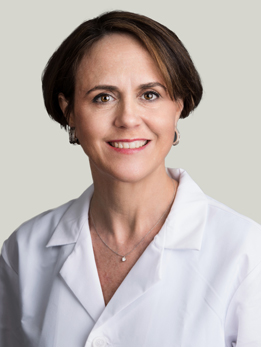 Jessica Donington, MD, MSCR
Jessica S. Donington, MD, is an expert thoracic surgeon who treats the full spectrum of lung, esophageal and mediastinal conditions. Her focus is on the comprehensive and multidisciplinary care of benign and malignant chest diseases.
Learn more about Dr. Donington