Skip to content
Less intensive treatment effective for HPV-linked head and neck cancer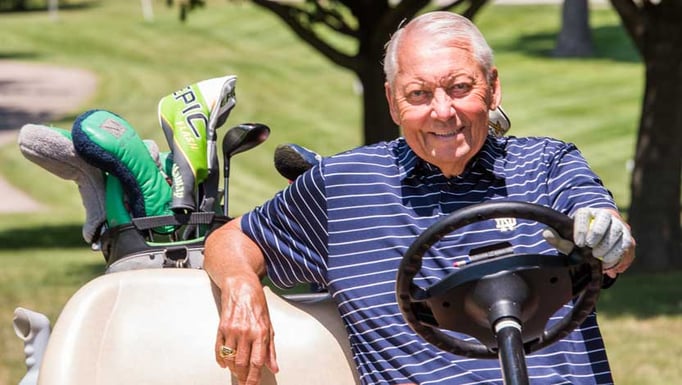 Former Notre Dame and Philadelphia Eagles football player Arunas Vasys participated in a clinical trial after being diagnosed with tongue cancer. The reduced-intensity treatment — designed by UChicago Medicine physicians — is offering higher cure rates and a better quality of life to patients with HPV-linked head and neck cancer.
It started in early May 2018 with a tickle in the back of his throat that wouldn't go away.
"I told my wife Patricia that something was bothering me," said Arunas Vasys, 76.
The Aurora, Ill., couple made an appointment with an ear, nose and throat specialist close to their second home in a southern Florida golf community. A few days later, a biopsy confirmed it was cancer of the tongue.
The former Notre Dame and Philadelphia Eagles football player and his wife sent a mass email to family and friends asking for advice on where to seek treatment. They were willing to go anywhere.
"We heard back that the best head and neck cancer team in the country was at the University of Chicago Medicine," Patricia said. They flew home immediately, and within a few days, met with UChicago Medicine surgeon Nishant Agrawal, MD, oncologist Everett Vokes, MD, and radiation oncologist Daniel Haraf, MD.
A complete diagnostic work-up revealed the tumor was related to the human papillomavirus virus (HPV).
We are thrilled to offer our patients excellent cure rates and a better quality of life after cancer.
HPV has replaced tobacco and alcohol as the leading cause of cancers in the head and neck that affect the tonsils and the base of the tongue. Infections from HPV are so prevalent today that almost all men and women will get at least one type of the virus in their lifetime. While most of these infections go away on their own, some can cause certain types of cancer.
Finding a better treatment approach
Across the U.S., most patients with HPV-related head and neck cancer undergo the same treatment used for tobacco-related disease – a combination of surgery, chemotherapy, and/or radiation. Although this aggressive treatment has a high success rate, it can cause serious and debilitating long-term side effects such as difficulty with speech and swallowing.
However, head and neck cancer caused by HPV actually responds differently – and better – to treatment than cancer caused by smoking.
"Because HPV-positive disease responded so well to therapy, we believed we could reduce the intensity of treatment and still get good, and maybe even superior, results," said Haraf, considered one of the most experienced head and neck cancer radiation oncologists in the world.
In a UChicago Medicine clinical trial called OPTIMA, the head and neck oncology team began testing a less aggressive combination treatment. "If chemotherapy substantially shrinks the tumor," said Agrawal, "patients can potentially receive surgery or 'de-escalated' radiation therapy — fewer and lower radiation doses to a smaller area, leaving surrounding healthy tissue unharmed."
Over a four-year period, individuals with HPV-related head and neck cancer who participated in the trial had higher survival rates and fewer short- and long-term side effects.
"We are thrilled to offer our patients excellent cure rates and a better quality of life after cancer," Vokes said. "And we continue to build on these dramatic results with more clinical trials that further refine the treatment for HPV-linked cancer."
'Let's get this done'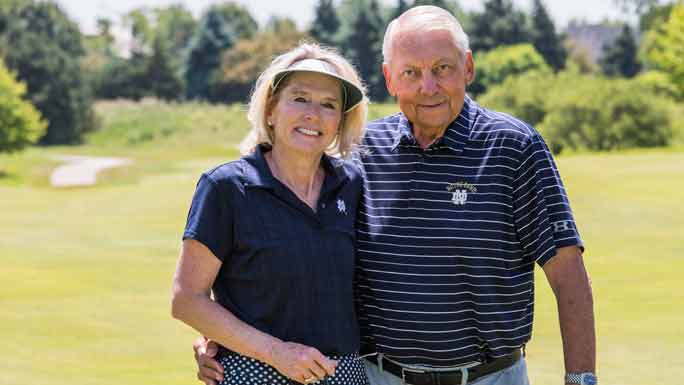 Vokes, Haraf and Agrawal recommended Arunas consider participating in the OPTIMA clinical trial.
"I was excited to learn that the tumor fit all the parameters for the trial," Arunas said. "And after meeting with these doctors, we felt confident and reassured. I told Patricia, 'let's get this done.'"
He underwent chemotherapy with three weeks of radiation. A few months later, Agrawal performed surgery to remove any potential tumor cells in nearby lymph nodes. Fortunately, the pathology report showed no signs of cancer.
The treatment wasn't easy, but soon after his surgery, Arunas and Patricia were able to head back to Florida to spend the winter months relaxing and playing golf.
"I have some minor side effects including some numbness in my fingers and toes," Arunas said. "But it hasn't affected my game. And the main thing is, I am healthy, I am golfing, and I feel like I can line up with Khalil Mack!"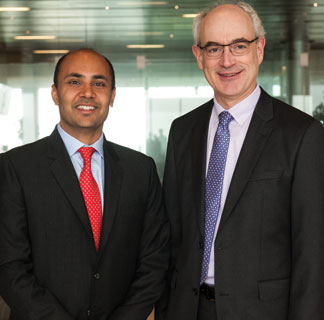 Head and Neck Cancer Care
UChicago Medicine pioneered several breakthroughs in the treatment of head and neck cancer, including organ-sparing combined radiation and chemotherapy approaches that can cure locally advanced head and neck cancers while preserving critical functions such as speech and swallowing.
Explore our head and neck cancer care program
Questions and Answers About HPV and Head and Neck Cancer
The incidence of head and neck cancers caused by a human papillomavirus (HPV) infection has increased dramatically. In this Q & A, medical oncologist Alexander Pearson, MD, comments on the role of HPV in head and neck cancer and how UChicago Medicine experts are tailoring treatment for people with HPV-associated cancers.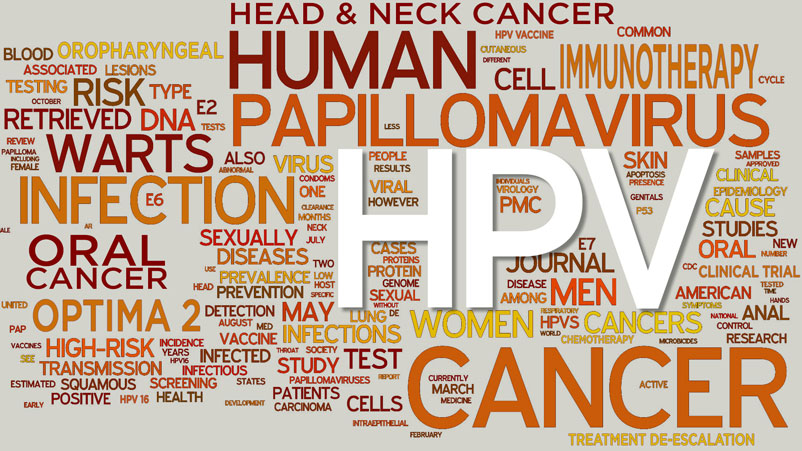 Head & Neck Cancer Articles