Skip to content
A caregiver got breast cancer. Then a community of survivors and friends stepped up to help.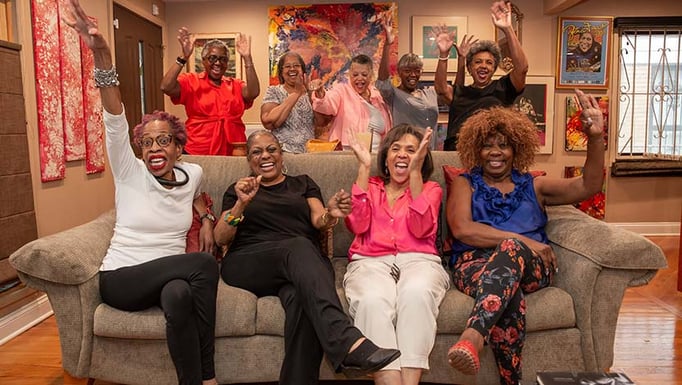 Breast cancer survivor Kathleen Humphries, front row, second from left, celebrates with her friends who helped her during her treatment.
Kathleen Humphries had her hands full. Not only was she working full time as an advertising consultant, she also was caring for her ill mother and brother, who had both moved into her Hyde Park home along with her brother's 135-pound dog.
She'd been so busy that Humphries, 70, hadn't had a mammogram or even seen a doctor in more than a decade. She felt fine and didn't have a family history of breast cancer, so she figured a mammogram could wait.
"I'd take my mom and brother to all their doctor appointments, and I'd be working by phone in the waiting room or in my car," Humphries said. "Then, one day, my brother said to me 'When do you go to the doctor?' And I thought, 'Good grief, I haven't.' I just let everything drop."
That conversation spurred Humphries to make an appointment with a primary care doctor who referred her to University of Chicago Medicine for a mammogram. When the radiologist said her mammogram detected something suspicious, Humphries didn't worry. She knew she had dense breasts, which can make mammograms difficult to interpret, since tumors and harmless calcifications appear similar. But she started worrying when a biopsy was ordered, which later confirmed she had stage 2 breast cancer.
"I just couldn't believe it," Humphries said. "I didn't know how I was going to come home and tell my mom and brother. How was I going to take care of myself and everyone else? My head started spinning with thoughts of, 'How is this going to end?'"
Sisterhood to the rescue
That's when a group of Humphries' high school and college friends — whom she'd known for more than 50 years — stepped in to provide care for the caregiver.
These women are fun — and they're strong. We find a lot of joy in each other and in life.
They immediately planned who would accompany Humphries to her appointments. They hosted Zoom gatherings to lift her spirits. The friends who were breast cancer survivors shared their experiences with her. One friend who lives in Georgia called Humphries every morning to pray with her. Another got her a two-night stay in a fancy Hyde Park hotel so she could recover in peace after her surgery.
"Initially, I told them, 'I don't need help with anything.' I didn't want anyone to worry about me," Humphries said. "But right away, everyone took a role in doing whatever they could do. It was amazing."
On the day of her August 2022 lumpectomy — when her cancerous tumor was surgically removed — one of Humphries' friends waited with her in the pre-op area. The laughter coming from their room was so loud, someone from the medical staff came into the room to see what the commotion was about.
"These women are fun — and they're strong," Humphries said. "We find a lot of joy in each other and in life."
Finding her teams
A cancer diagnosis can be traumatizing, so a team approach to care — including loved ones — is critical, said Nan Chen, MD, Humphries' UChicago Medicine oncologist.
"(Humphries) had a team of friends who were able to rally around her and help with transportation and emotional support. Then she had her physician and healthcare team she could lean on and communicate with. She found people she got along with and trusted," Chen said. "Finding support in whichever way works for you is really important."
For those who don't have a "team" like Humphries did, UChicago Medicine provides multiple forms of support, including psychiatrists, psychologists, physical therapists and occupational therapists who specialize in working with cancer patients. Other programs include specialized support groups for emotional support and even a PRISM Clinic to help cancer patients address sexual side effects from treatment.
"Dealing with these things are just as important as the medical care you receive, because it involves your quality of life," Chen said. "Just because your surgery is over or you're cancer-free doesn't mean the need ends."
Humphries' medical team included Chen and UChicago Medicine breast surgeon Sarah Shubeck, MD, MS, whom she described as "the angel that I needed."
Humphries liked Shubeck's personal touch, introducing herself by her first name and having an informative discussion about the road ahead. She also appreciated Chen's expertise and reassurance.
"(Dr. Chen) said — and this is what absolutely got me — 'I know I gave you a lot of information here, but if you remember one thing about this meeting, it's that you have a highly curable breast cancer,'" Humphries said. "It was at that point that I mentally moved myself onto the survivors list. Just knowing it was going to be over, and I was going to survive it, was such a relief. It took some of that fear away."
Successful surgery
Humphries' surgery was routine and successful, Chen said. She received six weeks of radiation afterward and continues to take a hormone therapy medication for post-menopausal breast cancer patients.
Humphries hopes her story will serve as a reminder to others of the importance of keeping current with all health screenings, and that they should encourage loved ones to do the same.
"Looking back, I see how I fell off taking care of myself. It didn't dawn on me that I was being neglected, because I felt fine. But it snuck up on me," Humphries said. "My story turned out well, thank you, God."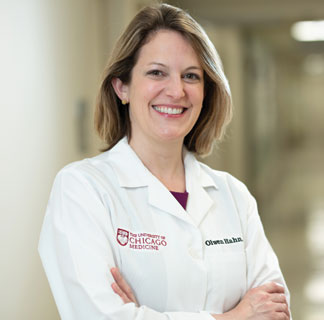 Breast Cancer Care
Our team represents expertise across the spectrum of breast cancer care: breast imaging, breast surgery, medical and radiation oncology, plastic and reconstructive surgery, lymphedema treatment, clinical genetics, pathology and nursing. Our comprehensive care approach optimizes chances of survival and quality of life.
Learn more about UChicago Medicine breast cancer care.