Skip to content
UChicago Medicine receives American Cancer Society grant for oncology patient navigation program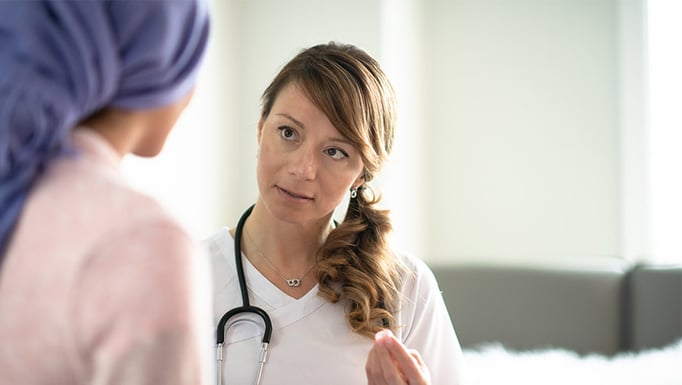 The American Cancer Society (ACS) has awarded the University of Chicago Medicine Comprehensive Cancer Center (UCCCC) a $300,000, multiyear grant for a program to enhance oncology patient navigation and address barriers to individualized, timely and equitable care for cancer patients and their families.

UChicago Medicine and Rush University Medical Center are the only two Chicago area hospitals – and two of 14 hospitals across the country – to receive this grant.

Patient navigation is one of the only evidence-based interventions to eliminate health disparities and improve health equity in cancer care. Patient navigators help guide patients through healthcare systems with the resources they need.

Navigation is a crucial component of cancer care, from prevention through treatment and survivorship. By providing individualized assistance to patients, families and caregivers, navigation ensures high-quality health and psychosocial care, creating positive health outcomes for patients.

Data shows the customized care provided through patient navigation programs decreases hospitalizations and intensive care unit admissions and improves timely diagnostic follow-ups. Additionally, patient navigation increases scheduled appointment arrivals, adherence to recommended cancer screenings, and the likelihood that treatment is initiated within 30 to 60 days of diagnosis.

"We know oncology navigation can significantly improve the experience and outcomes for patients with cancer and their families, especially those from populations traditionally excluded," said Kathleen Goss, PhD, regional vice president of Cancer Support at the American Cancer Society. "The American Cancer Society is proud to partner with Rush and UChicago Medicine to enhance capacity, improve processes, and develop best practices to increase the access of patient navigation and quality care to as many individuals as possible."

This grant supports the ongoing work of the UChicago Medicine network, including the UCCCC, to address the complex needs of patients with cancer. The first step in the revamping process will be to better understand gaps and opportunities in the current navigation process, and how to best provide dedicated support for all stages of cancer — from diagnosis to survivorship.
Ultimately, we hope to use this reimagined oncology navigation model in our new cancer center facility to support all of our patients.
The streamlined patient navigation model is intended to reduce fragmentation of services for patients and caregivers, especially among vulnerable patients such as those with significant social needs, high symptom burdens or those requiring complex multi-modal and -team care (surgery, chemotherapy and/or radiation).
The UCCCC team will engage and leverage the expertise of UChicago Medicine cancer clinical teams,
supportive oncology teams
and, importantly, community partners and advocates to unify and expand current internal and community resources for patients with cancer. Input from these stakeholders will allow UChicago Medicine to build a robust infrastructure that will support a patient-centered approach across the health system's network of sites that treat cancer patients.
UChicago Medicine plans to invest in innovative approaches to integrate both in-person and digital resources to improve the navigation experience for both patients and caregivers. Particular attention will be paid to addressing digital access and digital literacy to ensure equitable access across the health system.
The improvements to the oncology navigation infrastructure dovetail with the health system's plans to build Chicago's first freestanding facility dedicated to cancer care and research. Its location on the South Side will increase access to advanced care in a part of Chicago that has seen shrinking healthcare resources for many years.
Hospital leaders sought direct input from the community and patients to ensure the best patient experience is at the heart of the new facility's design.
Nita K. Lee, MD, MPH
, principal investigator for the ACS grant, Associate Professor of Obstetrics and Gynecology and Assistant Director of Community Engagement for the UCCCC said, "Ultimately, we hope to use this reimagined oncology navigation model in our new cancer center facility to support all of our patients – and to better ensure equitable delivery of cancer treatment advances and supportive care to our diverse cancer patient population on Chicago's South Side and beyond."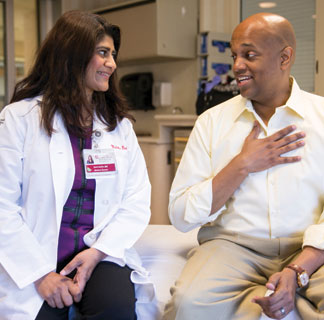 UChicago Medicine Comprehensive Cancer Center
UChicago Medicine is designated as a Comprehensive Cancer Center by the National Cancer Institute, the most prestigious recognition possible for a cancer institution. We have more than 200 physicians and scientists dedicated to defeating cancer.
Learn More About the Comprehensive Cancer Center
Cancer and Research Articles