Skip to content
Six years after CAR T-cell therapy for lymphoma, patient still cancer-free
Scott McIntyre: CAR T-cell Therapy for Lymphoma
[MUSIC PLAYING] Scott MacIntyre is a busy guy. He works at a company he co-owns called Shamrock Truck Sales. You would never guess by looking at him that he very nearly died because of cancer just two years ago.
At the time, basically we had a life expectancy of about six months, but then in the very first part of 2016, we got a call where I was able to harvest my T cells, and it became my turn. So in March of 2016, I was able to receive CAR T treatment.
Scott was one of the first people to receive CAR T cell therapy as a trial. He was at a point in his fight with cancer where he had no other options, but CAR T gave him a chance. Michael Bishop is one of the doctors who provided care to Scott.
You pray for that every day as an oncologist, that you can deliver that kind of, give that kind of care, and give that kind of treatment to a patient. So to say that I'm excited would be a major understatement.
In the first part of the process, T cells, the workhorse of the immune system, are collected from the patient's blood. Then, scientists insert instructions that enable those T cells to find specific cancer cells. While the T cells multiply in the lab, the patient receives chemotherapy to reduce the number of cancer cells. And finally, the engineered T cells are returned to the patient's bloodstream where they seek out and kill remaining cancer cells.
Really, what it does is program the cells to be specific for the cancer, because we know our immune system is capable of eliminating cancer, but sometimes it needs to be more specific and go towards the cancer itself.
Next scan, lo and behold, cancer free. We've gone to remission. So I've been in remission now for about 15 months. Every month, it gets better and better. My strength has come back, my stamina's come back. Basically, I'm back living my full life again, enjoying things I like to enjoy. So it's just absolutely been a miracle, and I owe so much to the team at University of Chicago.
Scott and his wife Cindy have spent a lot of time in hospitals in recent years, and they're happy to be back at work at their business and back to a normal life with a chance at a happy future ahead.
The care at University of Chicago Hospital was absolutely phenomenal. Spent a lot of time on the tenth floor, of course, up there at 10th East and everybody was so professional and so, just, compassionate with it.
That's what our purpose here is, is we want to bring new and innovative therapies that improve the lives and, particularly, the quality of life for our patients.
You'd never know it by looking at him today, but six years ago, Scott McIntyre was given just a few months to live.
He was losing his battle with diffuse large B-cell lymphoma (DLBCL). A few rounds of chemotherapy, a stem cell transplant and even two clinical trials and targeted radiation therapy provided only temporary remission.
The cancer kept coming back.
When cancer spread to his lungs, McIntyre felt he was out of options. That's when he decided to participate in a very promising immunotherapy trial being offered at the University of Chicago Medicine.
"The doctors said to me, 'We don't know how this will work, but we hope it will help us learn more about this disease and help patients in the future," McIntyre said. "When I heard that, the pressure just eased away. I said, 'I'm ready. Let's do it.' "
He became the first patient to be treated with CAR T-cell therapy in Illinois.
CAR T-cell therapy involves extracting a cancer patient's white blood cells and reprogramming the T cells — the roving warriors of the immune system — with an antibody-like protein called Chimeric Antigen Receptor, or CAR. The modified cells are returned to the patient's body, a process that takes less than 10 minutes. These re-engineered T cells bypass healthy cells and latch on to and kill the diseased cells — basically, using a patient's own immune system to fight cancer.
After the procedure, McIntyre had a fever for a few weeks, which doctors expected. But soon after, he started feeling better. A few weeks after returning home, he got a call from UChicago Medicine oncologist and researcher Sonali Smith, MD.
She had the results of his bone marrow biopsy and was ecstatic: The cancer was gone.
"You're my walking miracle," she told McIntyre.
That was in 2016 and the cancer still hasn't returned.
The CAR T-cell therapy success rate is about 30% to 40% for lasting remission, with no additional treatment, according to Michael Bishop, MD, director of UChicago Medicine's cellular therapy program.
My oncologists, they never gave up. The doctors didn't give up. My family didn't give up. And the researchers didn't give up.
While McIntyre still must visit the doctor every few months for a quick infusion of immunoglobulin to help him fight infections, he has no side effects from the therapy.
"CAR-T was our 'hail Mary' pass. We threw the ball up in the air, and it ended up being a touchdown," said McIntyre, a diehard Notre Dame football fan. "My oncologists, they never gave up. The doctors didn't give up. My family didn't give up. And the researchers didn't give up."
At the first Notre Dame football game McIntyre attended after his CAR T-cell therapy, he texted a photo of himself to Smith and wrote: "Because of you, I'm living my dream."
"I will never forget that text," Smith said. "It had a gorgeous picture of him, his wife and children at the game, full of life and full of gratitude that something worked. He'd gone through treatment after treatment, clinical trial after clinical trial, always hoping that the next treatment would finally get rid of his cancer. And now he was the picture of health. Of normalcy.
"Having our patients return to a life where they can go to a college football game or spend a day in the sun is the whole reason we are in this field."
Every year since, McIntyre has texted Smith a photo from Notre Dame's opening day game.
Today, McIntyre, 58, is back at work running his truck dealership in South Bend, Indiana, and enjoying life with his wife of 36 years, his three grown children and two grandchildren.
He also provides support to other CAR T-cell therapy patients and their families, sharing his story and helping them learn about the process, including in a private Facebook group. In 2019, McIntyre received the "Inspiration Award" from the American Cancer Society.
"I can't thank everyone enough. I'm so happy I get to be alive to experience all this," he said. "The future looks very bright."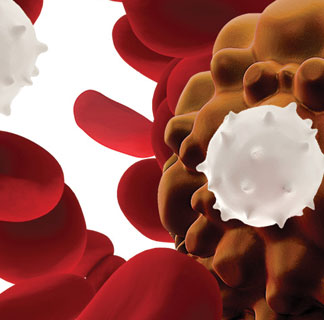 CAR T-Cell Therapy
CAR T-cell therapy supercharges a patient's white blood cells to find and destroy cancer cells. UChicago Medicine research played a key role in the development of this exciting new immunotherapy.
View videos and learn more