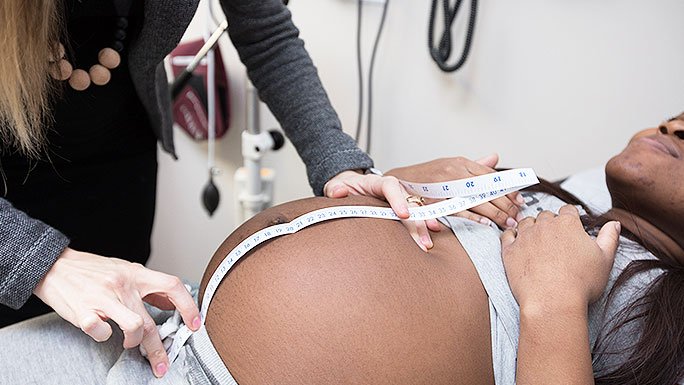 With the expertise of our certified nurse midwives (CNM), the University of Chicago Medicine Family Birth Center offers a broader range of birthing options in the safety of a hospital setting. Nurse midwives play a unique role in optimizing the childbirth experience for women whose pregnancies are low-risk.
What is a midwife?
Our midwives are advanced practice nurses who specialize in pregnancy, labor and childbirth as well as postpartum, infant and well-woman care. Nurse midwives' expertise is rooted in a philosophy of care that prioritizes evidence-based practices and customizes the birth experience to each woman's unique health needs and preferences. Numerous studies associate midwifery with highly favorable outcomes for mothers and babies.
Personalized, Woman-Centered Care
At the Family Birth Center, there is no standard childbirth experience. Each experience is unique. And, that's a good thing because each woman, baby and family is unique.
Our nurse midwives commit to supporting a gratifying customized childbirth experience for every woman and family — even if it deviates from initial expectations. After all, there is no one perfect way to have a baby. By listening first, midwives learn how to help you optimize your way.

In addition to offering an intricate understanding of how a woman's body gives birth and heals, midwives provide a combination of medical guidance and interpersonal support.

Nurse midwives can help you to:
Understand and articulate your preferences for how you experience your child's birth
Set — and if necessary, adjust or reset — realistic personal expectations for childbirth
Understand traditional and alternative birthing options, offering recommendations to accommodate your personal needs and preferences
Learn about evidence-based natural and low-intervention pain management and labor support options, if you choose
Understand and decide when it may be time to consider alternative pain management or birthing options
Midwives specialize in supporting the body's intuitive progression of labor with natural and low-intervention birthing practices. When necessary or preferred, nurse midwives believe in judicious use of intervention — meaning an appropriate level of intervention at an appropriate time. Whether your experience is higher or lower on the spectrum of intervention, nurse midwives offer expertise in evidence-based practices to optimize the outcome for you and your baby.
Historically, midwives provided primary and gynecologic care for well and healthy women through all life stages, from adolescence through post-menopausal care. Building on this legacy, our nurse midwives have the expertise to help you think broadly about your childbirth experience in the context of your health before, during and after pregnancy. If you choose, you can even continue
general gynecologic care
with your midwife.
Meet Our Certified Nurse Midwives