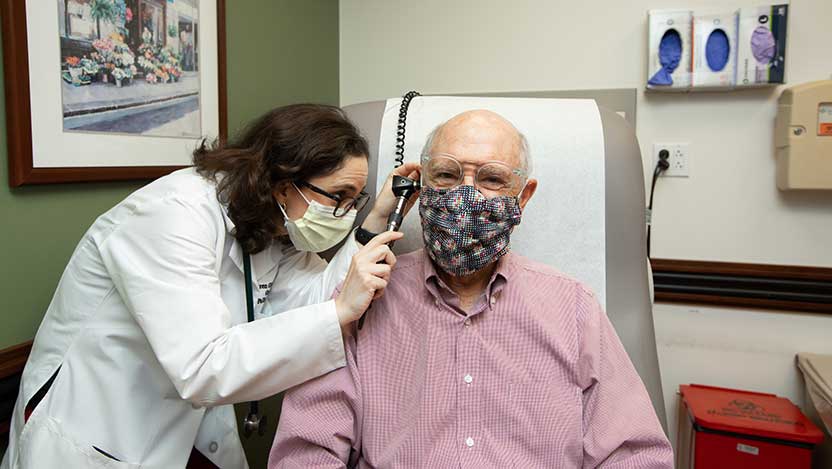 Geriatric Primary Care
We provide comprehensive, team-based care for adults aged 65 and older. Each physician on our team is fellowship-trained and/or board-certified in geriatric medicine, which means they have received years of specific training in the unique health needs of older adults and how to care for them.
Our geriatrics physicians are supported by a dedicated and comprehensive team of nurses, advanced practice providers, social workers, physical therapists, pharmacists, psychologists, neurologists and nutritionists. All are specially trained to work with older adults.
New patient care begins with a comprehensive medical review and geriatric-focused assessment of the patient's situation, including:
Medical conditions such as diabetes, blood pressure and urinary issues
Hearing and vision loss
Cognition and mood
Mobility and fall risk
Polypharmacy (use of multiple medications), medication side effects, and drug interactions
Safety at home
Pain management
Immunizations
Family and social networks of support
Health care power of attorney
After the initial evaluation, we develop an individualized plan for primary care and bring in specialists as needed. We also offer wellness and prevention screenings designed to help older adults stay healthy and active for as long as possible. Our primary care physicians may offer recommendations for changes in lifestyle and medications that could improve the patient's health. We also conduct age-appropriate screenings for cancer and other health conditions.
Request an Appointment
The information you provide will enable us to assist you as efficiently as possible. A representative will contact you within one to two business days to help you schedule an appointment.
To speak to someone directly, please call 1-888-824-0200. If you have symptoms of an urgent nature, please call your doctor or go to the emergency room immediately.
South Shore Senior Center