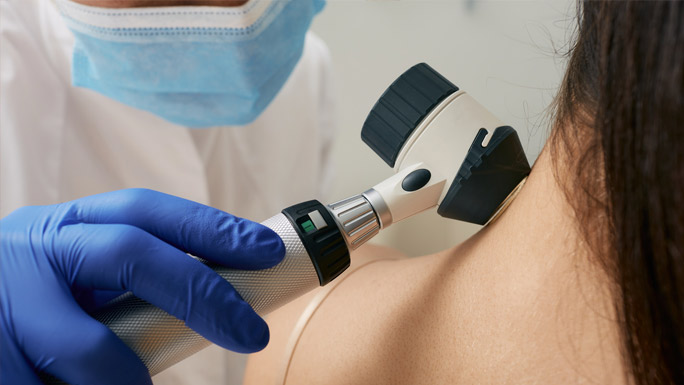 Take it from UChicago Medicine skin cancer specialists who complete thousands of skin cancer screenings every year: No one is immune to skin cancer. It affects more people than any other cancer. One out of every five Americans develops skin cancer during their lifetimes.
It's true that some people have a higher risk of developing skin cancer, but anyone can get it, regardless of skin color or family medical history. After all, the most well-known cause of skin cancer is the sun, which shines over all of our heads.


Fortunately skin cancer, including melanoma, is very treatable when caught in the early stages.
That's what makes skin cancer screenings, both self-exams and professional exams, so important, say UChicago Medicine dermatologists. The sooner suspicious skin spots, moles, bumps and blemishes are identified, the greater likelihood that skin cancer can be diagnosed in the early stages.
Healthy skin practices, such as wearing sunscreen and avoiding tanning beds, are also critical habits to adopt. These practices can prevent skin cancer from developing in the first place.
Armed with both these defenses—screening and prevention—you and your loved ones can protect yourselves against this common cancer. Below are how-to details on both these safeguards.
Convenient Locations for Dermatology Care
Request an Appointment
The information you provide will enable us to assist you as efficiently as possible. A representative will contact you within one to two business days to help you schedule an appointment for a skin cancer screening.
To speak to someone directly, please call 1-888-824-0200. If you have symptoms of an urgent nature, please call your doctor or go to the emergency room immediately.
Dermatology & Skin Care Related Articles