Congenital heart disease refers to structural heart defects that occur while the heart is developing during pregnancy. There are many types of congenital heart disease, including valve defects that allow too much or too little blood to pass through the heart, or holes in the heart that allow low-oxygen blood to mix with high-oxygen blood. In most cases, there is no known cause of congenital heart disease, although both genetic and environmental factors may play a role.
At Comer Children's, we provide continuity of care throughout a patient's life. We make the diagnosis of heart disease in fetuses, help deliver these babies safely, care for them through the early years of infancy and childhood and continue to work with patients as they transition to adulthood. Meanwhile, UChicago Medicine's Center for Adults with Congenital Heart Disease works to bridge the gap between adult and pediatric care.
Symptoms of Pediatric Congenital Heart Disease
Most congenital heart defects do not cause symptoms. When signs and symptoms are present, they may include:
Fatigue
Difficulty breathing
Lack of interest in eating
Cyanosis (bluish appearance of the skin, lips and/or fingernails)
Diagnosing & Treating Congenital Heart Disease
A physician may discover congenital heart disease during a routine physical exam. He/she may then use the following tests to confirm or rule out the presence of a defect.
Electrocardiogram (EKG), which uses electrodes to measure the electrical activity of the heart
Echocardiogram, which uses sound waves to create a picture of the heart
Cardiac catheterization, a minimally invasive procedure that uses a small, flexible tube to examine the heart
Cardiac computed tomography (CT) scan, which takes pictures of the heart using X-ray waves
Magnetic resonance imaging and angiography (MRI/MRA), which is similar to a CT scan but without the use of X-rays
Comer Children's offers a full range of treatments for congenital heart disease. Cardiologists work with each patient and his/her family to create a treatment plan based on the type of heart defect and the severity of the condition.
We are leaders in cardiac catheterization and recently opened a state-of-the-art hybrid operating room, catheterization (cath) lab and electrophysiology (EP) suite. Our pediatric interventional cardiology team has been involved in research and testing during development of the latest minimally invasive pediatric cardiac devices and techniques. Pediatric cardiologists from Comer Children's are involved in training other cardiologists throughout the United States and internationally in these techniques. This means infants, children and adults with congenital heart disease are receiving their care in our cardiac catheterization lab from some of the most experienced international leaders in the field.
In addition, our patients have access to innovative technology, including experimental and newly approved intra-cardiac devices that are not commonly available elsewhere, as well as first-of-its-kind radiation reduction and safety technology.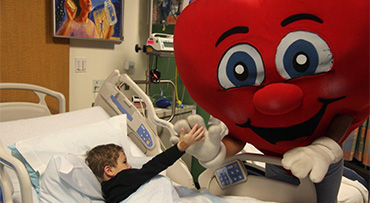 Get a Second Opinion
Pediatric Heart Related Articles