Children's Weight Management Center
By helping your child lose excess weight, you will also help them control or prevent chronic health conditions, such as high blood pressure, type 2 diabetes and nonalcoholic fatty liver disease. Being overweight or obese raises a child's risk of these and other serious diseases.
At the University of Chicago Medicine Comer Children's Hospital Children's Weight Management Center, our experienced clinicians and pediatric nutritionists will provide the support and expertise your family needs to help your child or teenager obtain a healthy weight. We will also diagnose and treat any related health conditions, allowing you to obtain all the care your child needs in one place from a team of highly experienced pediatric specialists.
Our Life-Changing Weight Loss and Weight Management Program for Kids and Teens
A Team Approach: Our Comer Children's Pediatric Obesity Specialists
Our goal at the Children's Weight Management Center is to help children grow into healthy adults who know how to manage their weight and prevent or control chronic diseases. For decades, our team has treated thousands of children with liver disease and other health problems linked to excess weight. We saw first-hand how hard it can be for families and children to make the healthy lifestyle changes needed to manage weight.
To help you, we've put together a team of experts that can provide you and your child with the knowledge, skills, and encouragement you need:
Pediatric hepatologist, Ruba Azzam, MD, MPH, will oversee your child's medical care. In addition to being an expert in childhood weight problems, she specializes in diagnosing and medically managing liver disease in children, including nonalcoholic fatty liver disease.

Our pediatric dietician can help you and your child design a healthy eating plan and identify ways to increase physical activity for your family.

Our pediatric social workers can help your child with the emotional aspects of weight management and connect you and your child to a variety of community resources, such as fun ways to get exercise. We can also refer you to a pediatric psychiatrist or psychologist if your child needs more intensive behavioral therapy.

A team of highly experienced pediatric specialists are available at Comer Children's Hospital to diagnose and treat health problems related to your child's excess weight, including sleep apnea, high cholesterol, diabetes, high blood pressure, and heart or breathing issues.
A Tailored Plan that Works for Your Child and Family
When it comes to weight management, what works for one child or family may not work for another. Our pediatric obesity specialists partner with you, your child, and other family members to identify weight loss strategies that work best given your lifestyles, values and preferences.
At the initial appointment, you and your child can expect the following:
A Visit with the Medical Director
After conducting a physical evaluation, Dr. Azzam may order various tests, including blood tests and imaging exams, to determine whether your child has any health problems, such as fatty liver disease. Once results from those tests are back, she will reconnect with you to discuss any medications or other treatments that may be needed. She will also provide referrals to other specialists at Comer Children's Hospital, such as a pediatric endocrinologist to treat type 2 diabetes or a pediatric psychologist if your child is struggling with an eating disorder.
A Consultation with Our Pediatric Dietician
The goal is for you and your child to go home with an initial weight management plan that provides specific strategies for losing weight in a healthy way. In general, the plan will specify how to:
Gradually incorporate more healthy foods (such as fruits and vegetables) into your child's diet.

Watch food portions.

Begin to limit unhealthy snacks (such as sugary beverages).

Get your child moving more (for example, go for walks).
The exact strategies in the plan will depend on a variety of factors, including your child's age and your family's lifestyle.
Following the initial visit, you and your child will visit with our team on a regular basis, typically every other month, for additional coaching and support. Your child's weight management plan will be tweaked or updated, as needed, to help ensure that your child successfully loses weight and manages any related chronic conditions.
We encourage you to invite other family members to our regular visits, including your child's grandparents and siblings. A commitment by the entire family to adopting a healthy lifestyle can go a long way towards helping your child achieve a healthy weight.
Frequently Asked Questions about Weight Loss and Weight Management for Children
We consider obesity to be a disease that can have genetic, medical, lifestyle, and environmental causes, including:
Eating more food than the body burns in activity such as, eating large portions or filling up on high-calorie junk food.

Not getting enough physical activity (for example, spending too much time watching TV or playing video games).

Environmental factors that make it difficult to eat healthy or get enough exercise, such as living in an area with few playgrounds or grocery stores that carry healthy affordable food

Some diseases and conditions, such as hypothyroidism, can cause weight problems. In addition, some medications, such as steroids, can cause children to gain weight.

A family history of obesity can make it more likely that children have weight problems.
We typically recommend lifestyle modification by making diet and activity changes first. However, we may consider weight loss medications for some children with the right indications, including resistant weight loss despite appropriate changes in diet and activity or for those at high risk for developing other serious related health problems.
If your child is having trouble losing weight, we can talk about surgical options. Morbidly obese teens who are unable to lose weight may be candidates for weight loss surgery.
Comer Children's is part of UChicago Medicine, which has been a leader in weight loss surgeries for decades. The weight loss team at UChicago Medicine is the most experienced in the Chicago area and has helped teenagers as well as adults.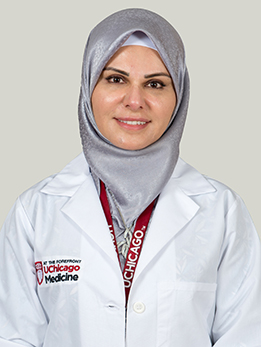 Ruba Azzam, MD, MPH
Ruba Azzam, MD, MPH, specializes in pediatric hepatology, gastroenterology and nutrition, including hepatobiliary diseases, liver transplantation, pancreatic disorders and more.
Learn more about Dr. Azzam
Learn More About Pediatric Gastroenterology, Hepatology and Nutrition